This year it focuses on Climate and Water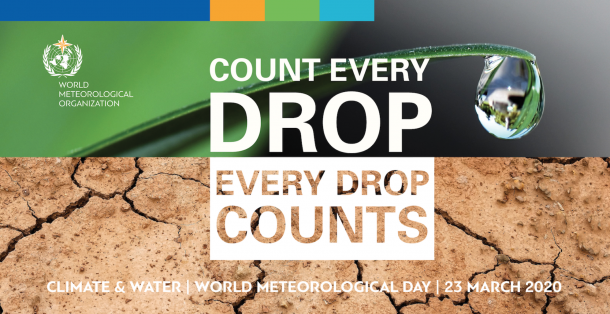 World Meteorological Day showcases the essential contribution of National Meteorological and Hydrological Services to the safety and wellbeing of society. This work continues 24/7 despite the challenges and constraints of the pandemic.
"We feel the effects of climate change mostly through water: more floods, more droughts, more pollution. Just like viruses, these climate and water-related shocks respect no natural boundaries," said WMO Secretary-General Petteri Taalas.
"The world needs to demonstrate the same unity and commitment to climate action and cutting greenhouse gas emissions as to containing the Coronavirus pandemic,"  he said.
"Changes in the global distribution of rainfall are having a major impact in many countries. Sea levels are rising at an increasing pace, driven by melting of the largest glaciers, like in Greenland and Antarctica. This is exposing coastal areas and islands to a greater risk of flooding and the submersion of low-lying areas," said Mr Taalas.
Taken from the WMO World Met Day 2020 press release, available here.
This week our Met Éireann app will be updated allowing you to set up and receive Push Notifications of all Marine Warnings for Ireland.
Met Éireann provide climate information services which promote the safety of citizens and supports economic and environmental resilience.
Met Éireann is developing a Flood Forecasting Warning Service in conjunction with the OPW.
Weather is so much a part of our everyday life that access to high quality information on the weather is expected or taken for granted as a normal convenience of modern life — whether it's a storm or a flood that threatens life and property, fog or icy conditions that disrupt road transport or air traffic, or just a minor inconvenience due to summer showers. The changing climate and, the increased frequency of extreme weather events, in tandem with increased urbanisation, is making Ireland more vulnerable to the impacts of weather. Since our beginnings over 80 years ago Met Éireann has been serving Ireland by providing public weather information, forecasts and warnings to help protect life and property. Over the next decade we will rise to the growing challenges of climate change by supporting Ireland in becoming weather and climate prepared.
Marine Services
Met Éireann produces specialised sea area forecasts for Irish coastal waters and inland lakes, and our wave height forecast map. We work closely with the Coastguard and other agencies in the protection of life and property. Met Éireann has produced a number of reports into how climate change will affect water levels around the coasts.
Our Marine Climatology page contains graphs of buoy data since they were installed and the record of average monthly sea temperatures at Malin Head compared with the WMO 30 year average period of 1961-1990.
We are currently developing a Flood Forecast Centre with the OPW to assist the public and the emergency services in preparing for major flood events.
Met Éireann actively promotes Water Safety particularly during the key summer months with a permanent link on our homepage to Water Safety Ireland and our Water Safety information and advise article.
Climate Services
In the Climate menu of our website you can learn all about the Climate of Ireland, read up on our work on Climate Change, view the Weather Extreme Records for Ireland and download reports on Major Weather Events in Ireland.
The Past Weather Statements page contains a vast archive of monthly, seasonal and annual weather summaries along with daily values and rainfall, temperature graphs.
Our Climate Services are focused on the timely production and provision of high quality data (observational data, gridded data, scientific analysis, etc) and products to decision makers. In order to support Irish society at large and facilitate the development and evaluation of adaptation and mitigation strategies for Ireland.
Our Available Data section contains graphs of Daily Data and Monthly Data from all our weather stations, you can also download Historical Data from those stations and our voluntary observer stations. Read all about MÉRA- our Climate Re-Anaysis project, and view the 30 Year Averages- the WMO recommend that climate averages are computed over a 30 year period of consecutive records.
What does a weather station look like? Photos and details of all our weather stations- and webcams images- are available here.
View the archive of Lightning strikes over Ireland on a map, download available.
WOW-IE
WOW-IE is the Weather Observations Website of Met Éireann and is part of the global WOW network of crowdsourced weather observations. It is available at wow.met.ie  If you own a weather station we invite you to connect it to the WOW database and view the data online. You can view real-time temperature, pressure, wind values and more from privately-owned weather stations, Met Éireann's stations (including half hour observations) and from National Meteorological Services around the world!
WOW-IE is a Weather Education and Data Comparison tool. You can view the archive of past weather observations on the WOW-ie map, on a graph or table and the data is available to download. WOW-IE displays weather observations from various sources in real-time*.
WOW-IE uses the UK Met Office WOW database, as do national meteorological services in the Netherlands, Belgium, Sweden, New Zealand and Australia whose data can also be viewed on the WOW-IE map. Currently in Ireland there are about 15 private weather station owners uploading their weather observations to WOW-IE. Met Éireann uploads data from 20 of its official automatic weather stations and over 30 of its new automatic climate stations. By sharing your weather station data you are helping to improve the Irish weather observing network and helping Met Éireann forecasters to get a better picture of weather around Ireland.
*Met Éireann does not correct or review WOW data, hence incorrect values or missing data may occur, even from official stations. Quality controlled data from Met Éireann's official weather stations are available here.