Monthly Forecasts
Met Éireann are now issuing monthly forecasts twice a week, every Tuesday and Friday here. Monthly forecasting covers the time range of around 10 to 40 days ahead and is really more correctly described as sub-seasonal or extended-range. It is a time scale in between medium-range weather forecasting (10-day) and seasonal forecasting (3 monthly).
Extended-range forecasts are by their nature quite general. This is because forecasts beyond one week become increasingly uncertain due to the chaotic nature of the atmosphere. Small inaccuracies in the weather forecast today can become very large by next week. To try and combat this, a set (or ensemble) of forecasts is produced. This set of forecasts aims to give an indication of the range of possible future states of the atmosphere. A probabilistic forecast is born. The extended-range probabilistic forecast can often give a trend in the weather over the next several weeks. Is it more likely to be colder or warmer than average? Drier or wetter?  Monthly Forecast Explained
10-Day Forecast Charts
The ECMWF deterministic forecast charts are available here for the next 10-days with a new airflow chart and also new wind barb charts for the Atlantic and Ireland.
Surface Pressure & Frontal Analysis
A daily analysis chart is now available here. The latest meteorological situation is updated with the Sea Area Forecast four times a day.
National Forecast
Text and graphical forecasts for Ireland for the week ahead are updated four times a day by the Met Éireann forecasters on the National Forecast.  The latest weather warnings for Ireland are on the Met Éireann Warnings page. The main suite of warnings are generally issued between 9am and noon but are issued or updated at any time as required with the forecast office operational 24/7.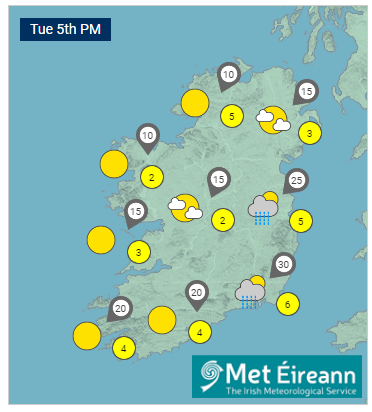 Location-based Hourly Forecast
For the best local and up to date hourly model forecast for the week ahead for anywhere on the Island of Ireland go to met.ie and enter your location on the top right hand side of the banner.
These forecasts are also available on our free app – available from the App store for iPhone, and Play store for Android.
Follow us on Twitter and Facebook for extra weather and climate content.
But whatever the weather please follow the public health advice and help keep yourself and everybody safe from COVID-19.
Take care and best wishes for 2021.
Evelyn
Evelyn Cusack,
Head of Forecasting Division.