Today the Government launched the annual 'Be Summer Ready' campaign, an initiative which aims to inform people about safety and other risks which may affect them during the summer months.  The focus of this year's campaign is to 'Be Alert to Water Safety', in collaboration with Met Éireann, Water Safety Ireland and the Irish Coast Guard.
Speaking at the launch, Minister for Defence and Chair of the Government Task Force on Emergency Planning, Mr. Simon Coveney T.D., said: "Because of Covid-19, it is more important this summer than ever that we ensure that we are vigilant with regard to our personal safety when working or visiting the coast, lakes, rivers or our countryside so that we avoid putting unnecessary pressure on our emergency and front line services".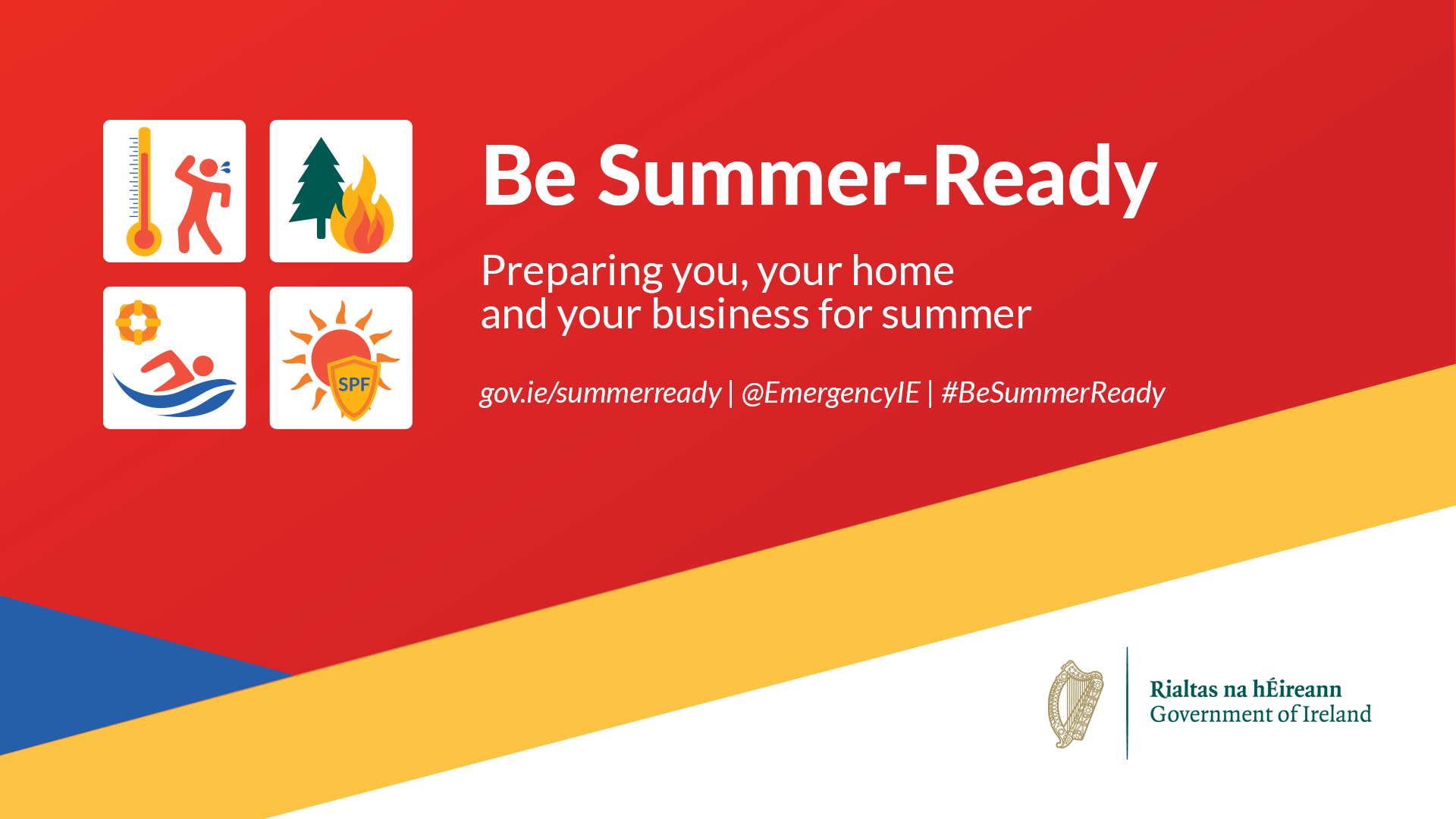 Earlier this year Met Éireann introduced several new forecast services focused around the marine environment.  Head of Forecasting at Met Éireann, Evelyn Cusack, said: "Whatever weather this summer brings, Met Éireann will continue to provide the latest weather forecast and warnings to help people and businesses plan their summer activities, so we can all enjoy summer safely.
"We are particularly delighted to introduce several new marine forecast and warnings services this year, ideal for tourists, swimmers and seafarers, that are all available on the Met Éireann website and app."
The new marine services include:
Evelyn continued: "Although many of us will welcome a bit of summer sunshine, the sun can also present a few health challenges too.  High UV levels during strong summer sun can cause skin damage, and spells of warm and dry weather can also increase pollen levels, which can worsen symptoms for those who suffer from hayfever.  So if you haven't already, why not download the Met Éireann app so you can easily check the weather, UV levels and pollen forecast before heading out on activities this summer."
John Leech, CEO of Water Safety Ireland, said: "Open Water Swimming has become incredibly popular during the last year for both its physical and mental health benefits and of course its sociability.  Please follow our guidelines and remain safe throughout the year."
Gerard O'Flynn, Head of Operations at the Irish Coast Guard, added: "We would like to thank Met Éireann and Water Safety Ireland for helping spread the message of water safety this summer and would like also to remind the general public that if you see somebody in trouble or think they are in trouble on the water or along the coast, dial 112 or use VHF Channel 16 and ask for the Coast Guard."
 The Be Summer Ready campaign, a counterpart to the long-running Be Winter Ready campaign, is a whole of Government public information campaign, which will run throughout the summer months. The 'Be Summer-Ready' campaign's messages will be delivered across Government social media platforms, with a 'Be Summer-Ready' booklet and a 'Be Alert to Water Safety' leaflet which are both available for download at www.gov.ie/summerready.