UV Index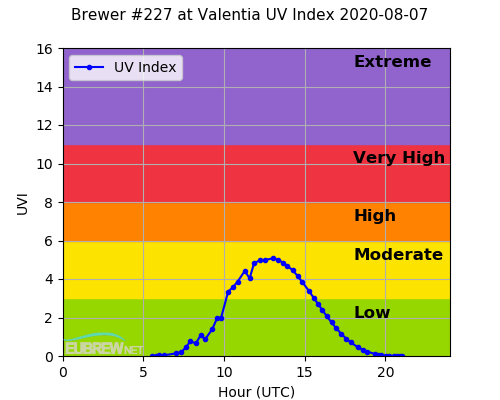 Ultraviolet radiation (UV) is a component of sunlight. The Global Solar UV index is a scale that was developed by the World Health Organisation which measures the UV radiation level at the surface of the Earth, and gives an indication of the potential for skin damage. The graph above shows the current UV Index level as measured at Valentia Observatory Co. Kerry (time is UTC).  Further information below.
Data from the Valentia UV Index may be intermittent.
The latest visible Satellite image is the black and white version of the satellite image available here
The UV Index level for your location is included in each of our Regional Weather Forecasts during summer months.
UV Index and Advice
Index
Level
Advice
Description
1
Low
No Protection Required
You can stay safely
outside.
2
Low
No Protection Required
3
Moderate
Protection Required
Seek shade during
midday hours. Apply sunscreen and cover up with protective clothing.
4
Moderate
Protection Required
5
Moderate
Protection Required
6
High
Protection Required
7
High
Protection Required
8
Very High
Extra Protection Required
Avoid being outside during midday hours.
Make sure to seek shade. Always wear sunscreen and protective clothing
.i.e. Shirt, hat.
9
Very High
Extra Protection Required
10
Very High
Extra Protection Required
11+
Extreme
Extra Protection Required
Further Information
The UV index forecast for Ireland is sourced by Deutscher Wetterdienst and is included in our regional forecasts from May to September but be aware it can only be an average for any one day over the entire country. The clear/sunny sky peak UVI index is reduced by cloud cover.
For example when the sky is cloud free (sunny) everywhere in Ireland then the UVI for Ireland is high (7.5) in June/July between 11am and 4pm. If it is cloudy everywhere then the UVI is low to moderate (3 to 4).
Often however the cloud is variable from place to place and from time to time in Ireland and due to wind chill it can often feel cool in summer. Nonetheless a 20 minutes sunny interval can produce sunburn.
Further details on Ozone Monitoring and the Brewer spectrophotometer is here