Met Éireann along with Met Office and KNMI, the national weather services of the UK and Netherlands, have released the new list of storm names for the 2022/23 storm season.
Similar to previous years, each weather service has contributed names suggested by members of the public.  The full list for 2022/23 is: Antoni, Betty, Cillian, Daisy, Elliot, Fleur, Glen, Hendrika, Íde, Johanna, Khalid, Loes, Mark, Nelly, Owain, Priya, Ruadhán, Sam, Tobias, Val and Wouter.
Since 2015 Met Éireann and the UK Met Office have been working together in a Storm Names partnership to help raise awareness of the potential impacts of severe weather and were joined by KMNI in 2019.
Storms are named when they could cause 'medium' or 'high' impacts in one of the partner countries and help provide consistent, authoritative messaging in times of severe weather. The Met Service that expects the severe weather to hit most, names the storm generally in conjunction with Orange/Red warnings. These warnings could be for wind, rain or snow or a combination.
Other groups in Europe also name storms and when any National Met Service names a weather system all other Met Services keep that name. This includes ex-hurricanes as named by the National Hurricane Center in Miami such as Charley (25th August 1986) and Ophelia (16th October 2017). Major Weather Events and Storm Centre.
Quote from Met Éireann: Evelyn Cusack, Head of Forecasting Division in Met Éireann, welcomes storm naming as a very important tool in National Met Services' warnings arsenal. She says: 'The annual unveiling of the new storm names on the 1st September creates greater public awareness and, crucially,  during the winter when a storm is named for its potential Orange/Red impacts, it creates a more impactful public 'call to action' helping to save lives and property. During past storms, the public have responded positively to the advice given by experts and this new roster of names will help us to continue to mobilise everyone to ensure we all work to minimise the effects of future events." 
Quote from KNMI: Head of Forecasting KNMI, Jan Rozema: "Chances are very high that severe storms will affect all three countries involved: Ireland, the UK and The Netherlands. News on severe weather is not limited to national boundaries, so the message to UK, Irish and Dutch inhabitants will be much appreciated and understood if we share the same information, starting with storm names. This year we had a good example: three named storms affected the Netherlands within a week. A rare red warning was issued for storm Eunice, one of the most severe storms in fifty years. Storms Dudley and Franklin also brought significant weather impacts. For us at KNMI, it is a great privilege and advantage to work in close co-operation with our colleagues from Ireland and the UK in the communication about storms."
Quote from UK Met Office: Met Office Head of Situational Awareness Will Lang, who leads responses in times of severe weather, said: "We know from seven years of doing this that naming storms works. Last year, Storms Arwen and Eunice brought some severe impacts to the UK and we know that naming storms helps to raise awareness and give the public the information they need to stay safe in times of severe weather. Recent impactful storms demonstrated our ongoing need to communicate severe weather in a clear way to help the public protect themselves. Naming storms is just one way that we know helps to raise awareness of severe weather and provides clarity for the public when they need it most."
Impacts of storms/severe weather
The timing and location of the occurrence of extreme weather can significantly affect the impact which it may have on society, or on the economy. In any individual weather event, not every location in the warning area may experience the same degree of weather or impacts. When severe weather is expected, weather and impacts at lower levels are also likely to be experienced. The type and amount of impacts can be strongly affected by previous weather conditions.
Met Éireann's Warning Services 
The Weather Warning page and the Met Éireann app has a 3-day tab map displaying all warnings, which could be issued up to 3 days ahead. This allows clearer communication and understanding of the complex weather scenarios which can affect Ireland, especially in winter.
On our app you can subscribe to receive push notifications for Met Éireann weather warnings for a chosen county, selected counties or all counties. We also provide a weather warnings email sign-up service, available via the website warnings page.
The warnings page on our website and app also displays weather warnings for Northern Ireland, whenever they are issued by UK Met Office. This provides a clear, authoritative one-stop shop for easy and reliable access to the latest weather warnings for the Island of Ireland.
The availability of 3-day weather warnings is possible due to a significant upgrade to the ensemble forecast system used to help predict the weather.
Digital analytics
There is heightened awareness now of weather warnings through social media as well as through traditional Radio and TV. This awareness has been catapulted into the public arena by the colour coding of warnings and this storm naming partnership.
Prior to and during a named storm event there is huge engagement with the Met Éireann website and app. Over the last year the total page views on the Apps were 100,000,000. The total number of users were 635,000 with almost a quarter of a million new users this year. The number of Meteogram forecast lookups for the 7 to 10-day location forecasts that are done using either the app or the website are approx. 500,000 per day.
Daily Weather Forecast Podcast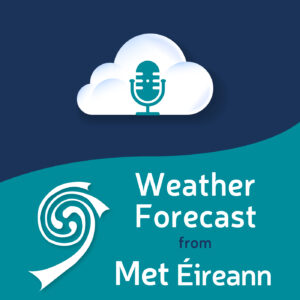 We now have a daily audio weather forecast – available as a podcast – recorded by our weather forecasters in Met Éireann.  Search Weather Forecast from Met Éireann on your podcast player – it's available now on Apple Podcasts, Google Podcasts, Spotify, Stitcher and more. This podcast is a convenient, accessible way to find out the weather forecast if you are on the move. The forecast is updated 3 times a day – at approximately 6am, 1pm and 6pm – with a detailed weather forecast for today and tonight, the outlook for the week ahead and details on any weather warnings issued and a storm naming update.
Storm Seasons overview 
Coming into the 8th storm season now for the 'Name the Storm' project, which began in in September 2015 andwe have had an average of 8 named storms each season, of which about 93% bring stormy weather to our island.
The greatest number of named storms occurred in 2015/16 and 2017/18 with 11 named storms. In 2015/16 there were no violent storms observed at any station, while in 2017/18 there were two – Ophelia and Eleanor.
On average, there was also one violent storm (103+ km/h) each season. The last one having occurred last season, with Eunice in February 2022.
No hurricane strength winds at any Irish wind station have been observed since the project began. Storm Ellen in August 2020 came very close to observing winds of this strength, with 111 km/h at Roches Point, Co Cork. The last hurricane strength (117+ km/h) storm affecting Ireland was Darwin on Wednesday 12 February 2014. Hurricane force winds have been observed at coastal western stations, mainly in January (half the time), twice in December and once in February, March and September.
Irish storm season 2021/22 
The Western Europe Group (Met Éireann, Met Office and KNMI) named 6 storms (Arwen, Barra, Corrie, Dudley, Eunice and Franklin), while DMI named Malik. Seven named storms, in a season, is the joint 2nd (with 2019/20) lowest number of named storms since the project began.
During the last storm season 2021/22, Eunice (February 2022) observed Ireland's highest sustained wind speeds of 106 km/h since Ellen's 111 km/h and highest 24-hr rainfall of 86.1 mm since Francis' 95.2 mm. Both storms Ellen and Francis occurred in August 2020.
Climate Change and Future Storms 
In Ireland, the majority of our storms are mid-Atlantic cyclones. Post-tropical cyclones (ex-hurricanes) are ~1% of the cyclones impacting Northern Europe during the hurricane/storm season.
A recent report from the Intergovernmental Panel on Climate Change (IPCC, 2022) tells us that:
There is medium confidence in a projected increase in severe windstorms impacting Northern Europe (Ireland, the UK and Scandinavia) at global warming of 2°C and above.
There is medium confidence that future changes in maximum wind speeds associated with extratropical cyclones will be small, although storm track changes could lead to substantial local changes.
There is high confidence that average and maximum precipitation rates associated with extratropical cyclones will increase with warming, in line with increases in atmospheric water vapour.
Met Éireann's work on Climate Change
Finally
During quiet autumn weather it is prudent to prepare for possible winter storms and severe weather. For advice see www.winterready.ie
Be Prepared, Stay Safe and know where to find help should you need it.
For the most accurate and up to date forecast for your area on the Island of Ireland go to www.met.ie.  The latest weather advisories and warnings for Ireland are on the Met Éireann Warnings page. These services and more are available on our free app – available from the App store for iPhone, and Play Store for Android.
Follow us on Twitter and Facebook for extra weather and climate content.
You can also listen to the latest national forecast on our daily podcast.
---
And last but not least, thank you to all who have written in with your wonderful storm name suggestions. If you didn't make the list this year don't be disappointed because you might still be on the list for winter 2023.
A special thank you to all the 4th class (now going into 5th) from Pres Primary School in Tralee who wrote fabulous letters – Adalia, Harshika, Amy-leigh, Medina, Mubinah, Haniya, Isha, Evelyn, Amber, Resa, Aine, Zara, Fariha, Anita, Aisha, Erin, Philip, and Raheel.
Published: 1 September 2022