The World Meteorological Organization (WMO) recommends that climate averages are computed over a 30 year period of consecutive records. The period of 30 years is considered long enough to smooth out year to year variations. Henceforth Met Éireann will reference 1981 to 2010 as the baseline period for day-to-day weather and climate comparisons. The current WMO global baseline period for use in climate change research is 1961-1990.
1991-2020 AVERAGES
Data used to populate the official standard normals tables for 1991-2020 is in the process of being quality assured and collated.  These tables will include 30-year average monthly and annual data for precipitation, temperature, solar radiation, pressure and other parameters as reported previously by Met Éireann (see datasets below). The tables will be available here in August 2023.
1981-2010 Averages
* Stations closed in 2007/2008.
** Averages not available for this period.
1971-2000 Averages
1961-1990 Averages
Downloads
1981-2010 Climate Averages Summary [PDF]
1981-2010 Temperature Grids [ZIP]
1981-2010 Rainfall Grids [ZIP]
Station References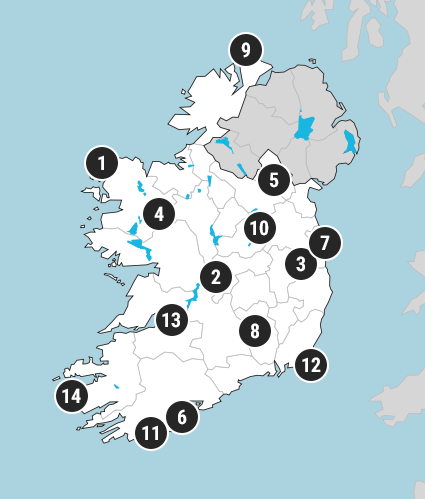 | | |
| --- | --- |
| 1. Belmullet | 8. Kilkenny |
| 2. Birr | 9. Malin Head |
| 3. Casement | 10. Mullingar |
| 4. Claremorris | 11. Roches Point |
| 5. Clones | 12. Rosslare |
| 6. Cork Airport | 13. Shannon Airport |
| 7. Dublin Airport | 14. Valentia |