Have you heard of the Irish Meteorological Society?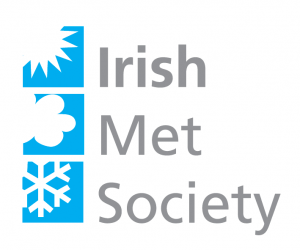 The Irish Meteorological Society (IMS) is one of many meteorological related societies in Europe and the world. It is run by a committee of volunteers who host events such as lectures, field trips, photography competitions and conferences, all relating to the themes of meteorology, climatology, oceanography and hydrology. The events are generally free of charge and open to the general public. See www.irishmetsociety.org for further information on the Society, which was founded in 1982. Some notable IMS events that took place during recent years include:
(left to right): Valentia Observatory field trip (photo credit: Alan Landers), Met Éireann 75th anniversary commemoration (photo credit: Brendan Noonan), Tom Keane (RIP) and Colm Faherty launching Tom Keane's book on the establishment of the Irish Meteorological Service (now Met Éireann) at the IMS Science of Weather Forecasting conference (photo credit: Kieran Commins).
The Irish Meteorological Society is part of a broader group of meteorological societies in Europe, an organisation aptly called the European Meteorological Society (EMS). EMS is a society consisting of meteorological societies around Europe as well as some national meteorological and hydrological services such as the Finnish Meteorological Institute, Météo France, MeteoSwisse and the Danish Meteorological Institute, private weather companies and industries such as MeteoGroup and Vaisala and international organisations such as ECMWF and EUMETSAT. The main activity of EMS is their annual conference, which was held in DCU in Dublin in 2017, the largest meteorological conference ever held in Ireland. Their website contains an archive of newsletters known as the "ems message" where a broad range of articles and interviews on a range of meteorological topics are published. EMS also offers a series of awards which include bursaries for students who wish to attend conferences, awards for excellence in TV forecasting, broadcasting, science, outreach and journalism – over the past decade staff working in Met Éireann have been successful in many of the EMS award categories; for example in 2011 Jean Byrne won the TV Weather Forecaster Award while Evelyn Cusack won the Broadcast Meteorologist Award last year.
Similar to the Irish Meteorological Society, the UK's Royal Meteorological Society offers membership to anyone with an interest in meteorology. They offer the additional benefit of accreditation to anyone working in the field professionally. Unlike IMS which is run on a voluntary basis, RMetS is run by full-time staff. Their website offers a wealth of information on careers in meteorology, weather and climate resources and links, education material for primary and secondary level via their MetLink pages and the Weather Club which is full of interesting and educational content that captures the many faces of weather.
The American Meteorological Society (AMS) is celebrating its 100th anniversary this year and also offers membership to all. They host a range of conferences each year – recordings of many of the talks can be accessed through their website. Like the RMetS they provide information on a lot of useful resources including a page of links to a vast range of weather related topics from a glossary, to NASA's S'COOL to NOAA's Jetstream Online School of Weather.
There are many meteorological societies throughout the world. All have the common aim of connecting people who have an interest in meteorological science and most offer membership to anyone with an interest in weather.