The Ireland eGovernment Awards and Summit, in association with eir Business and Cisco, recognises the innovators and forward thinkers who are pioneering changes and helping deliver better online services on the island of Ireland today.
The Awards are Ireland's most sought-after accolade in eGovernment, honouring the leaders driving digital services, communication and democracy online.
The eGovernment Ireland Awards ceremony took place in City Hall on 11th September.
Met Éireann were shortlisted in an impressive 4 categories:
Universal Design Award sponsored by NDA – for The new Met Eireann Website & App
Mobile Award – for The new Met Eireann App
Marketing & Social Media Award – Met Eireann Twitter
Irish Language Award – Met Éireann Irish Language Service
We were delighted to win both the Marketing & Social Media Award and the Universal Design Award!
Marketing & Social Media Award for Met Éireann Twitter
Social media is an important part of Met Éireann's communication with the Irish public.
We started our Twitter presence in September 2014. In July 2017 we initiated an invigoration of our Twitter account with the aim of connecting with more Irish people and connecting better. Using innovations in technology as well as supporting imagination and creativity (all at no extra cost to the organisation) our Twitter following increased from 85,000 in June 2017 to 210,000 in September 2019.
Page views per month in 2017 were 1.1 million. In 2019 it is 6 million. This is an increase of 550%.
Met Éireann is now in the top two national met services in Europe in terms of Twitter followers.
Congratulations to Gavin Gallagher, Joanne Walker and the communications team in the Forecast Office.
Joanne Walker from Met Éireann, accepts the Marketing & Social Media Award for Met Éireann Twitter. Presented by Mary Mitchell O'Connor TD. Minister of State at the Department of Education

Universal Design Award for Met Éireann's Website & App
Our website www.met.ie has been recognised for providing high quality meteorological information in an easily accessible format to a wide range of users.
Met.ie is one of the most visited public sector websites with over 7.2 million users and over 60 million page views since launch in April 2018.  It has achieved the international Web Accessibility standard WCAG 2.0 Level AA.
Our app has been downloaded over 550,000 times.
Met.ie has a high bounce rate of 60% which tells us that over half of users can gain the required information from just one page. Met.ie is also fully mobile responsive.
Accessibility information is available here https://www.met.ie/accessibility This link is available in the website footer.
The location-based forecasts were designed to show all important weather forecast data in an easy to access and understand design, especially on the app.
The Accessible Forecast page https://www.met.ie/forecasts/accessible-forecast/ and the whole website is fully screen-reader accessible, allowing visually impaired users to be informed of issued weather warnings, on the header on all pages, thus enhancing our public safety role.
Donal Rice from the NDA, with Joanne Walker from Met Éireann, winner of the Universal Design Award with Mary Mitchell O'Connor TD,

#egovawards2019
RÉALTA Awards
At the DHPLG RÉALTA Awards in July, Met.ie website and app won the Divisional Winner Award and our Research Division's IREPS project won the Highly Commended Award.
Met.ie and app was also selected to be considered as a nominee at the Civil Service Excellence and Innovation awards later this year.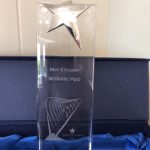 Published 13th September 2019