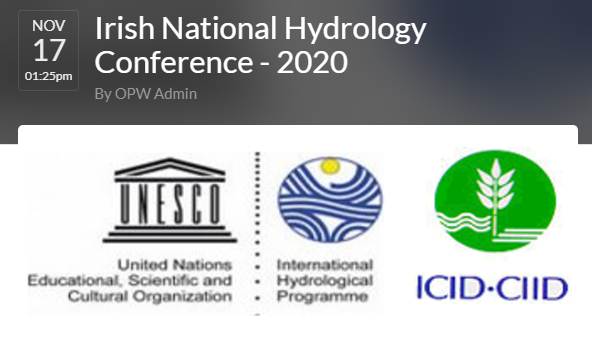 The National Committees of the IHP/ICID invite you to join a webinar event for the 21st National Hydrology Conference to be held on Tuesday 17th & Wednesday 18th November 2020. This event is Ireland's leading Conference devoted to Hydrology providing a unique forum for attendees to share policy developments, research results, and practical solutions to engineering hydrology issues.
Pre-event registration is needed to attend the webinar, the link to register is: https://www.crowdcast.io/e/nhc2020
Password: NHC2020
Met Éireann Agricultural Meteorologist, Klara Finkele, will talk at the The Establishment of an Irish National Soil Moisture Measurement Network discussion on Day 1.
Day 1: Groundwater and Water Quality
Remote Sensing for groundwater flood mapping, monitoring, and short- and long-term forecasting [Joan Campanyà, Ted McCormack, Damien Doherty, Philip Schuler, Monika Kabza, Ellen Mullarkey, Owen Naughton]
Accelerating Managed Aquifer Recharge in the MENA region [Michael van der Valk]
POSTER: The Establishment of an Irish National Soil Moisture Measurement Network [Tamara Hochstrasser, Klara Finkele, Paul Murphy, Owen Fenton, Karl Richards, Eve Daly, Matthew Saunders and the AGMET group]
DiffuseTools: Improving national mapping of diffuse phosphorus pollution in surface runoff from Irish fields to support targeted management measures [I.A. Thomas, E.M. Mockler, Werner, C., P.-E. Mellander, and M. Bruen]
Ireland changing the scale of Heavily Modified Waters Bodies designated under the Water Framework Directive [Nathy Gilligan]
Impact of the 2015-16 flood event on the incidence of acute gastrointestinal infections (AGI) in the Republic of Ireland – An epidemiological perspective on a hydrological problem [Boudou M., Cleary E., ÓhAiseadha C., Garvey P., O'Dwyer J., Hynds P.]
Risk factor analysis of Escherichia coli and Pseudomonas aeruginosa occurrence in private domestic groundwater supplies in the Republic of Ireland [Luisa Andrade, John Weatherill, Paul Hynds, Jean O'Dwyer]
Day 2:  Flooding and Droughts
Development of a detailed tide and storm surge forecast system for the South West Coast of Ireland [Nigel Tozer, Kate Day, Nigel Bunn, Edmund Bridge, Jim Casey, Thomas Duffy, and Eoin Sherlock]
Probability, mechanisms and impact of future coastal urban flooding. A case study of Cork City [Jennifer Isabel Munro Kirkpatrick, Agnieszka Indiana Olbert]
Protecting the City of Cork from flooding [Emeritus Professor Dr. J. Philip O'Kane CEng FIEI, School of Engineering, University College Cork]
Benefits of rainfall runoff approaches in Flood Relief Scheme Development [Tom Sampson]
Repeated measures risk assessment of the 2018 European drought on microbial groundwater quality in Southern Ireland [Jean O'Dwyer, Carlos Chique, John Weatherill, Paul Hynds]
Forecasting the impact of drought on water resources using seasonal rainfall forecasts [Emma Brown, A McBride, and R Hodgson]