Are you interested in learning more about the weather? 
As a follow-on to our article on freely available educational resources aimed at primary and secondary school students and teachers, here we provide links to other websites and courses for anyone interested in learning more about the science of meteorology. There are free courses and modules available to suit all abilities, from beginners to advanced, on topics ranging from climate science to monitoring the oceans from space to instrumentation to probabilistic forecasting and much, much more.
1. Courses and Material
The University Corporation for Atmospheric Research (UCAR) MetEd website provides resources to benefit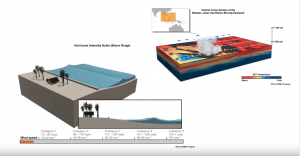 the weather forecasting community, university atmospheric scientists and students, and anyone interested in learning more about meteorology, weather forecasting, and geoscience. The site has a wide range of short courses, some of which are used as part of university degree curricula. The modules are interactive and include quizzes to test your progress. All courses are free but it is necessary to sign up for an account on the website first.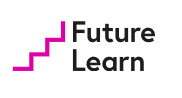 FutureLearn
FutureLearn offers a diverse selection of courses from leading universities and cultural institutions around the world. You can choose the free option or upgrade for additional benefits. Weather-related courses on this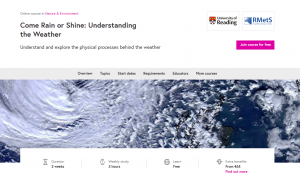 platform include the RMetS and University of Reading award-winning course "Come Rain or Shine: Understanding the Weather", "Learn about Weather" by the University of Exeter and "Causes of Climate Change" by the University of Bergen.
EUMETSAT is the European Organisation for the Exploitation of Meteorological Satellites. It is an intergovernmental organisation whose purpose is to supply weather and climate-related satellite data, images and products – 24 hours a day, 365 days a year – to National Meteorological Services and other users worldwide. Satellites are a key meteorological remote sensing tool. Satellite data has many uses including its incorporation in the complex mathematical models used for weather forecasting. Some of EUMETSAT's courses are available on the FutureLearn platform. The EUMETSAT website contains a selection of case studies and training courses which use satellite data.
The Department of Meteorology and Atmospheric Science at PennState University offers a number of online courses. Examples include a "Certificate of  Achievement in Weather Forecasting", a "Graduate Certificate in Weather and Climate Analytics" and several broad, more basic courses.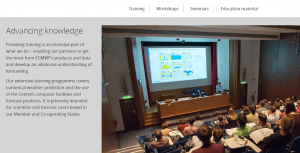 ECMWF
Ireland is a member of the European Centre for Medium-Range Weather Forecasts (ECMWF) based in Reading in the UK. As well as developing their global weather forecasting model, the organisation delivers a range of advanced courses, mainly to staff working in national meteorological and hydrological services and in universities. However, much of their teaching resources are freely available online such as extensive notes on Numerical Weather Prediction (i.e. mathematical modelling of the Earth's system to generate weather forecasts) and a large selection of e-learning interactive courses. These courses are at a more advanced level than MetEd for example, and are most suitable for those who already have a grounding in meteorological science.
2. Books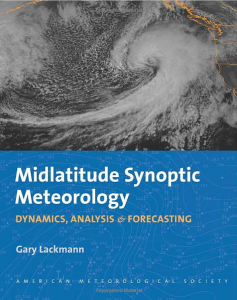 If you're interested in reading books on meteorology, take a look at the Weather Graphics website for inspiration where listings include the "Weather Analysis and Forecasting Handbook". Professor Gary Lackmann's book on "Midlatitude Synoptic Meteorology", is suitable for anyone who has an interest in synoptic meteorology and weather forecasting
3. Blogs 
The following weather blogs may also be of interest:
The above is clearly not an exhaustive list of courses, books and blogs. Instead, our aim is to give you a flavour of the world of learning opportunities available to you if you are interested in delving into the world of meteorology.