Named by the UK Met Office, Storm Arwen will track southwards along the east coast of Scotland on England through Friday and Friday night.  For Ireland, Storm Arwen will introduce strong northerly winds and a cool polar maritime air, with the strongest winds expected along northern and north-western coasts on Friday, and later in the Irish Sea.
Met Éireann have issued yellow wind warnings for counties Donegal, Sligo and Mayo for Friday afternoon into Friday night, with strong gale force 9 winds expected along northern and eastern coasts, and storm force 10 winds in the Irish Sea on Friday night.  The Met Office has issued a yellow wind warning for Northern Ireland through Friday and Saturday.
Met Éireann meteorologist, Elizabeth Coleman, said "It's going to be a cold and very windy day on Friday. We'll see north to northwest winds peaking late Friday afternoon . Gale to strong gale force winds are forecast along north facing coasts, generating large coastal waves and spray overtopping, with northerly storm force 10 winds developing in the Irish Sea on Friday night. Strong northerly winds over land in the north and northwest could bring down some trees and power lines with travel distribution possible.
Elizabeth continued: "This system will generate high seas too, in the north and west through Friday, with the storm force winds and high seas transferring to the Irish Sea on Friday night".
Storm Arwen – Named by the @metoffice, #StormArwen will bring a spell of cold & very windy weather to the UK on Friday & Saturday.

It'll be cold & windy for Ireland too, especially across northern areas where we have yellow wind warnings in place

https://t.co/XGJxZFd5UU pic.twitter.com/UxcYvDR3wj

— Met Éireann (@MetEireann) November 25, 2021
Met Éireann have forecast blustery scattered showers on Friday, which will turn to sleet, mainly parts of the north with snow possible over the hills.  Daytime temperatures will be limited to around  6 to 9C, but feeling colder with an added wind chill factor from the brisk northerly winds. Overnight temperatures are expected to fall close to freezing with frost expected in some areas.
It will continue cold through Saturday with winds easing later in the day with long spells of sunshine and while most areas will stay dry, there will be a few wintry showers in the north and towards the west coast.
Although it may feel like winter has arrived, milder conditions will move up over the country through Sunday and for the start of next week bring rain or showers at times but generally frost free nights.​
#BeWinterReady
The unique risks brought by winter can occur suddenly and unexpectedly. Make sure you and your family are prepared for whatever the weather may bring during the winter months ahead. Visit winterready.ie or see #BeWinterReady and make sure to visit met.ie for the latest weather forecast and warnings. Follow us on Twitter and Facebook for extra weather and climate content. You can also listen to the latest national forecast on our daily podcast.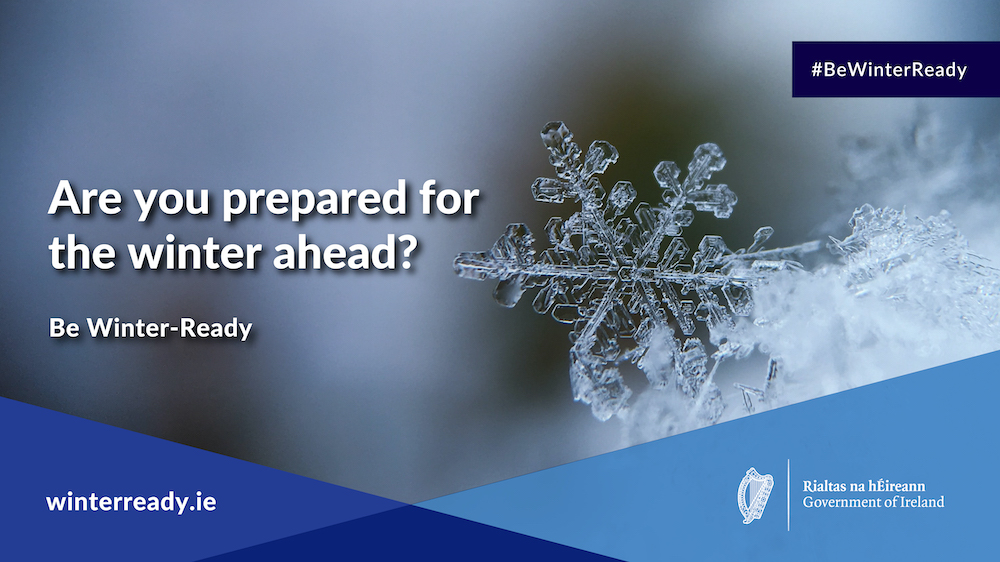 Whatever the weather please follow the public health advice and help keep everybody safe from COVID-19.
For the most accurate and up to date forecast for your area on the Island of Ireland go to met.ie.  The latest weather advisories and warnings for Ireland are on the Met Éireann Warnings page. These services and more are available on our free app – available from the App store for iPhone, and Play store for Android.