Updated 1500, Thursday 29/10/2020
by Gavin Gallagher, Meteorologist, Forecast Division, Met Éireann.
Wet and very windy weather over the Halloween weekend as a series of vigorous Atlantic weather systems pass close to Ireland.
After a settled day on Friday we will have a very unsettled spell of weather from Friday night through to Monday evening, with 3 separate low pressure systems tracking close to Ireland, bringing wet, windy and possibly stormy weather. Each system is around 24 hours apart, with the first impacting Ireland Friday night into Saturday, the next Saturday night into Sunday, with the third later Sunday into Monday.
So this is not just one event, but rather a series of low pressure systems affecting us over a three-day period, with cumulative impacts from rainfall, strong winds and high seas. The series of low pressure systems can be seen on the Wind Streamlines animations below.
The above animations show the forecast airflow over the north Atlantic and Europe. (First: Friday 9pm to Sunday 9am.  Second: Sunday 6am to Monday 9am)
The colours use the warning levels of yellow, orange and red for wind speeds with purple indicating hurricane force winds.
The airflow is indicated by streamlines (Think of a streamline as the path a child's helium balloon will make if accidentally released to drift with the wind. Each streamline represents the trajectory of the air at that location).
One of the depressions that will impact us will be the remnants of ex-hurricane Zeta, which is currently (Thursday 3pm) over the eastern United States.
Hazards this weekend:
Spells of heavy rain will lead to surface and river flooding. All soils are saturated across the country at present, so additional rainfall will quickly run-off into rivers. The heaviest and most persistent of the rain is likely in the south and west of the country.
Very windy/stormy at times with some severe and damaging gusts possible. The strongest of the winds are likely in southern, western and northwestern areas, particularly near coasts.
Some coastal flooding possible also as we have very high seas at the moment, combining with surge, high tides and onshore winds over the weekend. Areas most at risk, again in the south, west and northwest.
Current Advisories/Warnings:
An Advisory is in place from Friday night through to Monday evening, for all areas.
A status yellow wind warning is in place for all areas for Friday night and Saturday. This warning will be refined and possibly upgraded tomorrow, Friday. With further warnings to be issued for wind and rain over the weekend.
Please consult your local warnings from Met Éireann on a day by day basis https://www.met.ie/warnings/today
The above animation shows mean sea level pressure and precipitation from 6am Friday to 6pm Monday.
The heaviest of the rainfall from these depressions will be during night-time hours, Friday night into Saturday, Saturday night into Sunday and Sunday night into Monday, so there will be drier intervals by day. It will be relatively mild also as these systems drag tropical air up over Ireland, with temperatures 2 or 3 degrees above normal for this time of year. Highs of 15 degrees on Saturday, up to 16 degrees on Sunday and Monday.
Our weather will settle down from midweek next week, becoming mostly dry and cool, with light winds as high pressure takes charge.
---
Meteorologist's Commentary issued 1500, Tuesday 27/10/2020
Howling Halloween by Matthew Martin, Meteorologist, Forecast Division, Met Éireann.
Weather conditions will be very unsettled across Ireland this week with the disturbed weather pattern expected to persist for the Halloween weekend. Please keep updated with our weather warnings at https://www.met.ie/warnings/today
Synoptic Pattern
At this time of year, the thermal gradient across the North Atlantic is steepening with the clash between very cold air near Greenland and warm air feeding northwards from the tropical Atlantic creating a very strong Polar Jet-Stream aloft. As the Polar Jet-Stream strengthens (a fast flowing air current around 10km above the earth's surface) it can act to enhance the ferocity of our typical low pressure systems in the North Atlantic.
In addition, as the record breaking Atlantic hurricane season continues, following quickly in the wake of ex-Hurricane Epsilon which tracked towards Iceland yesterday, it looks like more moisture will be added into the frontal systems in the Atlantic later this week as ex-Hurricane Zeta tracks out of North America on Friday.
The combination of these factors and the position of the Polar Jet-Stream looks set to bring a period of very wet and potentially very windy weather across Ireland this week.
Rainfall
One of the main concerns in the Forecasting Office this week is the amount of rainfall expected over the next several days. Successive frontal systems are expected to move across Ireland during the week bringing periods of heavy rain. The heaviest and most persistent rain is expected to affect Munster, Connacht and west Ulster but all areas will see spells of heavy rain this week. Weather Warnings have already been issued for Thursday and further warnings can be expected for this weekend. https://www.met.ie/warnings/today
Flooding
River Flooding
Currently river levels are elevated in the Western half of the country, particularly in Connacht, Donegal and parts of Munster. River levels are expected to increase further in response to warning-level rainfall on Thursday, leading to some river flooding. Therefore, any additional rainfall from Friday onwards will further compound the flooding issues in these areas.
Coastal Flooding
We are due to enter a period of Spring (High) Tides on Saturday. The combination of high seas and strong winds or stormy conditions associated with any low pressure systems may increase the possibility of coastal flooding, especially in flood-prone areas along the Atlantic coast on Saturday (particularly when coincident with high tides).
Wind
Numerous low pressure systems are expected to track close to Ireland this week bringing gales to our sea areas and strong winds on land. At present, there remains large uncertainty on the timing and magnitude of any single wind-event but all areas will experience windy weather this week. As we approach the weekend there is a heightened risk of very windy or potentially stormy conditions developing as low pressure systems in the Atlantic undergo rapid-cyclogenesis (rapid intensification) as they approach our coast. Current numerical weather models (NWP) show the strongest winds associated with these systems staying offshore but this may change in subsequent output.
A note on Storm Naming by Evelyn Cusack, Head Forecast Division.
Met Éireann and the UK Met Office formed a storm naming partnership in 2015 and were joined in 2019 by the Dutch Meteorological Service, KNMI.

There is also a southwest partnership between Meteo France, IPMA (Portugal), AEMET (Spain) and RMI (Belgium) and there have been two named storms so far this season, Alex (1st October) and Barbara (19th October).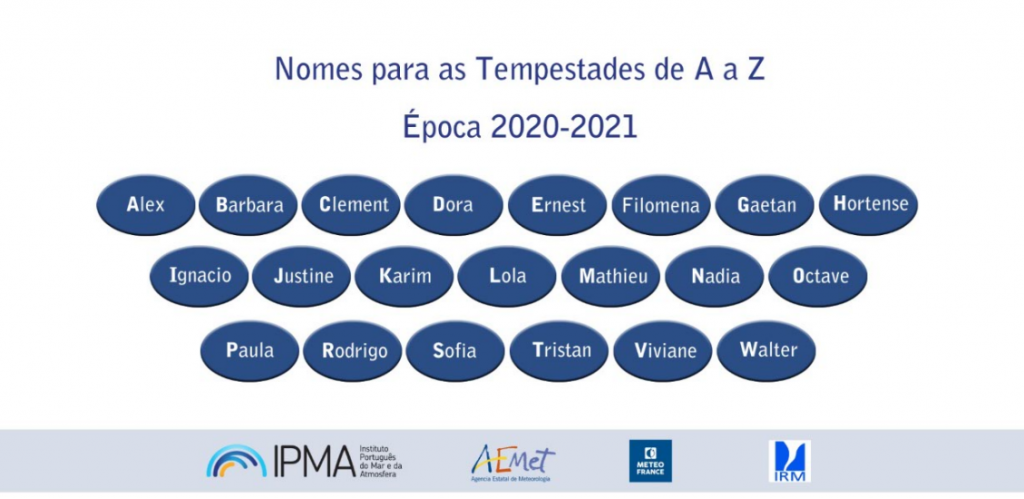 Once a storm is named by any National Met Service globally, that name is retained if the storm moves into our waters. For example: Ophelia and Lorenzo were named by the National Hurricane Center (NHC, USA) and Emma by IPMA (Portugal).
This naming of storms by National Meteorological Services has been shown to raise awareness of severe weather and help with citizen safety. A storm is named by a National Met Service when Orange or Red level winds are forecast to impact over a wide land area. Orange or Red level gusts can occur in exposed areas without the event being named. In addition there may be high impact precipitation (rain/snow) associated with the storm system.
Mariners' records from the 16th Century show Caribbean Tropical Storms being named after Saints but reliable record keeping of tropical cyclone data within the Atlantic Ocean did not begin until 1851. In the 1950's the National Hurricane Center (NHC) started naming Tropical Storms in the Atlantic giving them exclusively female names and then in the 1970's alternating male and female names.
The six lists below are used in rotation and re-cycled every six years, i.e., the 2019 list will be used again in 2025. Names beginning with Q, U, X, Y and Z are not used and if there are not enough names then the NHC moves on to the Greek alphabet: Alpha/Beta/Gamma/Delta/Epsilon/Zeta/Eta/Theta/Iota/Kappa/Lambda/Mu/Nu/Xi/Omicron/Pi/Rho/Sigma/Tau/
Upsilon/Phi/Chi/Psi/Omega.
2020 is only the second year since this naming system began in the 50's that the Greek alphabet has been used, the first was in 2005.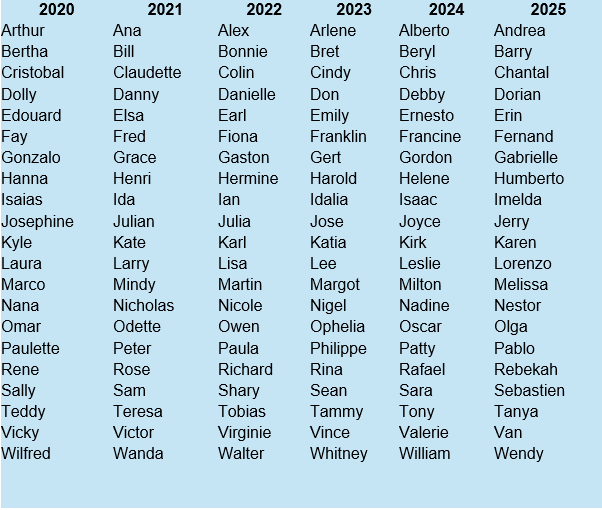 The only time that there is a change in this list is if a storm is so deadly or costly that the future use of its name on a different storm would be inappropriate for reasons of sensitivity. If that occurs, then at an annual meeting by the WMO committee (called primarily to discuss many other issues) the offending name is stricken from the list and another name is selected to replace it. Several names have been retired since the lists were created. Here is more information the history of naming tropical cyclones and retired names.

The Atlantic hurricane season runs from June 1 through to November 30 each year and the height of the season is in early to mid-September. Tropical systems that form outside of these months are referred to as "off season", and account for roughly 3% of all storms that form in a given year.
For the latest forecasts go to:
https://www.met.ie/warnings/today