By Dr Rónán Darcy & Dr Noel Fitzpatrick, Research Division and Evelyn Cusack, Head of Forecasting Division.
Met Éireann has launched a significant upgrade to the forecast system it uses to help predict the weather. This upgrade will aid our forecasters in their day-to-day duties and open the way to providing earlier warnings for severe weather events. The system has been developed and tested by Met Éireann staff over the past several months, and has been implemented as part of a new computing collaboration with the Dutch weather service, KNMI.
Numerical Weather Prediction (NWP) refers to the use of computer models to predict the weather, and forms the basis of modern forecasting. In recent years, national weather services and researchers have been developing and utilising an enhanced form of NWP known as Ensemble Prediction Systems (EPS).
The Met Éireann Podcast – Chaos and Computing in Weather Forecasting
While traditional weather models produce a single forecast for a given time (known as a deterministic forecast), ensemble systems produce multiple forecasts or possible outcomes for the same time period. Forecasters can then examine this range of possible forecasts to answer questions such as how likely is a given weather event (i.e. do most of the forecasts show a similar outcome or do they disagree significantly), what is the possible range of values for a weather variable like wind, temperature etc., or how much uncertainty is there in the location or timing of a storm's arrival.
Essentially, this method marks a substantial increase in the information available to forecasters in terms of the probability of occurrence, severity and timing of given weather conditions, information that is particularly important in the build up to potentially high-impact weather events.
In 2018, Met Éireann developed its first ensemble-based NWP system, known as the Irish Regional Ensemble Prediction System (IREPS). Originally run twice per day, this system produced 11 forecasts (known as members) for weather conditions over the next 36 hours. On April 15th 2020, the IREPS system was upgraded to a 54-hour, 11-member ensemble which is run four times per day. This will help increase how frequently our forecasters are updated on changing weather events and aid in lengthening forecast and warning times.
Technical details
Due to the vast amounts of calculations and data that must be processed to simulate the atmosphere, large, high performance computing (HPC) systems are required to run NWP models with the necessary accuracy and timeliness. Met Éireann uses computing resources on the HPC system of the European Centre for Medium Range Weather Forecasts (ECMWF) to run its NWP models. To meet the additional computing resources required to realise the latest upgrade to IREPS, Met Éireann has established a collaboration with the Dutch national weather service, KNMI. The newly acquired resources on the KNMI HPC system have been combined with the existing resources at ECMWF, providing sufficient computing power to run the enhanced system.
IREPS is an ensemble which uses the HARMONIE-AROME model configuration (version 40h1.1) of the shared ALADIN-HIRLAM NWP system (hereafter HARMONIE-AROME). It consists of 10 ensemble members with 1 control member. The control member and the 10 ensemble members produce 54-hour forecasts and run four times daily at 00 Z, 06 Z, 12 Z, and 18 Z. IREPS runs with a horizontal grid spacing of 2.5 km, a spatial extent of 1000 x 900 grid points (see figure below), and 65 vertical levels. Both conventional (observations from weather stations, ships, buoys, balloons and aircraft) and scatterometer (satellite wind data) observations are assimilated or ingested into the model.
The ensemble members are constructed using a combination of boundary condition perturbations and perturbations applied to surface parameters in the model. The boundary condition perturbations follow the Scaled Lagged Average Forecasting (SLAF) technique whereby older boundary conditions valid at the current time are perturbed by a scaling factor which depends on their age with respect to the current time. The surface perturbations are applied to a number of variables within the surface code in the model such as sea surface temperature and soil moisture. These perturbations are intended to account for uncertainty related to energy transfer from the model surface to the planetary boundary layer (usually the lowest kilometre of the atmosphere).
To summarize: The observations (initial conditions) and the model are not perfect. Small errors in the initial conditions of a forecast grow rapidly, and affect predictability. The ensembles provide forecasters with an objective way to predict the skill of a forecast and to estimate the most likely scenario. This will improve forecasts and warnings and enhance support for impact-based decision making for weather events and contribute to the safety of citizens and property.
What does output from an EPS look like?
The output of an ensemble prediction system may be displayed in many ways, each with their own purpose. Plots of all members are displayed side-by-side (called "postage stamps") to give an indication of the spread in the range of possible solutions over a large area at a given time. In the below image, postage stamps for the 06 Z forecast from 16th April indicate rainfall is likely to occur in the south-east, but the north east is more uncertain with some solutions suggesting relatively dry conditions.
Another method combines all members together to form a single pseudo-probability plot based on a threshold. In the image below, the number of members exceeding 5 mm of rainfall in 6 hours are counted, giving an indication of the probability of this threshold being exceeded over the area plotted.
Yet another method is the use of meteograms. Here, a time-series plot is produced for a specific parameter at a single location to visualise how each of the ensemble members progress. This gives an indication of the spread, and identifies "clustering", where several members may bunch around a particular solution.
Case Study 1: Ophelia Monday 16th October 2018
Prior to Ophelia only the deterministic forecast (a) was available from HARMONIE-AROME. The track of Ophelia was re-run using the 10-member ensemble system (b). While the deterministic track was very close to the observed track, had the IREPS been available 54-hours ahead it would have given more certainty to the forecasters particularly helping to provide a longer lead-in time in the issuing of the Status Red wind warnings.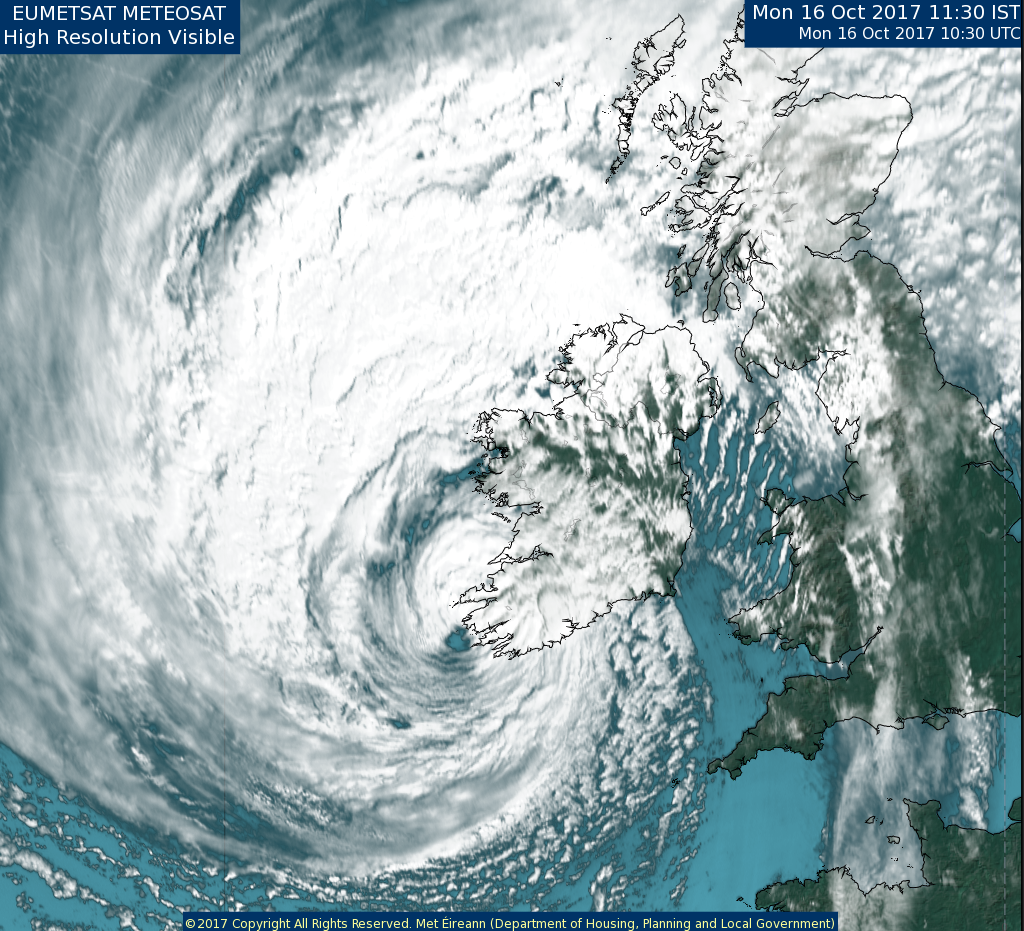 Case Study 2: Thunderstorms, Saturday 9th May 2020
Saturday the 9th May 2020 was a warm, humid day with temperatures up to 24 degrees. Thunderstorms with hail developed in the afternoon. The white map of Ireland is the afternoon radar on the 9th showing intense showers/thunderstorms. The other 11 green maps are the showers as forecast by our new 54-hour IREPS from a forecast on the evening of Thursday the 7th, each one being a possible outcome.
The overall IREPS forecast was excellent. However the 10 ensemble members show the different locations possible illustrating how difficult it is to pinpoint exactly where showers will develop and how difficult it still is to give thunderstorm warnings for exact locations two days ahead.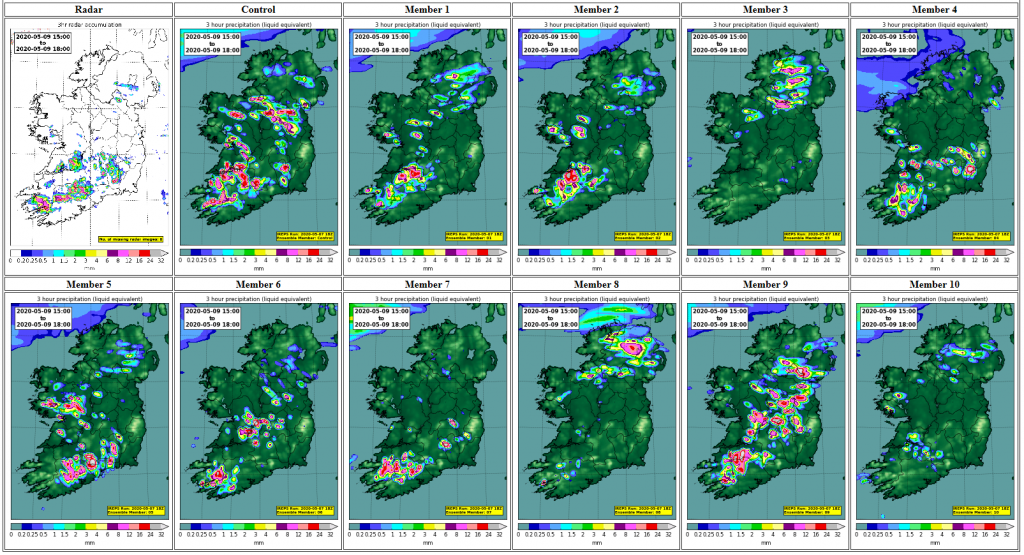 You can listen to Rónán Darcy and Alan Hally talking about setting up IREPS and its benefits for weather forecasting.
Further plans to 2023
The upgrade to IREPS is thanks to the development of the system by our Met Éireann NWP team led by Eoin Whelan and the substantial installation and testing work performed by them over the last several months. In addition, personnel from Technology, Forecasting, and Business Services Division were involved in testing and implementing the necessary technical changes and in managing the agreements and approvals required for our collaboration with KNMI.
The next stage in Met Éireann's HPC projects will see us collaborate with Denmark, Iceland, and the Netherlands to develop a common numerical weather prediction system. Known as UWC-West, this project is due to go operational in 2023 and preparations are well underway with most non-shift staff in Met Éireann remote working at this time.
This article is also listed in our Meteorologist Commentary page.