by Columba Creamer, Marine Unit, Met Éireann
The Irish Marine Data Buoy Observation Network recorded 'Phenomenal' seas off the west coast on Tuesday 27th /Wednesday 28th October 2020. A Phenomenal sea is classified as having a significant wave height of 14.0m or more and this was recorded at both M6 and M3 buoys. The depression responsible for these waves was an Ex-Hurricane named EPSILON, which originally developed off Bermuda before being 'consumed' into the Jetstream. The M3, M4 and M6 have recorded significant wave heights continually greater than 9m, which are categorized as 'Very High' seas since Tuesday evening. Individual waves of 20.04m, 16.9m and 21.7m have also been recorded at these buoys, respectively.
During the storm the phenomenal seas were mostly made up of the swell component of the significant wave and not from the shorter wave period wind wave component, which is typical for these depressions.
The M3 buoy has only been back in service since last week when the Marine Institute deployed a JFC type buoy. This type of buoy which is used at most of our buoy stations, weighs in excess of 5 tones and over 6m in height.
Buoy Reports and Climatology
The Irish Marine Data Buoy Observation Network reports for the last 24 hours are available here. Marine Climatology of each buoy with a graph displaying the Mean and Maximum wind speed, air temperature, sea temperature and wave height for each month since their installation is available here.
The Met Éireann Podcast on Waves and the Science of Surfing
In the eight episode of the Met Éireann Podcast, presenters Liz Walsh and Noel Fitzpatrick were joined by our now Met Éireann's Head of Observations Dr. Sarah Gallagher (marine researcher at the time) and surf coach and professional bodyboarder Seamus McGoldrick of Sligo Surf Experience. Together, they explored how waves form and travel, and the best ways to predict their development as a forecaster and as a surfer. We hear how local conditions such as wind, tides and seabed all influence the size and shape of a breaking wave and it's surfing potential.
You can listen by clicking the link above and/or subscribe to it on your favourite podcast app by searching 'Met Éireann Podcast'. Further information on this podcast and more is on our Podcast page. The Irish version of this episode on Podchraoladh Met Éireann is available here and on podcast apps.
Naming Hurricanes
Mariners' records from the 16th Century show Caribbean Tropical Storms being named after Saints but reliable record keeping of tropical cyclone data within the Atlantic Ocean did not begin until 1851. In the 1950's the National Hurricane Center (NHC) started naming Tropical Storms in the Atlantic giving them exclusively female names and then in the 1970's alternating male and female names.
The six lists below are used in rotation and re-cycled every six years, i.e., the 2019 list will be used again in 2025. Names beginning with Q, U, X, Y and Z are not used and if there are not enough names then the NHC moves on to the Greek alphabet: Alpha/Beta/Gamma/Delta/Epsilon/Zeta/Eta/Theta/Iota/Kappa/Lambda/Mu/Nu/Xi/Omicron/Pi/Rho/Sigma/Tau/
Upsilon/Phi/Chi/Psi/Omega.
2020 is only the second year since this naming system began in the 50's that the Greek alphabet has been used, the first was in 2005.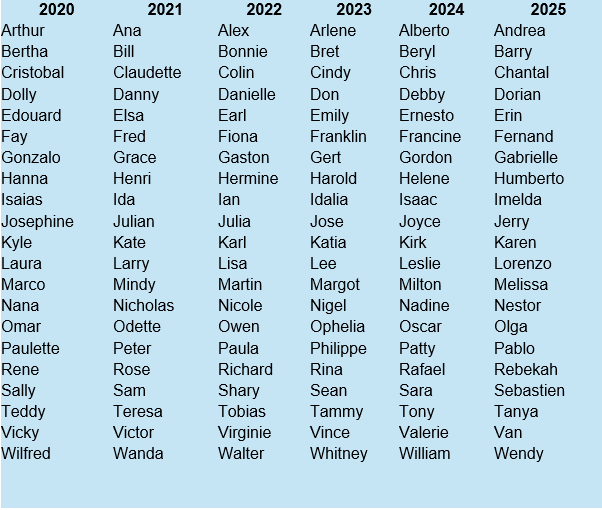 Once a storm is named by any National Met Service globally, that name is retained if the storm moves into our waters. For example: Ophelia and Lorenzo were named by the National Hurricane Center (NHC, USA) and Emma by IPMA (Portugal).
This naming of storms by National Meteorological Services has been shown to raise awareness of severe weather and help with citizen safety. A storm is named by a National Met Service when Orange or Red level winds are forecast to impact over a wide land area. Orange or Red level gusts can occur in exposed areas without the event being named. In addition there may be high impact precipitation (rain/snow) associated with the storm system.
Met Éireann Weather Warnings & Advisories