19 July 2019 04:53
Today
Heavy showers or longer spells of rain developing widely today with embedded thunderstorms and localized spot flooding. Some hazy sunny spells at times too. Feeling humid with top temperatures of 18 to 21 degrees generally, but 16 or 17 degrees in the north and northwest. Light to moderate cyclonic winds will freshen in the South and it will become very blustery along Western and Southern coasts.
Tonight
Further heavy or thundery showers in many areas this evening and at first tonight, prolonged in parts especially in the midlands and North with spot flooding likely, but becoming drier and clearer from the West overnight. Lowest temperatures of 10 to 13 degrees with a moderate to fresh Northwest wind setting in.
Tomorrow
Tomorrow is looking bright with sunny spells and some scattered showers. Highest temperatures around 16 to 21 degrees in moderate West to Northwest winds backing Westerly.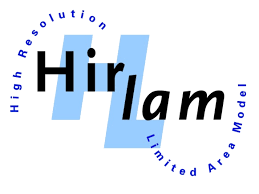 04th June 2019
The HIRLAM numerical weather prediction (NWP) mode