17 July 2019 07:16
Today
Cloudy and wet for much of the country this morning with outbreaks of rain quickly extending countrywide, and that rain will be heavy and persistent at times, especially in the north and west. The rain will turn more showery later today and some bright or sunny spells will develop later in the west. A little cooler than recent days with highs of 16 to 19 degrees and breezier too in moderate to fresh southerly winds, which will veer westerly as the rain clears.
Tonight
The last of the rain will clear from eastern counties this evening to leave a night of clear spells and scattered showers. Most of the showers will be on northern and western coasts, with mostly dry weather elsewhere. Lowest temperatures 10 to 13 degrees in moderate westerly winds.
Tomorrow
Sunny spells and scattered showers for tomorrow Thursday, the showers most frequent in northern and western areas with some prolonged and heavy showers possible over Ulster. Highest temperatures 17 to 20 degrees in moderate to fresh and gusty westerly winds.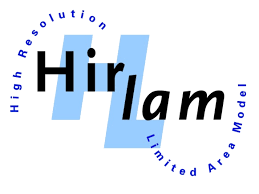 04th June 2019
The HIRLAM numerical weather prediction (NWP) mode