By Climatologist Paul Moore
Saint Patrick's Day, falling in early spring, can bring a variety of weather types to Ireland. The location of high and low pressure systems around Ireland can lead to cold arctic air-masses moving down from the north, or warm tropical air-masses moving up from the south. The strengthening spring sunshine can make it feel quite warm but can also spark off convective shower activity in the afternoon.
Wintry conditions are not uncommon on Saint Patrick's day in Ireland. In 1979 an Arctic air-mass brought north-easterly winds with widespread snow showers. Lying snow was recorded in many counties including Dublin, Wicklow, Kilkenny, Cork, Tipperary, Offaly and Louth, where the Drogheda Saint Patrick's Day parade was cancelled due to heavy snow.
The lowest temperature recorded in Ireland on Saint Patrick's day since 1940 was –8.9 °C at Collooney, Co Sligo in 1989, where a frosty start was followed by a dry and bright day across the country.
Warm weather can also feature on Saint Patrick's day in Ireland, such as in 2005. A very mild tropical maritime air-mass moved over the country from the south between the 16th and 20th. During this warm period 19.6 °C was recorded at Ashford (Cronykeery), Co Wicklow, which is the highest temperature recorded on Saint Patrick's day since 1940. Only a few days later, on the 19th, Valentia Observatory, Co Kerry recorded its highest ever March temperature of 20.7 °C.
Unusual weather extremes have also been reported on Saint Patrick's day in the past. In 1995 a tornado was reported in County Meath. Ireland lay in a very unstable and cold north-westerly airflow associated with a deep depression to the north of Scotland. This brought heavy wintry showers, with thunderstorms reported at both Mullingar and Shannon Airport before midday. Thunderstorms were widely reported through the afternoon as a showery trough moved across the country. The tornado was recorded between 1410 and 1430 UTC, moving quickly eastwards in a strong westerly flow over a path approximately 28 kilometers long. It was accompanied by lightning and hailstones of up to 5cm in diameter. The tornado caused considerable structural damage to dwellings and farm buildings and the noise from the approaching tornado was described as "like a roar of a low-flying aircraft". The full report on this event can be found here.
Although there have been no named storms in recent years on Saint Patrick's day, it can often be windy. The highest winds recorded on Saint Patrick's day since 1940 in Ireland were reported in 1968 at Malin Head, Co Donegal. The highest gust was 154 km/h while highest 10 – minute mean wind speed was 89 km/h.
The highest rainfall recorded since 1940 on Saint Patrick's day was 80.7 mm, reported at Glenvickee (Caragh River Area), Co Kerry in 1964, while the highest sunshine was 10.6 hours, reported at Dublin Airport in 1985.
Saint Patrick's day in 2022 saw weak weather fronts crossing the country from the west, with high pressure to the south. A narrow band of rain crossed the country early in the morning, which gave some rain in most places, but amounts were low. Another narrow band of rain moved down from the northwest during the afternoon but fizzled out before reaching the east coast, giving just a few light showers there. Sunny spells broke out across the country from late morning onwards with temperatures rising to between 12 and 16 °C in a fresh westerly wind. This meant conditions were generally good for the resumption of Saint Patrick's day parades across the country, which were cancelled for the previous two years due to covid restrictions.
Forecast for Saint Patrick's day 2023 issued Wednesday, 15/03/2023
An raibh fhios agat go bhfuil roinnt leathanaigh ar ár suíomh idirlíon ar fáil trí mheán na Gaeilge? #SnaG23 ☘️ https://t.co/4xRb8dNJ0J pic.twitter.com/0RTYcXmQZL

— Met Éireann (@MetEireann) March 15, 2023

Met Éireann Meteorologist Mark Bowe: After a wet few days, the unsettled weather is going to stay with us for St. Patrick's Day. The great news this year however is that its going to be quite a mild day but a rather blustery day too and while there will be some sunny spells there will be some passing heavy showers too.
So far from ideal but it has been a lot worse and we're hopeful for some dry spells! Be sure to get your latest hour by hour forecast for any location in Ireland on
or download the newly updated Met Eireann App.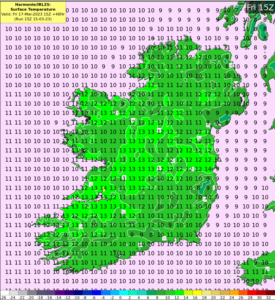 Mild: After the recent Arctic conditions with sleet, snow and hail it looks like its going to be a reasonably mild day with afternoon temperatures in the low to mid-teens.
Check conditions over high ground using our new 2-day mountains forecast and follow all safety advice and don't go out in poor weather.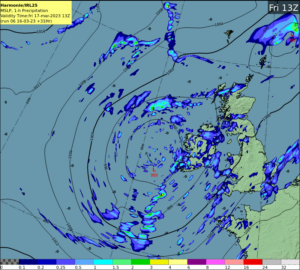 "A slack area of low pressure will move slowly in from the nearby Atlantic this Friday 17th and will feed in plenty of showers. The showers will be heavy in places and there is a small chance of isolated thunderstorms too.
The showers will slowly become more isolated later in the evening as the blustery winds start to die down."