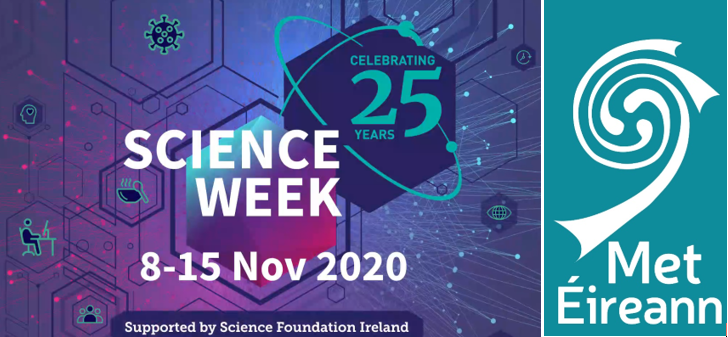 Now in its 25th year, Science Week 2020 will take place from November 8th to 15th.  This year will be different from any other year, as we try to find new and innovative ways of promoting science to all.  As a result of Covid-19 restrictions, we have turned to science and technology more than ever to keep us connected and maintain business continuity throughout this difficult time.
Met Éireann have been busy creating exciting new virtual content which will replace the education and outreach events we normally contribute to.
The core theme for this years' festival is 'Science Week – Choosing our Future' focusing on how science can improve our lives in the future, and in the present. This will explore how science can help us to make positive choices that will impact the environment, our health, and our quality of life.
The science of meteorology enhances our lives on a daily basis and will continue to do so into the future. Considering we are now exercising and meeting outdoors a lot more, weather forecasts are a vital tool in choosing the right day or time to walk in the park or explore the local beaches. The support we provide for impact-based decision making and our warning services for weather events protect life and property and ensure our citizens have the most up to date and accurate information available to them at the touch of a button.
In line with this; we have created some videos that showcase the work done by Met Éireann on a daily basis, the topics covered were; A Career in Meteorology, Aviation Forecasting, Preparing a Forecast (weather briefs in covid-19), Numerical Weather Predictions and A Day in the Life of a Broadcast Meteorologist. These videos were created by and will star a number of staff members, Joanna Donnelly, Harm Luikjx (and their sons!), Dr. Sarah Gallagher, Gerry Murphy, Alan Hally, Colm Clancy, Emily Gleeson and Andrew Doran-Sherlock. These videos have been created in a home environment by the individuals involved, so may not be polished but still show in a real way, the work we do every day to enhance peoples' lives.
Read all about the first Irish school on the WOW-IE map – St. Mary's National School, Donnybrook. Evelyn visited the school and students there on 13th November.
We will also be taking part in some online events- Joanna Donnelly with do a LIVE Q&A at the Cavan Monaghan Festival on the 12th of November and at the Let's Talk Science Festival in the Rediscovery Centre on the 13th and 14th of November.
Gerry Murphy will do a LIVE Q&A for the Louth Science Festival on the 17th of November.
Be sure to visit our School Resources page, where parents, teachers and children will find resources that have been designed for use in primary schools in Ireland.
We will be posting content to our Twitter and Facebook pages all week. The videos below are from our YouTube channel along with many more videos by our staff, detailing the variety of work carried out in Met Éireann.
Our 2019 Science Week article is here if you would like to learn more about Met Éireann and meteorology.
Gerry Murphy, Meteorologist and Weather Forecaster in the Forecast Division discusses his career as a meteorologist and how we forecast the weather
Gerry Murphy shows us how he prepares the forecast for RTE Weather
Gerry Murphy takes us behind the scenes of presenting a broadcast for RTE weather

Andrew Doran-Sherlock, Meteorologist in the Forecast Division, discusses how we prepare a forecast and how we communicate the information in the form of a weather brief
Our weather forecast models use Supercomputers and Big Data in a process known as Numerical Weather Prediction. In today's Science Week video, Dr. Colm Clancy and Dr. Alan Hally discuss the "ins" and "outs" of how we do this!

From the 'SIAM-IMA Dublin Area' YouTube channel. A presentation by our Head of Observations Dr. Sarah Gallagher on the work of the Observations Division and her varied, rich career in Met Éireann and academia.

What kind of work do our Meteorologists do? Met Éireann and RTÉ Weather Meteorologist Joanna Donnelly & her husband Harm Luijkx discuss the differences between General Weather Forecasting and Aviation Forecasting. More information on General and Aviation Forecasting is here
Joanna demonstrates the coriolis effect with the help of her two sons Casper and Tobias Luijkx
For more information on Science Week, check out SFI Science Week