Issued Tuesday 21 June 2022
What brought the heat to the south-western part of the continent? 
High pressure ridge already formed in the South West Europe by 12 June 2022, with an Atlantic low-pressure system between the Azores islands and Madeira, which caused the uprising of warm air in western Europe (source: WMO). This ridge did not move and the temperatures rose gradually day to day. Maximum temperatures were often above 30°C and 8 to 10°C higher than the climatological average.
Provisional temperature records
Saint-Jean-De-Minervois reached 40°C on 16 June, earliest every 40°C in France. Cottbus, Germany temperature 140 year-old record was broken with 39.2°C on 19 June 2022 (since 1888, previous record was 38.9°C set on 29 July 1921). Up to 43°C was observed in Andalusia, Spain. A June temperature record was broken for the western part of Austria with 36.5°C. High temperature records were also set in Czech Republic, Poland and Switzerland.
The heatwave is expected to come to the rest of central and south Europe in the next few days. While a Saharan dust storm will deteriorate air quality in southern France, Italy, Balearic Islands, Spain & the Balkan Peninsula.  (source: CopernicusEU) .
"Climate projection models suggest that heatwaves as likely to become more frequent, longer and more intense, start earlier and finish later than in the past." Keith Lambkin, Senior Climatologist.
Why did Ireland not achieve these high temperatures?
On Saturday,  a front lay over the southeast of the country which slowly cleared south-eastwards. A moderate northwest breeze which felt cool and kept the temperatures low. On Sunday, there was a depression of 999 hPa centred to the northwest of Scotland which was tracking eastward. So the air across Ireland is flowing eastward, keeping the continental heat away from our shores.
What is a climatological heatwave in Ireland?
In terms of climate monitoring in Ireland, a heatwave occurs at a station if it observes a daily maximum temperature of over 25 degrees Celsius (> 25 °C) for five (5) consecutive days or more
In general in Ireland, heatwaves occur in June, July and August. There has been only one instance of a heatwave beginning in May (Glenties Hatchery, Co Donegal in 2012) and four starting in September, all within the first 2 weeks – one occurring in 1959 and the others occurred in 1991. The peak month for heatwaves in Ireland is July. The average heatwaves is 6 days long. It would be rare to have a heatwave longer than 9 days. The longest heatwave observed is 14 days in Laois and Offaly in August 1976.
Temperatures in June 2022 so far
The highest daily maximum shaded air temperature of 2022 so far is 23.9°C which occurred on Thursday 16 June 2022 at Phoenix Park, Co Dublin.
 Currently June 2022 is two thirds completed and is 41st warmest June on record (Island of Ireland long-term series, 123 years) with an average temperature to yesterday of 13.7°C. This value is a half degree above June's 20th century average (1901-2000) and is currently on average to the 1991-2020 June average. Typically in Ireland, we would expect warmer temperatures towards the end of the month, as the summer progresses. So we are expecting June 2022 to be warmer than 41st warmest. We will have to wait another 10 days to find out however.
The warmest June occurred 82 years ago in 1940 with 15.4°C.
The coldest June occurred 50 years ago in 1972 with 11.1°C.
Of the ten warmest Junes on record, half have occurred from 2005 onwards. Of the 41 warmest Junes, just over a third have occurred from 2003 onwards.
No Junes in the 21st century (2001-2022) appear in the coldest ten Junes. Of the 41 coldest Junes, only 5% have occurred from 2011 onwards.
What's in store for the coming days of June 2022
Keep up to date with the latest forecasts and warnings:
May 2022 highlights:
May 2022 was provisionally Ireland's 3rd warmest on record. The average temperature being 12.6°C, which is 1.9°C above May's 20th century average (1901-2000) and 1.3°C above the 1991-2020 average.
Across Europe, temperatures in May 2022 varied considerably compared against the average May values for 1991-2020. The Sahara influence again meant hotter than average in the far west of Europe. While many countries, France, Spain and Portugal broke records.
Globally, May was the fifth warmest on record, joint with May 2018 and 2021.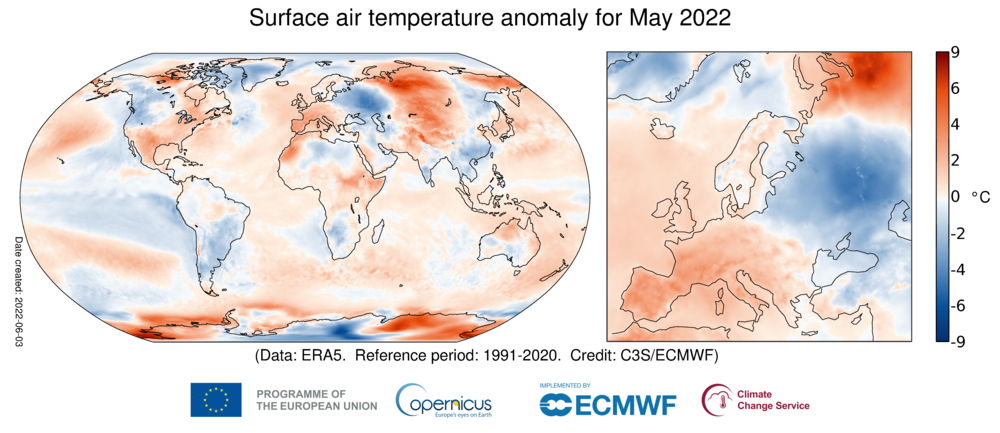 Temperature data and news:
Third warmest May in 123 years – May 2022
Other resources:
climate.copernicus.eu/surface-air-temperature-may-2022