A study by Reuters showed that Ireland has the third highest podcast listenership in the world, with 37% of our population listening to one per month!
Are you a weather enthusiast who would love to learn more about weather and climate in handy podcast form, but are not sure where to start? If so, we have some recommendations for you. And of course the Met Éireann podcast series, which launched this summer, is at the top of our list!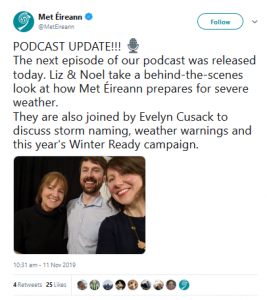 Met Éireann Podcasts
On the 21st June 2019 the Met Éireann monthly podcast series was launched. Each month, an episode is released in Irish and English. The English language podcast is co-presented by Met Éireann's Liz Walsh and Noel Fitzpatrick, and covers a range of public interest topics on weather and climate featuring national and international expert guests. The Irish language podcast series, Podchraoladh Met Éireann, presented by Met Éireann's Ferdia McCrann, features discussions on weather and climate as Gaeilge. As of November 2019, the following episodes are available:
Episode 1 (June 2019) – Fundamentals of Climate Change and Projections for Ireland
Episode 2 (July 2019) – What Causes Ireland's Weather
Episode 3 (August 2019) – Hurricanes
Episode 4 (September 2019) – Chaos & Computing in Weather Forecasting
Episode 5 (October 2019) – Valentia Observatory
Episode 6 (November 2019) – Behind the Curtain: The View from Inside Met Éireann During Severe Weather
The podcast has original music by Met Éireann's Donal Black and features The Isobars, Met Éireann's resident choir.
The Weather Geeks Podcast is hosted by Marshall Shepherd, a Professor of Atmospheric Sciences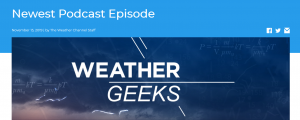 at the University of Georgia in the USA, former NASA scientist and former President of the American Meteorological Society. A new episode of the podcast is released every week. The series has a back catalogue of 85 so far (as of Science Week, November 2019). The Weather Geeks podcast series focuses mainly on weather in the USA, but covers many interesting topics such as Weather vs Climate, Community Disaster Response & Preparedness, Social Media & Severe Weather Communication, Hurricanes, the Ozone Layer, Weather Radar, Climate Change Politics, Weather & Insurance, Thundersnow, Wildfires and much more.
Podcasts by the UK Met Office
In the Mostly Weather podcasts Met Office scientists take a look at the history and science of weather and climate research. Sample episodes include "Flying at 40,000 ft, the best and worst weather", "What types of weather cause the most harm?" and "Fog beer, fog lights and a fog named Karl". Their weekly Weather Snap podcast takes a look at the science behind the UK and global weather headlines. The latest episode was on "Rain across the UK – where, how much and how we measure it".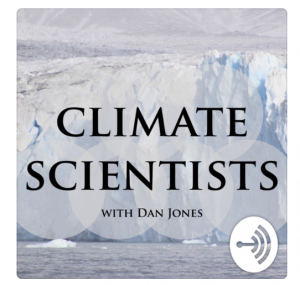 Climate Scientists with Dan Jones
Dan Jones is an oceanographer at the British Antarctic Survey and a Senior Member of Darwin College, University of Cambridge. He describes his podcast as informal conversations with climate-relevant researchers.
This is the podcast of the American Meteorological Society hosted by meteorologists Irene Sans and Dakota Smith along with Jeff Rosenfeld, BAMS editor-in-chief. Their most recent episode is on "The interconnectivity of wildfires and climate". Back episodes include "The emerging area of seasonal prediction", "You have to know what the weather's going to be if you're shipping chocolate" and many other interesting topics.
Royal Meteorological Society Podcast
The Royal Meteorological Society is the UK society for weather and climate. Their podcast series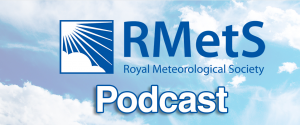 discusses issues, news and hot topics with guests from the world of meteorology and climate science, and provides an insight into the Society's activities and events. There have been episodes on "Living with hurricanes", "Does the sun's output affect climate?", "The 2018 heatwave",  "El Niño and La Niña", "The beast from the east: sudden stratospheric event", "Gardening in a changing climate" and more.
Happy listening! Let us know your favourite podcast episodes.