16 July 2019 09:21
Today
Much of the western half of Ireland will stay dry today with spells of hazy sunshine. Some scattered showers elsewhere, turning heavy or prolonged across parts of Leinster into this afternoon. Feeling warm and humid in southwest breezes. Temperatures will widely climb into the low 20s, with afternoon highs ranging 19 to 23 degree Celsius.
Tonight
Dry early on tonight apart from a residual shower in the east. Later on a spell of heavy rain will move in from the Atlantic to affect the west and north. Lowest temperatures 12 to 15 degrees Celsius, in mostly moderate southwest breezes, but fresher up along the Atlantic coast.
Tomorrow
Wednesday will start cloudy and damp in most areas with outbreaks of rain quickly extending eastwards. The rain will turn more showery later in the afternoon with some bright or sunny spells developing in the west. Showers will however persist in the east. Temperatures will be down on recent days with highs of 16 to 19 degrees and it will be breezier too in moderate to fresh southerly breezes, veering westerly later in the clearance.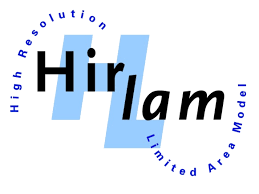 04th June 2019
The HIRLAM numerical weather prediction (NWP) mode