18 September 2018 19:41
Today
Isolated heavy showers this evening, and thunderstorms on west coasts with severe gusts. Otherwise dry and clear. Blustery with fresh and gusty southwest winds.
Tonight
Showers and thunderstorms will die out early tonight and it will become mainly dry. Later in the night, persistent rain associated with Storm Ali will move in from the west and spread eastwards. Southerly winds will strengthen overnight reaching gale or strong gale force on Atlantic coasts with strong and gusty winds inland by dawn. Lowest temperatures of 9 to 12 degrees.
Tomorrow
Storm Ali will bring very windy conditions to all areas tomorrow with strong to gale force south to southwest winds later veering westerly. There will be severe or possibly damaging gusts for a time in the morning. Rain will clear quickly in the morning to blustery showers in the afternoon. In the northwest early morning rain will be heavy. Turning cooler with afternoon temperatures of 11 to 15 degrees.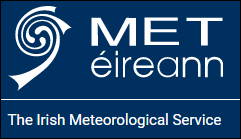 17 September 2018
Heading: The arrival of Helene heralds the beginni
16 September 2018
Tropical storm Helene continues to weaken and will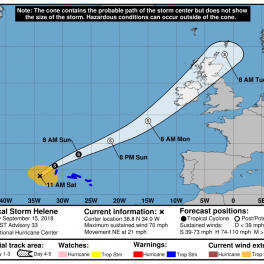 15 September 2018
Helene maintains Tropical Storm status in the late