22 July 2019 05:11
Today
Dry in most parts today with sunny spells developing, however, cloudier in some Atlantic coastal counties and along parts of the south coast with a little patchy rain, drizzle and mist. Warm and humid with highs of 20 to 25 degrees, but slightly cooler in the coastal fringes of the west and south. Moderate southwesterly winds will be fresh to strong near coasts, and occasionally very strong and gusty on west and northwest coasts.
Tonight
Many places will be dry tonight with variable cloud cover, however, patchy mist and drizzle will still occur, mainly along western and southern coasts and about high ground. Light to moderate southerly breezes will continue fresh to strong at times along west and northwest coasts. Another humid night, with minima of 14 to 17 degrees.
Tomorrow
Tomorrow, Tuesday, will be another warm and mostly dry day, with just patchy morning mist and drizzle affecting Munster and south Leinster. After a somewhat cloudy start, sunny spells will develop quite widely as the day goes on, with the lengthiest spells expected in parts of Ulster and north Leinster. Top temperatures will range 20 to 26 degrees Celsius. Light to moderate southeasterly breezes, will be fresh to strong and gusty near west and southwest coasts.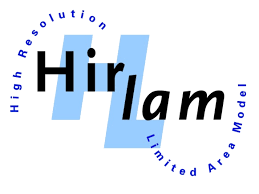 04th June 2019
The HIRLAM numerical weather prediction (NWP) mode