22 July 2019 14:36
Today
Dry and warm with sunny spells for the rest of today. Cloudier in some Atlantic coastal counties and along parts of the south coast with a little patchy drizzle and mist. Highest temperatures of 20 to 25 degrees, possibly 26 degrees in the east. Breezy with moderate to fresh and gusty southwesterly winds.
Tonight
Dry tonight apart from a little patchy mist and drizzle along western and southern coasts. Light to moderate southerly breezes will continue fresh to strong along west and northwest coasts. Another humid night, with minima of 14 to 17 degrees.
Tomorrow
Tuesday will be another warm and mostly dry day. After a cloudy start, sunshine will develop quite widely as the day goes on. Top temperatures of 20 to 26 degrees. Light to moderate southeasterly breezes will be fresh and gusty near west and southwest coasts.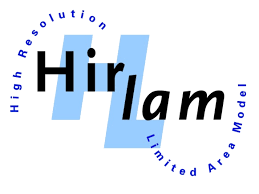 04th June 2019
The HIRLAM numerical weather prediction (NWP) mode