23 July 2019 08:48
Today
Warm sunshine developing in many areas today but it will stay rather cloudy and misty in southern coastal counties. Maximum temperatures ranging 23 to 26 degrees generally but a few degrees cooler under cloudier skies in the south. Winds will be moderate, south or southeast in direction.
Tonight
Dry early tonight but thickening cloud will bring some showers later. A humid night with the odd thundery downpour possible. Minimum temperatures of 14 to 17 degrees in moderate southerly breezes.
Tomorrow
Mostly cloudy on Wednesday with a few showers and the risk of more persistent rain in the southwest and west. Some sunnier spells at times, especially in the east. Maximum temperatures ranging 20 to 23 degrees generally but reaching 24 or 25 degrees in east Leinster. Winds will be mostly moderate, southerly in direction.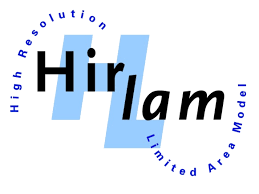 04th June 2019
The HIRLAM numerical weather prediction (NWP) mode