Over the weekend it'll turn less hot as high pressure gradually loses influence, however it'll still be a warm and largely sunny weekend across Ireland with temperatures into the low to mid-twenties. 
Friday will be another hot and sunny day as temperatures once again approach 30°C.  Although it'll be a dry day for most there is a chance of thunderstorms and heavy showers developing across parts of the country.
Met Éireann meteorologist Aoife Kealy said, "Today's high temperatures along with a moister airmass could spark off a few thunderstorms in a few areas – the ingredients are there but forecasting the exact location of thunderstorms can be a challenge, so we're encouraging people to keep an eye on Met Éireann forecasts and warnings throughout the day as well as checking our radar to keep an eye on possible thunderstorm development."
Update: A Status Yellow Thunderstorm Warning has been issued for Ireland, valid until 8pm Friday 23rd July.
A nationwide Yellow High Temperature warning remains in place until Saturday morning, with an Orange High Temperature warning for several inland counties expected to expire later tonight. An Amber Extreme Heat warning is also in place across Northern Ireland until Friday midnight.
The highest temperature of the year so far was recorded on Wednesday, with 30.8°C at Mount Dillon, Co. Roscommon.  In the north temperatures reached 31.4°C at Armagh, making it the third time in a week Northern Ireland has seen it's highest temperature record broken. At least 11 weather stations have reached heatwave criteria across Ireland, with temperatures now having reached at least 25°C for 7 days in a row.
On Wednesday and Thursday night the temperature did not fall below 20°C at Valentia Observatory, Co. Kerry – making it the first time Ireland has recorded a Tropical Night two nights in a row.   Tropical nights (shade air temp above 20°C all night) are a rarity for Ireland, having only occurred around 6 times in the digital record.
Buoy Air Temperature Record
The air temperature on the M2 buoy in the Irish Sea reached a maximum of 22.8C on Wednesday 21st July 8pm local. This is a record air temperature for the Irish Marine Data Buoy Observation Network (IMDBON) which commenced operating in 2000. The previous record of 22.5C was recorded at M5 Buoy on 12th July 2013.
Weekend Forecast
Commenting on the forecast for the weekend, meteorologist Aoife Kealy continued: "Whilst we'll lose the very high temperatures over the coming weekend, it'll still be warm with temperatures widely into the mid to low 20s Celsius across the country on Saturday and Sunday.  It won't be quite as warm during the nights however, which will be welcome news to many."
UV levels will be High to Very High throughout the week with people being advised to take extra care when outdoors and follow advice from Healthy Ireland and the HSE:
"For many people, the warmer weather is enjoyable. For some people, such as those with underlying health conditions, older people, babies and young children, the heat can bring real health risks. The HSE is advising everyone to be careful and to keep an eye on those you know who may be at risk. Remember to:
Keep cool
Stay hydrated
Protect your skin
Know when to get medical help.
Ways to stay safe can be found at:
The Department of Agriculture has also issued an Orange Forest Fire Warning due to the hot and dry conditions, in place until 12pm Friday July 23rd.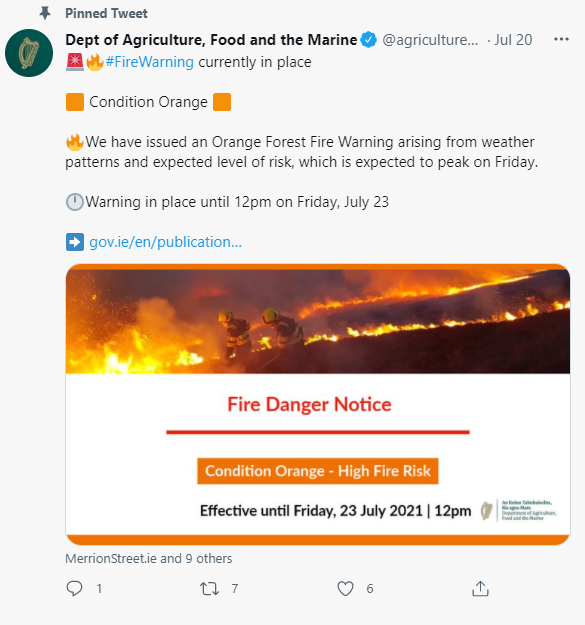 What has brought the hot weather to Ireland?
Last week the Jet Stream started to migrate northwards and is now displaced to the far north of Ireland. This allowed the "Azores High" – a near permanent area of high pressure usually positioned in the sub-tropical Atlantic near the Azores Islands – to build north and steer warm, dry and settled conditions over Ireland.
This weather pattern has brought warm air up from the south with it, and that, together with plenty of strong summer sunshine has allowed temperatures to build, with temperatures exceeding 30°C in some parts of Ireland this week.
Climate change is already increasing the frequency and intensity of extreme events, and many single events have been shown to have been made worse by increasing temperatures.  The latest climate projection models for Ireland show a trend towards more warmer wetter winters and hotter dryer summers as we move toward mid-century.
Previous articles on this week's weather:
Staying Hot This Week Before Turning Less Hot Over The Weekend
The Hot Weather Continues This Week