This week sees the hot and dry weather continue across Ireland as high pressure remains in charge, with many stations across Ireland reaching heatwave criteria.
Met Éireann has issued a nationwide Yellow High Temperature warning, as well as an Orange High Temperature warning for several counties inland, where temperatures are expected to exceed 30°C on Wednesday and Thursday.
The highest temperature of the year so far was recorded on Saturday 17th July, with 29.6°C reached at Durrow, Co. Laois. At least nine weather stations have reached heatwave criteria so far, with temperatures having reached at least 25°C for 5 days in a row, with further stations expected to reach heatwave criteria over the coming days.
The current maximum temperature record for July is 32.3°C, reached in Roscommon on 19th July 2006 and the all-time maximum temperature record for Ireland is 33.3°C, recorded at Kilkenny Castle on June 26th 1887.
Met Éireann meteorologist, Liz Coleman, said: "It's been very warm so far this week and temperatures are expected to climb further today and tomorrow, quite widely into the high 20s and low 30s, with 31 or 32 possible at a few locations inland.  These high temperatures could spark isolated thunderstorms in North Connacht and Ulster later this afternoon.
"As well as high temperatures by day, it'll stay warm and humid during the night too with temperatures expected to stay into the high teens quite widely, with a few spots possibly seeing temperatures staying above 20C overnight.  This is quite unusual for Ireland, with overnight minimum temperatures of 20C being recorded on just 5 occasions since records began."
UV levels will be High to Very High throughout the week with people being advised to take extra care when outdoors and follow advice from Healthy Ireland and the HSE:
"For many people, the warmer weather is enjoyable.  For some people, such as those with underlying health conditions, older people, babies and young children, the heat can bring real health risks.  The HSE is advising everyone to be careful and to keep an eye on those you know who may be at risk.  Remember to:
Keep cool
Stay hydrated
Protect your skin
Know when to get medical help.
Ways to stay safe can be found at: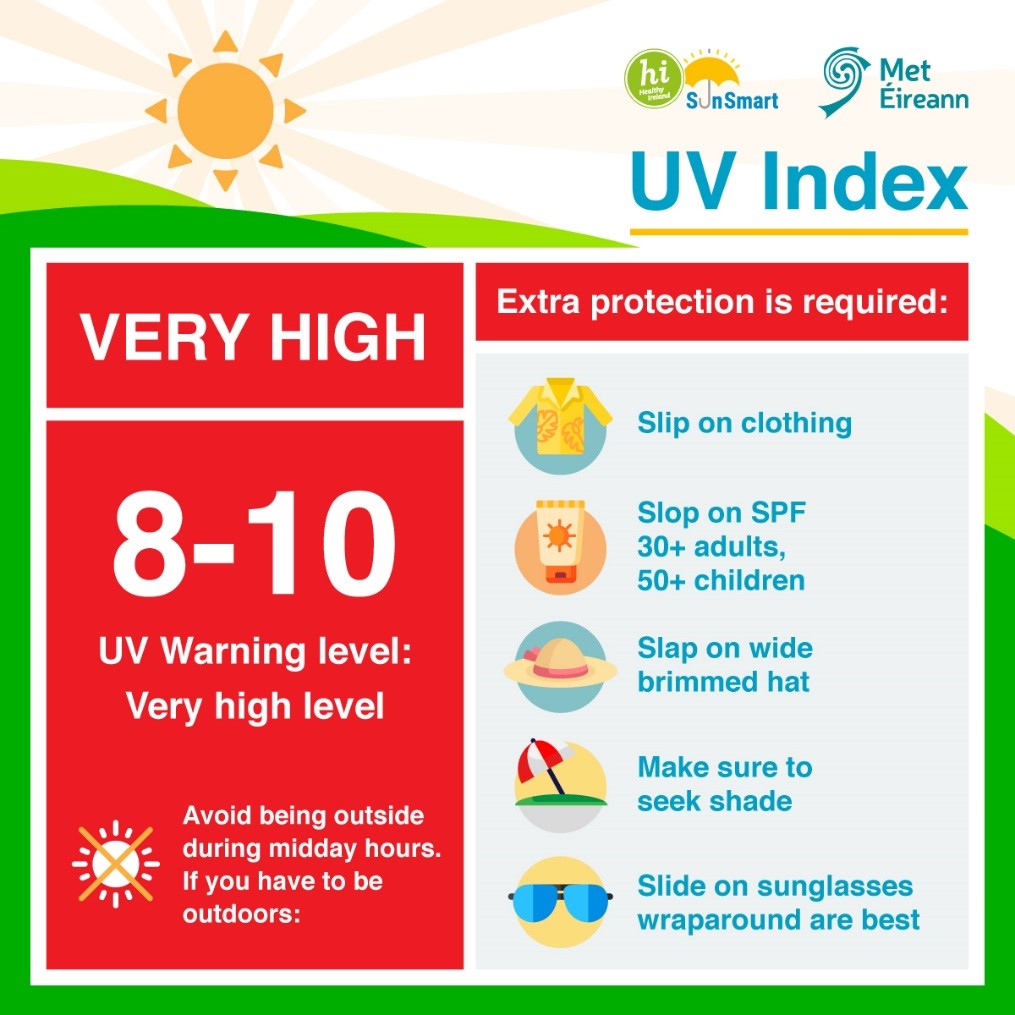 The Department of Agriculture has also issued an Orange Forest Fire Warning due to the hot and dry conditions, in place until 12pm Friday July 23rd.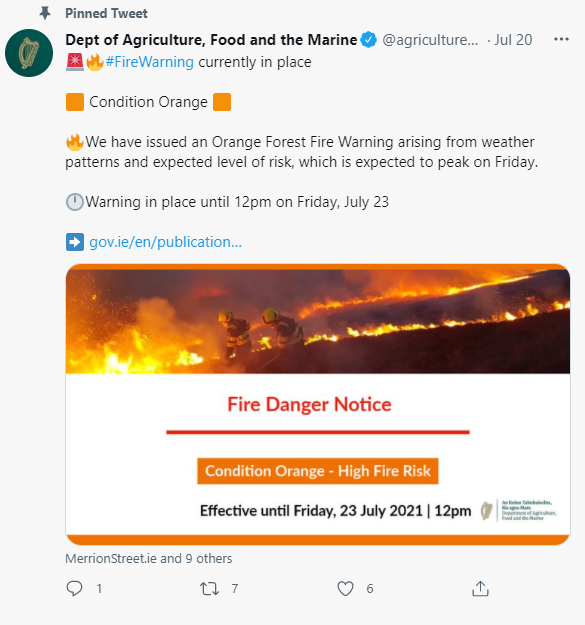 What has brought the hot weather to Ireland?
Around this time last week, the Jet Stream started to migrate northwards and is now displaced to the far north of Ireland. This allowed the "Azores High" – a near permanent area of high pressure usually positioned in the sub-tropical Atlantic near the Azores Islands – to build north and become established over our area, bringing us lots of dry and settled weather.
The high has brought warm air up from the south with it, and that, together with plenty of strong summer sunshine has allowed temperatures to build, with temperatures expected to reach the low 30s Celsius in some parts of Ireland this week.
How long will the warm and sunny weather last?
Met Éireann meteorologist, Liz Walsh, said: "What we've got here is a "blocking high" – the atmosphere is essentially "stacked" with high pressure going all the way up to the top.  This makes the high at the surface slow-moving. It's basically stuck. Blocking highs are usually quite difficult to dislodge but it does look as though the gradual dislodging of this high will be getting underway by Friday, but it's going to be quite a gradual process."
Whatever the weather please follow the public health advice and help keep everybody safe from COVID-19.
For the most accurate and up to date 7-day, hourly forecast for your local area on the Island of Ireland go to met.ie. The latest weather advisories and warnings for Ireland are on the Met Éireann Warnings page. These services and more are available on our free app – available from the App store for iPhone, and Play store for Android. Follow us on Twitter and Facebook for extra weather and climate content.