At this difficult time for all of us, many of our weather observing volunteers continue to measure weather parameters, when safe to do so. One such example of volunteers helping us record Ireland's weather and climate is Deerpark House Nursing Home, in Bantry Co. Cork. Pictured below are Josephine (Activity Coordinator) with residents Jerome and Bernie, who are delighted to say they have recorded no rain this past week at their Rainfall station (article published 10th April).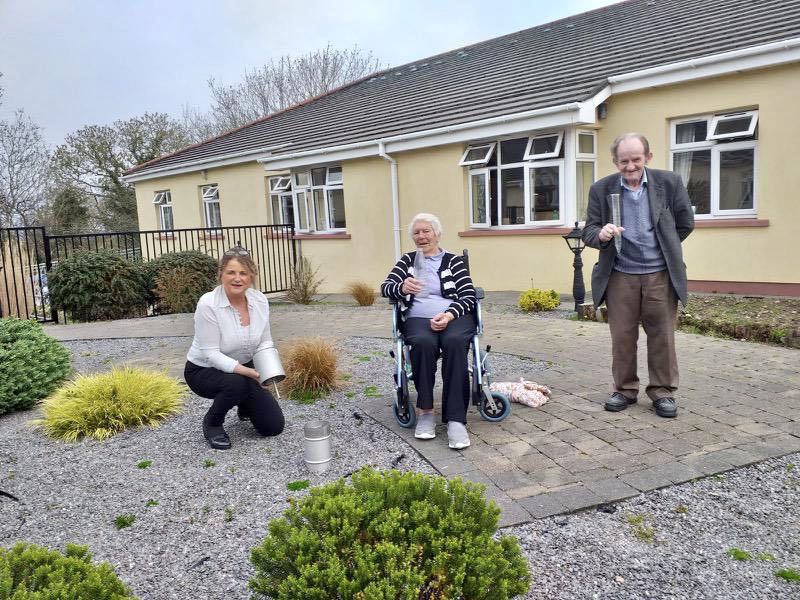 This is one of Met Éireann's many volunteer observers. We very much appreciate all our volunteer weather observers at this time, and always.
Met Éireann's Weather Observation Network
Met Éireann has an observation network that gathers weather data across the country for use in weather forecasts, aviation, marine, agriculture, climate analysis, forecast verification and meteorological research. All weather observations record day-to-day changes of the atmosphere and are quality controlled and archived in Met Éireann's database to formulate long-term climate records.
These data comes in a variety of forms and are obtained from a number of different sources: human reports, in situ instruments and remote sensors. Met Éireann currently uses four different types of weather station to record data- Manned and Automatic Weather Stations, Climatological and Rainfall Stations – all differentiated according to the range of instruments and measurement interval. Each of these is explained in more detail here.
Voluntary Weather Observers
Amateur weather observers in Ireland contribute to the field of citizen science through their monitoring of Irish weather and building up our store of weather data. The science of meteorology has a strong background in citizen science. The earliest weather observations were often taken by amateur and voluntary observers. There are many voluntary observers around Ireland who have been taking rainfall measurements every morning for many decades, the data from over 400 of those stations is available here .
Met Éireann is very grateful to our dedicated group of voluntary climatological observers throughout the country. Indeed some of our observers have given service which deserves special mention. One such is Brother James O'Hare of the Salesian Order and former principal of Warrenstown Horticultural College. This article describes the presentation in 2016 thanking him for his immense personal contribution to the national climate archive of Ireland.

This video highlights the vital role of the weather observers that help tell the story of Ireland's climate since the 1800's.
If you are interested in becoming a voluntary weather observer, please email us at enq@met.ie
Update!
Since this article was published on 10th April the staff send us this lovely photo of them (Bernie perhaps?!) looking at it on their TV. They were thrilled to see the article about them and were delighted to tell their families that they are "on the Met Éireann website"!
We wish them a safe cocooning and thank them again for 'looking after the weather', from Evelyn Cusack and all the staff in Met Éireann.