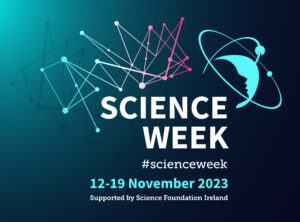 Science Week is back with a bang and Met Éireann is delighted to once again be taking part in a series of associated events around the country.
Among the signature events will be the Let's Talk Science Festival at the Rediscovery Centre in Ballymun this Saturday (November 11th), where an expert team from Met Éireann will be on hand.
This family-friendly festival aims to engage the public and young people in STEM and is being run this year under the theme of 'Exploring the wonderful world of Science'.
Met Éireann's stand will take pride of place amongst a host of interactive exhibits, and will feature the popular augmented reality sandbox, an automatic weather station, and a weather and climate card game.
Open from 11am to 4pm, the event is free-of-charge but places should be booked in advance through the Rediscovery Centre website.
Elsewhere, Head of Climate Services, Keith Lambkin will lead a panel discussion on 'Ireland's Climate Culture' at the Midlands Park Hotel in Portlaoise next Friday (November 17th), as part of Midlands Science's schedule of events.
The panel will set out to explore the science of and potential solutions to climate change, with experts including farmers, ecologists and young people.
This event is open and free to the public, with tickets available through the Midlands Science website.
While Science Week doesn't officially launch until Sunday, Met Éireann meteorologists have already been busy, with Aoife Kealy visiting her old school, St Joseph's Mercy Secondary School in Navan, and Joanna Donnelly attending a careers evening in Portmarnock Community College.
Also this weekend, fellow meteorologist, Linda Hughes will deliver a workshop on 'Interpreting the Weather' to delegates at the Sea Scouting Conference in Wexford Town.
Next week will see Tido Semmler (Research Division) present to the Irish Mathematical Society, and Annmarie Woods (Communications Unit) and Ferdia McCrann (Research Division) visit Gaelscoil Cholmcille in Santry, while meteorologist, Gerry Murphy is the guest of Dundalk Library for a presentation to primary school children on November 24th.
Officially running from November 12th to 19th, Science Week 2023 is organised by Science Foundation Ireland.
This Science Week, the public is asking people to consider what it means to be human in today's world, and how the decisions we make today, will impact humans of the future.
As Ireland's national meteorological service, Science Week provides fantastic opportunities for Met Éireann to be part of the discussions around how decisions made today will impact on Ireland's climate into the future.
For the full schedule of Science Week events, visit sfi.ie.