Provisional Long Series Temperature Statement for Ireland
The provisional mean annual shaded air temperature for 2019 was 10.5°C, which was 0.9°C above its 1961-1990 Long-Term Average (LTA). It was the 9th consecutive year above LTA and is on track to being the 18th warmest year in 120 years. The mean annual temperature of 2007 remains the warmest year on record for Ireland, with 1.4°C above its LTA and a mean annual temperature of 10.8°C.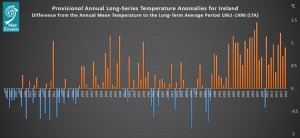 Overview of meteorological seasons in 2019
Meteorological winter, spring and summer 2019 were all at least 0.9°C above their LTA.
Winter 2019 (December 2018, January and February 2019) was the warmest winter on record (119 years) with 2.2°C above its LTA (mean seasonal temperature 7.5°C).
It was the 4th consecutive season above LTA for winter and summer 2019.
Spring 2019 was the 6th consecutive spring above normal and was 1.1°C above its LTA.
Autumn 2019 was normal for the time of year (0.0°C, that is on its LTA), after a warm September (0.8°C), cool October and November was just below its LTA.

Overview of months in 2019
February 2019 was the 2nd warmest in 120 years with the mean monthly temperature being 3.0°C above its LTA (mean monthly air temperature 8.1°C), previously February 2018 was 0.8°C below its LTA.
No other month of 2019 was in the top 10 warmest or coolest months in the long-series record.
January 2019 was the 8th consecutive January above normal and was 1.3°C above its LTA.
There were two months with negative anomalies, October and November 2019 with 0.6°C and 0.2°C below their respective LTA.
This long-series analysis is based upon values of shaded air temperature since 1900 observed at Valentia Observation (Co Kerry), Birr/Gurteen (Co Offaly/Tipperary respectively), Phoenix Park (Co Dublin), Malin Head (Co Donegal) and Armagh Observatory* (Co Antrim).
Notes:
Meteorological winter refers to the average of December the previous year and January and February of the year it is assigned.
LTA refers to the Long-Term Average period (1961-1990).
The 1961-1990 historical base period is recommended by the World Meteorological Organisation to support long-term climate assessments.
*Armagh data courtesy of the Met Office in the United Kingdom, Crown copyright.
To find out more monthly, seasonal and annual climatological statistics for Ireland, go to:
www.met.ie/climate/past-weather-statements
Published online: Monday 6 January 2020
Climatology & Observations Division
Met Éireann