February 2020 Analysis, updated at 3pm, Monday 2nd March 2020, by Paul Moore, Aidan Murphy and Sandra Spillane, Climate Services, Met Éireann.
A strong Stratospheric Polar Vortex1, well coupled with the troposphere, has led to the North Atlantic Oscillation2 being in a strongly positive phase during February 2020. This has resulted in a very zonal pattern across the Atlantic with a strong Polar Jetstream, further south than normal, steering a series of vigorous Atlantic depressions, towards or just to the north of Ireland. These depressions, including three named storms Ciara, Dennis and Jorge, brought prolonged periods of heavy rainfall and stormy weather leading to extensive flooding in places, particularly along the Shannon catchment. Heavy rainfall falling on already saturated ground and low winter evaporation rates exacerbated the flooding.
The position and strength of the Polar Jetstream has resulted in 1.5 to 3.3 times the normal monthly rainfall for February throughout the country (a month usually associated with one of the least rainfall amounts).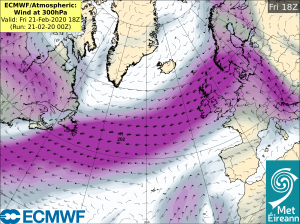 The highest monthly rainfall total for February was recorded at Newport, Co Mayo with 342.7 mm (271 % of its February LTA). The lowest monthly rainfall total was recorded at Dublin Airport, Co Dublin with 130.4 mm (267% of its February LTA). While the highest daily rainfall total was 51.5 mm on Saturday 8th February 2020 at Knock Airport, Co Mayo (50% of its monthly LTA).
Most synoptic stations, predominately in the northern half of the country, had their wettest February on record, including Phoenix Park, Co Dublin and Malin Head, Co Donegal (records going back to 1850), Shannon Airport, Co Clare (record length 74 years), Newport, Co Mayo (record length 60 years), Claremorris, Co Mayo (record length 56 years), Casement, Co Dublin (record length 56 years) and Knock Airport (record length 23 years).
Full report <<here>>