CLIMATOLOGICAL DROUGHTS AND DRY SPELLS 2020
There were 31 dry periods in Ireland during 2020, between Wednesday 18 March 2020 and Tuesday 28 April 2020. Of these 21 were dry spells at 20 stations, eight were absolute droughts at eight stations and two were partial droughts at two stations. The highest number of dry periods occurred at Dublin Airport, Co Dublin with four, while Phoenix Park, Co Dublin had three.
The two instances of dry spells at Dublin Airport in March and April 2020 were broken only by a daily rainfall total of 1.6 mm on the day between them, that is on Thursday 2 April 2020 – which broke the absolute drought at that station, but not enough to break the partial drought. Dry spells at three stations in County Cork lasted 17 days from Thursday 19 March to Saturday 4 April 2020.
By the end of the day on Tuesday 28 April 2020, there were seven ongoing dry spells in counties Mayo, Sligo, Galway, Donegal and Roscommon – the highest period total was 2.2 mm of rainfall with 23 days at Claremorris, Co Mayo (one day from breaking its longest dry spell); two absolute droughts in County Mayo at Claremorris (0.2 mm total rainfall) and Belmullet (0.1 mm total rainfall); while Dublin Airport was at 42 days of a partial drought (4.8 mm total rainfall). During Wednesday 29 April 2020, two bands of rain crossed north-eastward over the country, breaking all these dry spells, absolute and partial droughts. The highest daily rainfall at Claremorris during Wednesday was 10.6 mm, Dublin Airport observed only 4.1 mm and Belmullet measured 7.7 mm.
Locations of Dry Periods in 2020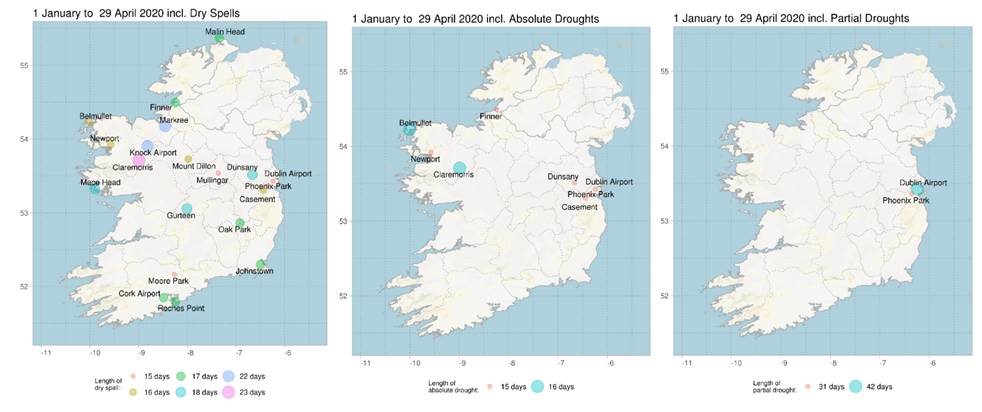 To read more on the dry periods so far in 2020, click <<here>>.