Four key climate change indicators break records in 2021 – Geneva, 18 May 2022 (WMO)
Four key climate change indicators – greenhouse gas concentrations, sea level rise, ocean heat and ocean acidification set new records in 2021. This is yet another clear sign that human activities are causing planetary scale changes on land, in the ocean, and in the atmosphere, according to the World Meteorological Organization (WMO).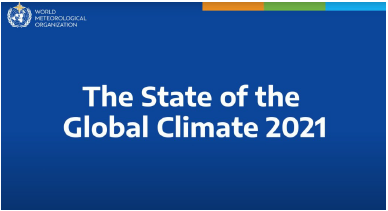 Key Messages:
Greenhouse gas concentrations reached a new global high in 2020, and data from specific locations indicate that they continued to increase in 2021.
The global annual mean temperature in 2021 was around 1.11 ±0.13 °C above the 1850-1900 pre-industrial average, less warm than some recent years owing to cooling La Niña conditions at the start and end of the year. The most recent seven years, 2015 to 2021, are the seven warmest years on record.
Exceptional heatwaves broke records across western North America and the Mediterranean. Death Valley, California reached 54.4 °C on 9 July, equalling a similar 2020 value as the highest recorded in the world since at least the 1930s, and Syracuse in Sicily reached 48.8 °C, a new provisional temperature record for Europe.
Ocean heat was record high. The upper 2000m depth of the ocean continued to warm in 2021 and it is expected that it will continue to warm in the future – a change which is irreversible on centennial to millennial time scales.
Flooding induced economic losses of US$17.7 billion in Henan province of China, and Western Europe experienced some of its most severe flooding on record in mid-July associated with economic losses in Germany exceeding US$20 billion. Drought affected many parts of the world, including the Horn of Africa, Canada, the western United States, Iran, Afghanistan, Pakistan and Turkey.
Global mean sea level reached a new record high in 2021, after increasing at an average 4.5 mm per year over the period 2013 -2021. Full report here.
Climate of Ireland 2021
Above Average Temperatures, Below Average Rainfall
Provisional Findings Include:
The provisional mean annual average air temperature was 10.51 °C, which is 0.96 °C above the 1961-1990 Long-Term Aver-age (LTA).
2021 is the 8th warmest year in a 122-year record (since 1900).
Twelve of the twenty warmest years in Ireland have occurred since 2002.
The warmest year remains 2007 with 10.77 °C which is 1.22°C above the 1961-1990 LTA.
14 synoptic stations recorded heatwaves between 16th July and 25th July 2021, with 6 stations reporting heatwaves lasting 10 consecutive days.
On the 21st of July 2021 Valentia Observatory, Co Kerry recorded the first tropical night in Ireland for 20 years (where the temperature does not fall below 20°C over a 24-hour period).
The provisional gridded rainfall for Ireland was 95% of the 1981 – 2010 LTA.
It was the driest year since 2010 at Gurteen, Co Tipperary and Malin Head, Co Donegal. It was the driest year since 2011 at Phoenix Park, Co Dublin.
There were 45 separate climatological dry periods observed in Ireland in 2021 (For more information on the past weather and climate of Ireland, including dry periods definitions, see Past Weather Statements).
There were 5 named storms in 2021 (of which only three directly affected Ireland), 8 in 2020, 7 in 2019, 11 in 2018, 7 in 2017, and 8 in 2016 (For more information on recent past storms, see Storm Centre).