Met Éireann Provides Two Optional Weather Warning Alerting Services
You can now receive push notifications and/or emails of Met Éireann weather warnings via two new facilities on the Met Éireann website and app.
Push Notifications – on our App
You can subscribe to receive push notifications of county-based Weather Warnings on the Met Éireann app, which is available in all app stores.
In the app tap the Warnings section, tap My Warnings, then tap Add – and select the requested Area, Level and Warning Type. You can set up as many subscriptions as you want.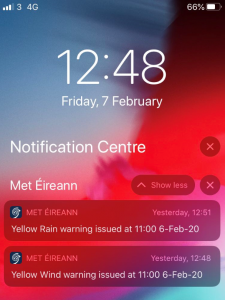 Website – Sign Up for Warning Alert Emails / SMS(Red Warning only)
The second optional service allows you to sign up to receive Met Éireann weather warning alerts by email.  Go to https://www.met.ie/warnings and click MY WARNINGS LOGIN under the Warnings map to register your profile. Then you can set up your chosen alerts by Location, Level and Type. You can set up as many email alerts as you want. You can also choose to register to receive Status Red weather warnings by SMS for your chosen counties.