Valentia Observatory was recently recognised as a Centennial Observing Station by the World Meteorological Organisation (WMO) to celebrate the fact that over 100 years of high-quality continuous meteorological measurements have been recorded at the Observatory. On the 17th February, this milestone was commemorated at the Observatory in Caherciveen, Co. Kerry with the unveiling of a plaque by the President of Ireland, Michael D. Higgins.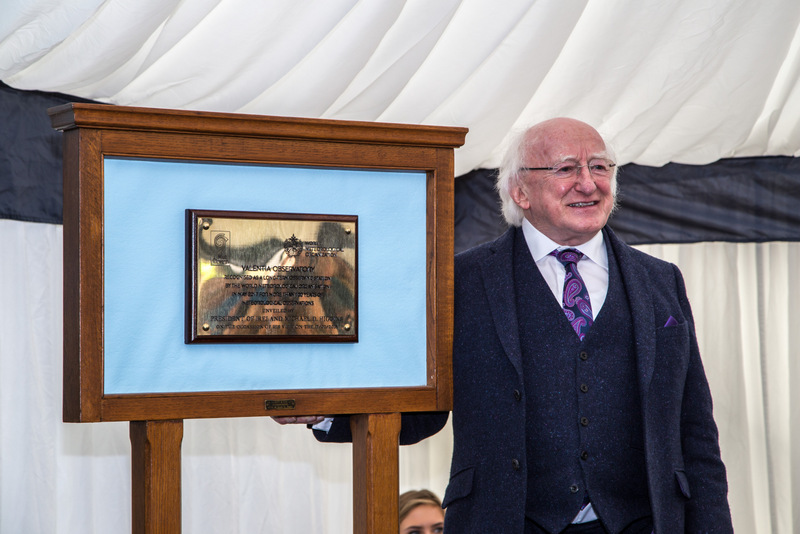 During the ceremony the President was brought on a tour of the Observatory's scientific programmes and the historical Westwood House; he also got the opportunity to launch a weather balloon. Following speeches and the unveiling of the plaque, the President was presented with a memento of the first weather observation recorded at Valentia Island in 1860. Peer Hechler from the WMO presented the formal certificate of accreditation to the Director of Met Eireann, Eoin Moran. The attendance of approximately 200 people included invited guests, members of the public, Peer Hechler (WMO), Simon Gilbert (UK Met Office), Minister of State Damien English and Minister Brendan Griffin as well as a large group of retired staff who contributed greatly to Valentia Observatory achieving world class accreditation.
Further information on the history and scientific programmes of Valentia Observatory can be found in the commemorative booklet.