Met Éireann and National University of Ireland, Galway to streamline the delivery of future climate information in partnership with international expertise.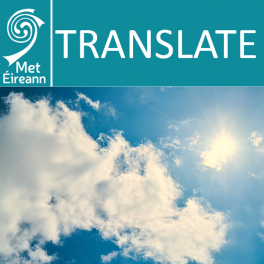 Met Éireann team up with climate researchers from NUI Galway – Irish Centre for High-End Computing (ICHEC) and University College Cork – SFI Research Centre for Energy, Climate and Marine (MaREI) to deliver standardised sector-specific climate information. The team will also consist of climate experts from University College Dublin as well as international expertise from the Dutch company Deltares.
The Met Éireann-research project TRANSLATE is aimed at standardising national climate projections for Ireland and developing climate services to meet the Irish adaptation sector's climate information requirements.
TRANSLATE will be steered by experts from The Department of Environment, Climate and Communications (DECC), The Environmental Protection Agency (EPA), NUI Maynooth – The Irish Climate Analysis and Research UnitS (ICARUS), The Marine Institute (MI), The Local Authority Climate Action Regional Offices (CAROs) the UK Met Office (UKMO) and Met Éireann.
Eoin Moran, Director of Met Éireann highlighted that "As Ireland moves to implement national climate policy, sector specific decisions need to be made. Many of these decisions require specific localised climate knowledge. The TRANSLATE project will use a standardised approach to connect the latest climate science with real-world solutions in areas such as water, transport, energy, biodiversity etc."
Dr Paul Nolan, the recently awarded project lead at the Irish Centre for High-End Computing (ICHEC) NUIG, stated "The research will lead to a substantial advance in our knowledge and understanding of the risks posed by regional climate change for the coming decades. The project outputs will assist Irish government departments, researchers and businesses in taking well-informed climate adaptation, mitigation and planning decisions".
With TRANSLATE, Met Éireann is delighted to introduce its new Multi-Annual Research Call Programme aimed at strengthening and developing capacity in key research areas associated with meteorology, climatology and hydrology. Building on its internal research activities in collaboration with national and international organisations and strategic partnerships with other research funding organisations, Met Éireann is proud to support the growth of national capacity through its own flexible and effective research funding mechanisms.
For further information contact: enquiries@met.ie