Met Éireann and the UK Met Office have collaborated to decide on the Irish and UK Storm Names for 2018/19.
They will be revealed here and on social media at 00:01 on Wednesday 12th September.
Follow the conversation on our Twitter page @MetEireann #StormName or on the Met Éireann Facebook page.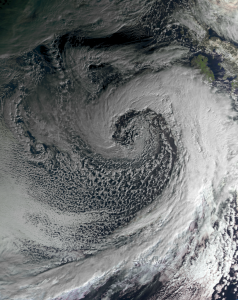 Mural in Met Éireann Reception
If you ever visit Met Éireann Headquarters in Glasnevin, be sure to observe the beautiful mural in our reception area.
The theme, "Is mairg a báitear in am an anfa mar tagann an ghrian I ndiaidh na fearthainne" was
suggested by Dr. P.M. Austin Bourke, who was Director of Met Éireann when the building was
planned and during most of the construction period. This somewhat cynical old Irish proverb may be
roughly translated as follows:
"Pity the person who drowns during the storm for the sun always follows the rain."
The designer of the engraving, Ruth Brandt, explains the symbolism as follows; the top left-hand
figure is DAGHDA or EOCHAIDH OLLATHAIR (similar to Zeus, Odin, Taranis). He is a horseman in
charge of wind and sky; his attributes include a thunderbolt and a wheel, the latter being a lightning
or solar symbol. The right-hand figure is LUGH LAMHFHADA the Sun-god. He is accompanied by a
herd of divine white cows whose milk bring moisture and fertility (the clouds). His attributes are a
sword and/or spear (the flashing rays of the sun). The curvilinear cortege along the bottom includes
MANANNAN MacLIR, god of wind and sea. He rides the chariot pulled by sea-horses over the waves
accompanied by some of the many Celtic water-beings (mermaids, water-cows, horse, bulls,
bullocks, pigs, cats, serpents and dragons).