12/09/2018 00:01
Storm names for 2018-19 announced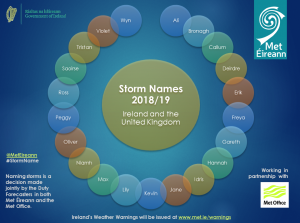 Met Éireann and the UK Met Office today reveal the list of storm names for the coming season.
First introduced in 2015, this is the fourth year Met Éireann and the UK Met Office have jointly run the 'Name our Storms' scheme, aimed at raising awareness of severe weather before it hits.
Evelyn Cusack, Head of Forecasting at Met Éireann, said: "The last 12 months have seen some extreme weather around the Globe as well as here at home. While it is too early to say whether the coming winter will be a stormy one or a quiet one we are prepared with a new set of 21 names for whatever nature may throw at us. Met Éireann is delighted to continue working with colleagues from the UK Met Office to warn of impending severe weather."
Derrick Ryall, Head of Public Weather Services at the Met Office, said: "Naming storms has been proved to raise awareness of severe weather in the UK and Ireland, providing a consistent message to the public and crucially prompting people to take action to prevent harm to themselves or to their property."
This year the first storm will be 'male' and named Ali, while the second storm will be 'female' and named Bronagh, following the alternating male/female pattern established by the US National Hurricane Center in the 1970's.
When do we name storms?
A storm will be named for weather systems which we expect an Orange (Amber) or Red wind warning will be issued by Met Éireann and/or the Met Office.
This season's names have once again been compiled from a list of suggestions submitted by the public, choosing some of the most popular names but also selecting names that reflect the culture and diversity of Ireland and Britain.  As in previous years, Q, U, X, Y and Z will not be used, to comply with the international storm naming conventions.
Here's a reminder of the named storms since last September.
Aileen 12-13th Sept 2017/ Ophelia 16th Oct/ Brian 20th-21st Oct/ Caroline 7th-8th Dec/ Dylan 30th-31st Dec/ Eleanor 2nd-3rd Jan 2018/ Fionn 16th Jan/ Georgina 24th Jan/ Emma 1st-2nd March/ Hector 13th-14th June.
Evelyn is chair of the European group for storm-naming which feeds into a worldwide system of naming storms, hurricanes, typhoons etc. She points out that the names of the two most serious events affecting our shores over the last year, Ophelia and Emma, actually did not come from our 2017-18 list.
Ophelia is from the rotating list used by the National Hurricane Center in Miami and was the farthest-east major hurricane observed in the satellite era. Emma was named by the National Weather Service in Portugal (IPMA) and produced heavy snow as it clashed with the Arctic conditions over Ireland and Britain in early March this year.
Further information on www.met.ie/warnings or please contact:
Met Éireann: 01-8064255 or email forecasts@met.ie
Met Office: Met Office Press Office 01392 886655 or email pressoffice@metoffice.gov.uk