The Meteorologist's Commentary page has been updated with details on Storm Ciara, which is also available here:
UPDATE
Issued 15:00, Friday, 7th February, by Evelyn Cusack, Head of Forecast Division and Eoin Sherlock, Head of Flood Forecast Division.
Storm Ciara is expected to pass to the north of Ireland on Sunday but the country can expect some wet and windy weather before this on Saturday. This spell of weather will bring heavy rain and strong winds, which have the potential to cause some disruption, especially in western and northern counties. The animation below displays the forecast winds for Saturday, 8th February using the Harmonie Forecast model.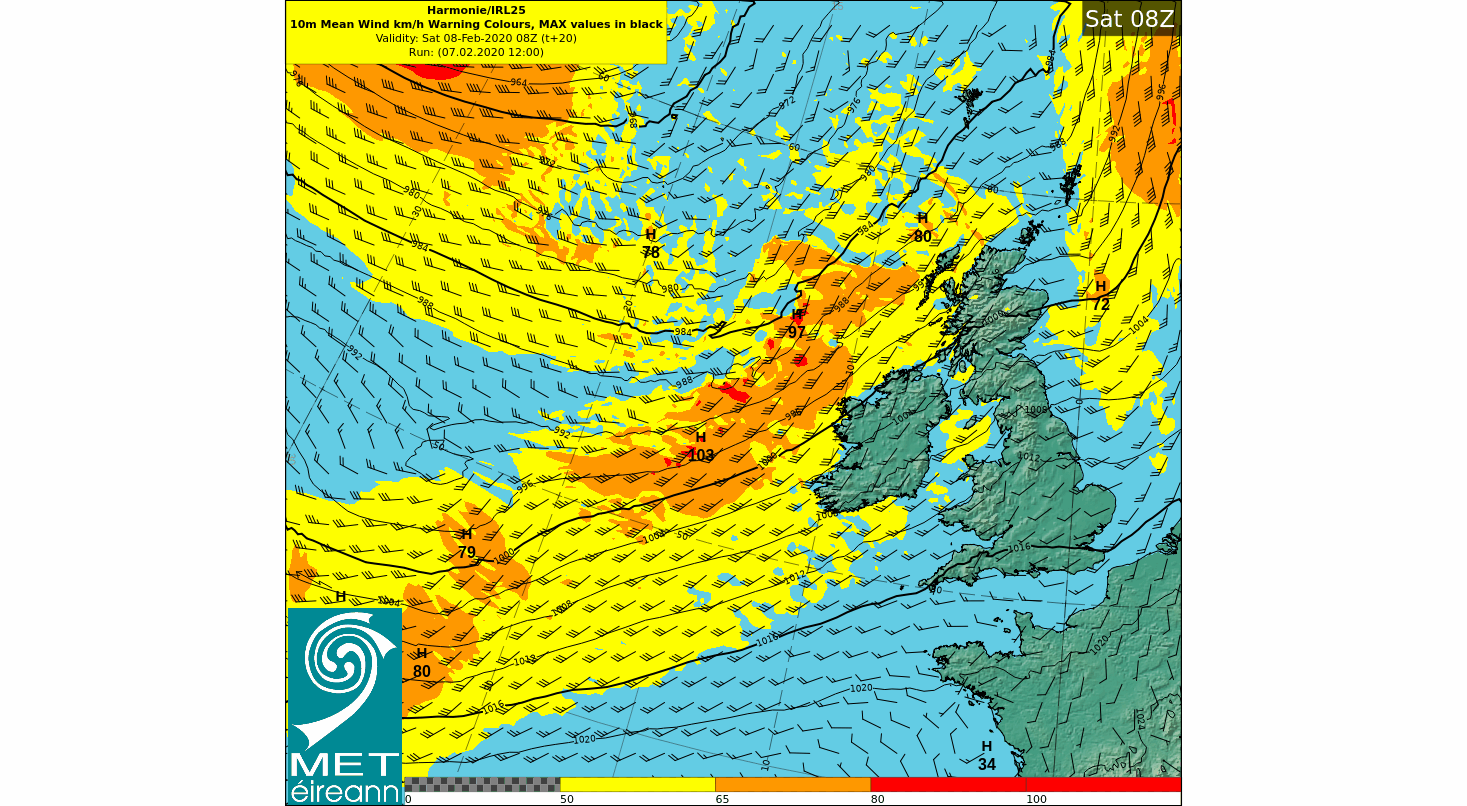 As well as the heavy rain and strong winds, there is the risk of coastal and localised flooding. As we get closer to a weather event Met Éireann's high resolution model Harmonie allows us to enhance the level of detail in our forecasts. Met Éireann has this afternoon increased the wind warning levels for Saturday to Orange for Galway, Mayo and Donegal.
For the most up to date warnings please click here (https://www.met.ie/warnings):
Flooding Issues:
We are entering a period of Spring Tides and these will coincide with very high seas which will start on Saturday and will continue into next week.
The combination of Spring Tides, high seas and extremely winds or stormy conditions will result in an elevated risk of coastal flooding especially along north western, western and southern coasts. This risk will persist into the middle of next week.
Issued 15:00, Wednesday, 5th February, 2020, by Matthew Martin, Meteorologist, Forecast Division; Evelyn Cusack, Head of Forecasting and Eoin Sherlock, Head of Flood Forecast Division
Lá Fhéile Bríde
The first of February, marks the first day of spring in the Gaelic Calendar. The days are getting noticeably longer (dawn is an average of one to two minutes earlier in the morning and sunset one to two minutes later every evening). But in the Meteorological Calendar, which is based on average temperatures, February is the third month of winter and we can get very severe weather with the full winter range possible from heavy rain and floods to damaging wind storms, and also of course snow and ice.
Storm Ciara
Unsettled weather is expected to develop across Ireland and Northwest Europe this weekend. The change will occur as very cold air sweeps out of Canada into the North Atlantic creating a sharp temperature contrast in the atmosphere over the ocean. This temperature contrast will result in the intensification of the jet stream over the North Atlantic, which will drive vigorous areas of low pressure towards Ireland.
The animation below shows the evolution of the jet stream over the coming days.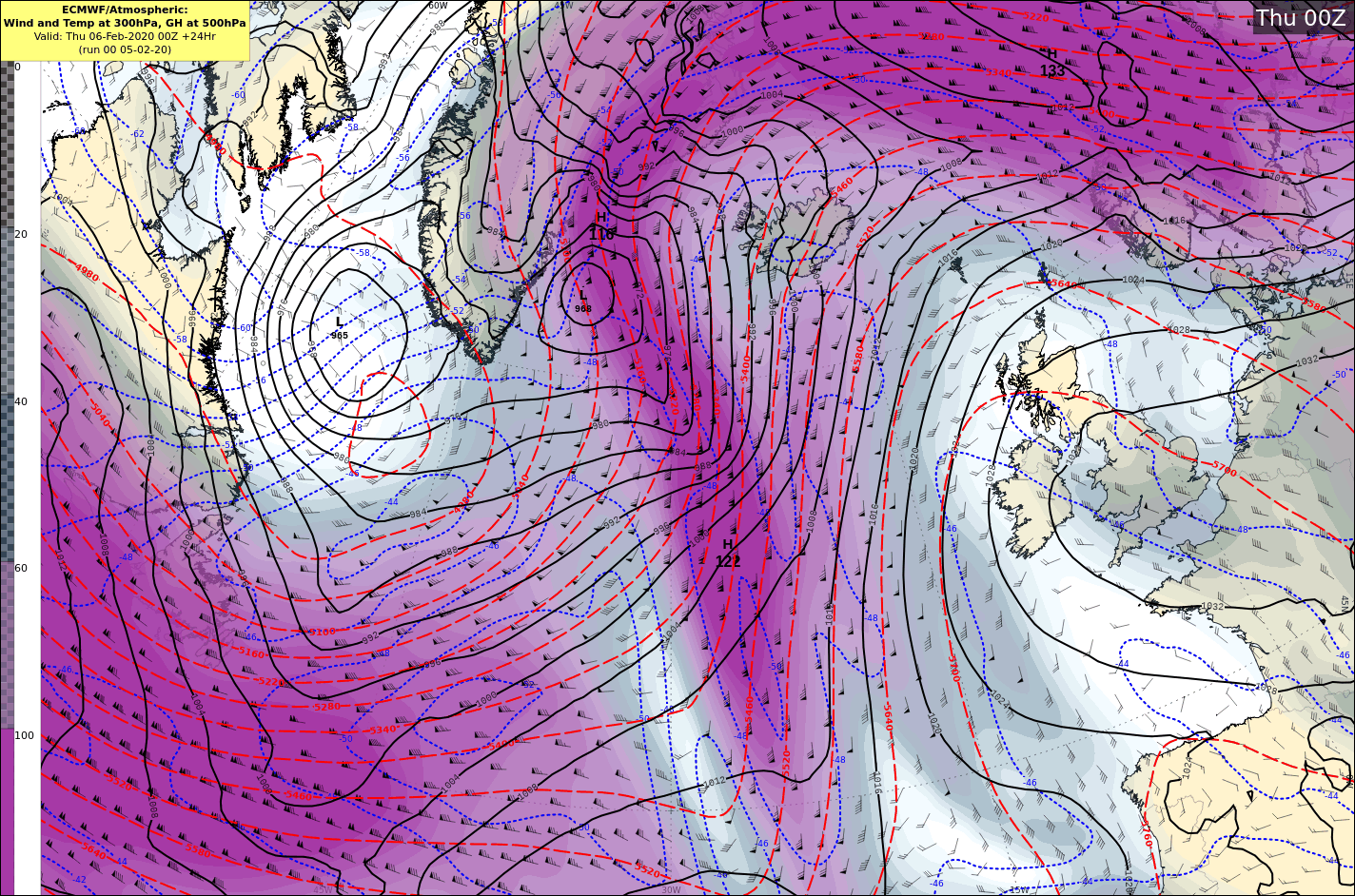 After a period of rather quiet weather, the change to unsettled mobile conditions will occur during Friday (7th Feb) as wet and windy weather moves in from the Atlantic. A further spell of heavy rain is expected on Saturday (8th Feb) and this will be accompanied by strong and gusty winds with a possibility of Status Yellow warnings.
Weather conditions are expected to deteriorate further on Sunday (9th Feb) as Storm Ciara (named by the UK Met Office on Wednesday 5th February) tracks to the north of Ireland.
Storm Ciara is forecast to be a vigorous Atlantic storm system with an expansive wind-field. Numerical Weather Prediction Models project the centre of the storm to track close to northern Scotland with a minimum central pressure of around 940hPa at lunchtime Sunday (see Figure Below).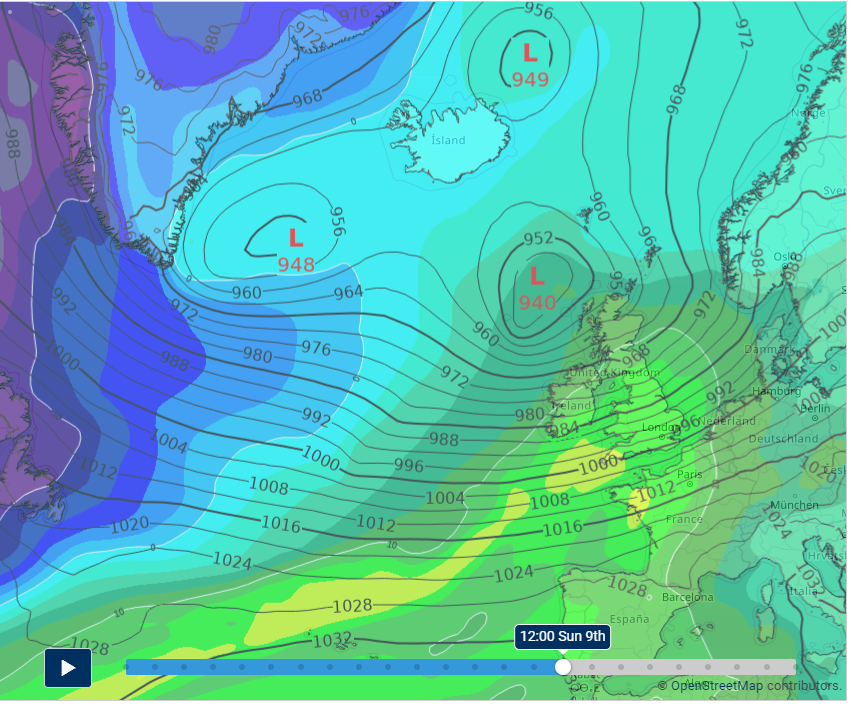 There is a growing consensus that Sunday will be an extremely windy day across Ireland and the UK with widespread heavy rain, squally showers and with gales or storm force winds around our coasts.
Storm Ciara is the third named storm of the season. The naming convention now also includes the Dutch meteorological service, KNMI as well as our existing partner UKMO. Storms are named to aid the communication of approaching severe weather, helping the public to be better placed to keep themselves, their property and businesses safe.
Next week, conditions will remain very disturbed across Ireland and the UK. It will remain very windy and turn much colder with the chance of wintry showers and ice in some parts.
Flooding issues
The country will enter a period of Spring Tides this weekend. This will coincide with high seas, which are likely to affect coastal areas at first on Saturday but will continue into Sunday and the early days of next week. The combination of high Spring Tides and high seas as well as extremely windy or stormy conditions later in the weekend and early next week will result in an elevated risk of coastal flooding especially along western and southern coasts.
The unsettled weather is likely to produce significant rainfall totals over the weekend. This will result in an increase in river levels and may cause some localised flooding.
Keep up to date
As forecast confidence improves over the coming days Met Eireann will issue warnings as required. Please check for updates on https://www.met.ie/warnings.
Push notifications for all weather warning levels (yellow, orange and red) for your location are available on the latest version of the Met Éireann App.