Storm Barra will continue to track across Ireland today, with severe and damaging winds expected to bring further impacts.  Wind gusts have reached 135km/h at Sherkin Island this afternoon, with a mean wind speed of 111km/h.
A Red wind warning is currently in place for counties Cork and Kerry until 21:00 this evening, with a red warning coming in to force for Clare at 16:00 this afternoon.  Orange warnings remain in place across many western counties until tomorrow morning, with Orange and Red marine warnings covering all Irish coastal waters until tonight.  As Storm Barra moves eastwards away from Ireland tomorrow morning, the strongest winds will ease but it will still remain a windy day with a Yellow wind and rain warning in place until 18:00 on Wednesday.
#StormBarra will bring disruptive weather to Ireland today and tomorrow, with impacts from severe, damaging winds as well as heavy rain#Wind and #rain warnings are in place across Ireland

Read more in our #StormBarra news story https://t.co/jZZxcE5Nup pic.twitter.com/ktyrDC3M4R

— Met Éireann (@MetEireann) December 7, 2021
Met Éireann Meteorologist, Liz Walsh, said: "We have seen impacts from Storm Barra across the country today, with reports of widespread power outages, coastal flooding and fallen trees.
"The storm is currently tracking across Ireland so we'll continue to see very strong and damaging winds through the rest of today, with gusts reaching 130km/hr or higher – especially across southern and western parts areas.
"Later tonight as the storm moves eastwards towards the UK we'll start to see the winds ease slightly, but it won't be until tomorrow late afternoon before the wind eases fully."
Meteorologist Liz continued: "Very strong winds in combination with high tides means there is a continued risk of large coastal waves and coastal flooding, particularly along southern and western parts of the country.
"Driving conditions will remain tricky and dangerous at times, with the risk of fallen trees, fallen power lines and spot flooding from the heavy rain.  Temporary outdoor structures will be particularly vulnerable to the expected wind gusts. We're advising the public to listen to their local travel advice and to keep a close eye on Met Éireann forecasts and warnings, as they may be updated."
"Whilst the heaviest rain has cleared, heavy and blustery showers are forecast for today and tomorrow and some of these will be a wintry mix of sleet, snow and hail – along with the strong winds this will make driving conditions tricky with reduced visibility on the road."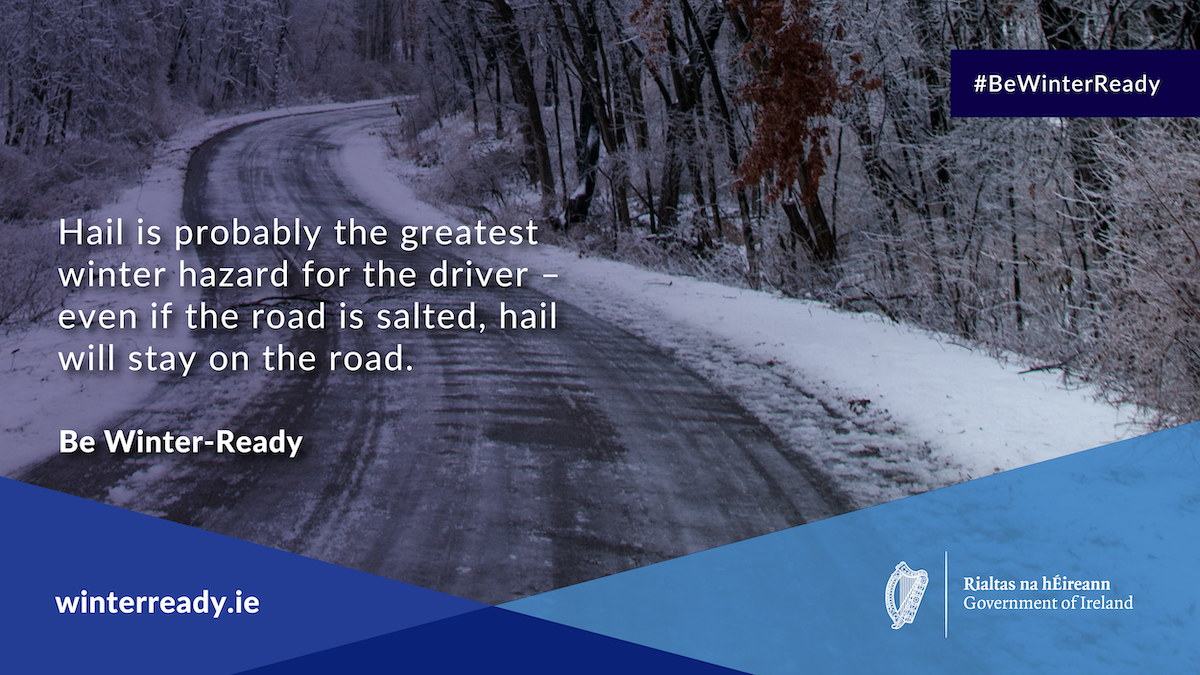 The Irish Coast Guard, Road Safety Authority, An Garda Síochána and Local Authorities have issued the following public safety advice:
Stay away from all coastal areas for the duration of the Met Éireann warnings
All road users should be aware of the hazardous traveling conditions, and only necessary journeys should be undertaken. Motorists should slow down and be aware of the dangers of fallen trees and debris. Cyclists, pedestrians, motorcyclists and High sided vehicles are particularly vulnerable during this time.
As conditions will vary throughout the event, people need to take account of the local conditions and advice from their Local Authority.
The public are warned electricity wires are always live, never approach. If you see fallen or damaged wires, keep clear and phone ESB Networks immediately on 1800 372 999/021 238 2410
Should red level warnings be issued, the public are advised to shelter in place for the duration of the warning.
Keep your mobile phone charged. Mobile phones can connect to the 999 service on any operators network so even where you do not have coverage on your own network it may still be possible to make a 999 call.
Follow HSA safety advice regarding the use of tools and equipment during and after the storm.
Given the increase in outdoor dining, business owners are advised to take down any temporary structures or marquees that have been erected or to secure them properly.
Be sure to check gov.ie/stormbarra for impact updates and public safety advice.
Whatever the weather please follow the public health advice and help keep everybody safe from COVID-19.
For the most accurate and up to date forecast for your area on the Island of Ireland go to met.ie. The latest weather advisories and warnings for Ireland are on the Met Éireann Warnings page. These services and more are available on our free app – available from the App store for iPhone, and Play store for Android.