Met Éireann choir – The Isobars
Conducted by Aoife Murray.
Accompanied by Dónal Black on piano and Linda Hughes on violin.
The Met Éireann choir, 'The Isobars' was founded in early 2017 and is based at Met Éireann HQ in Glasnevin, Dublin. Serving and retired staff members have joined from all divisions in the organisation. The choir's repertoire is comprised of mostly of weather-related songs. These went down a storm when the choir performed at the annual conference of the European Meteorological Society in 2017, at 'The Wind the Shakes the Island', a conference at the RDS in 2018, as well as at the Workplace Choir of the Year Competition in 2017 and 2018.
The Isobars are excited to be contributing to the new Met Éireann podcast and will play out each episode with a new song.
Sopranos: Sarah Gallagher, Sheila McGuinness, Liz Walsh
Altos: Elizabeth Coleman, Linda Hughes, Phil Stokes, Laura Zubiate
Tenors: Colm Clancy, Michael McAuliffe
Basses: Paul Downes, Matt Roberts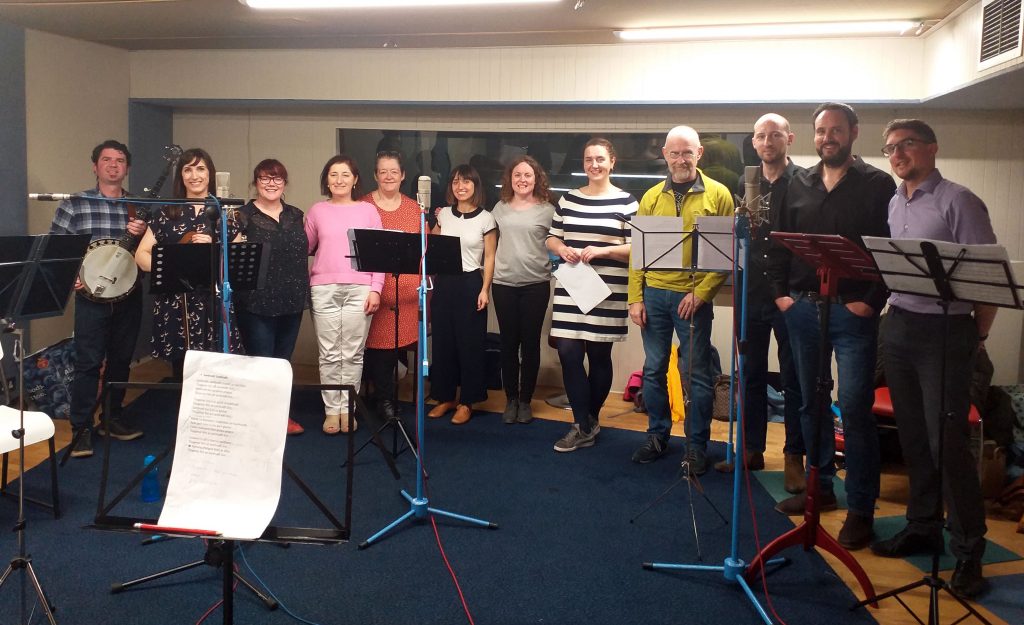 The Isobars sing Samhradh, Samhradh (traditional, composer unknown)
The 19th Century music collector Edward Bunting wrote that 'Samhradh, Samhradh' or 'Thugamar Féin an Samhradh Linn' "is probably extremely ancient." It depicts a May Day tradition of carrying May dolls (bábóg na Bealtaine) through the countryside. The song is thought to have originated in the Oriel District on the Louth/Armagh border. In recent times the song has experienced a rejuvenation following a recording by The Gloaming.
Raindrops Keep Fallin' on My Head, Burt Bacharach and Hal David
The song was composed in 1969 for the film 'Butch Cassidy and the Sundance Kid.' It was recorded by B.J. Thomas for the film and was subsequently released as a single, becoming the first number one of the 1970's in the USA. It went on to win the Academy Award for Best Original song. The beautiful melody and upbeat lyrics made the song stand out against its contemporaries at the time, which included the more heavy-sounding 'Whole Lotta Love' by Led Zepplin and 'Come Together' by the Beatles.