It's officially summer and Met Éireann are delighted to launch new products to help you enjoy safely the beautiful mountains and beaches in Ireland. In addition our new summer-centre will be a one-stop shop for all summer related climate enquires.
1: New Mountains Forecasts
Visit our new Mountain Forecasts page on our website or our app where you can get a weather forecast for all the hills/mountains in Ireland for 10-days ahead. In addition we now have a forecast for the freezing levels across Ireland and the UK as well as three cloud levels, low/medium/high. Mountaineering Ireland provides advice to help people enjoy Ireland's mountains and hills safely and responsibly. Always plan and prepare Happy Hiking.
2: New 10-Day Surfing Forecasts
Check out our new Sea Conditions page with all information for surfers, swimmers, and all water sports including Sea temperatures for Irish and UK Coastal Waters. Visit EPA Beaches.ie to view bathing water quality and get the Met Éireann weather forecast for over 200 beaches around Ireland.
Plan your surfing up to 10 days ahead with our new Sea and Swell heights, and period forecasts for all Irish coastal Waters and for the seas around the UK as well.
The waves occurring in any given area of the sea, known as the wave field, are a combination of swell waves and wind-sea. Wind-sea (or wind-swell) waves are waves that have been generated locally by the wind blowing over the water in that area, and therefore, wind-sea is very dependent on local wind conditions. Swell Waves (also known as ground swell) are waves that have been generated by distant storms and low-pressure systems at sea and have travelled into the forecast area.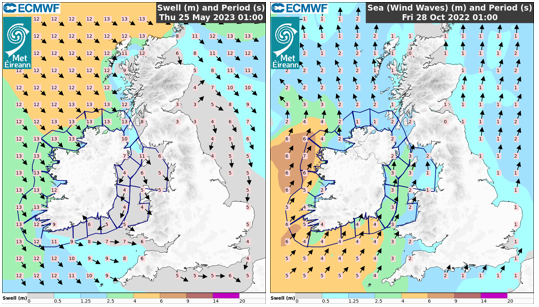 If you'd like to know more about the science of waves and surfing, check out episode 22 of the Met Éireann Podcast. For surfing information visit www.irishsurfing.ie
3 New Summer Centre: A Resource for Understanding Irish Summers.
In light of the escalating global temperatures and the pressing need to address climate change, Met Éireann is proud to announce the launch of our new Summer Centre. As record-breaking heatwaves and extreme weather events become more frequent globally, this dedicated webpage aims to provide the public and the media with valuable insights into the history and future of summer weather in Ireland.
Over the past eight years, global temperatures have consistently reached unprecedented levels, making it increasingly likely that the 1.5°C threshold set by the Paris Agreement will be exceeded before 2027, for one year at least, according to the World Meteorological Organisation.
In 2022, eleven of the months were above their respective Long-Term Average 1961-1991 (LTA), which resulted in 2022 becoming the warmest year on record (length 123 years). January through May 2023 have also been above their LTA. While Winter 2022/23 and Spring 2023 are also above their normal.
Summer 2022 was the 8th warmest summer on record in Ireland. Met Éireann's weather station at Phoenix Park, Co Dublin recording 33.0°C on July 18th, the second-highest shaded air temperature ever recorded in the country. Summer 2022 was also much drier than usual, reaching only 75% of typical rainfall compared to the 1981-2010 long-term average.
The implications of this warming trend were felt not only in Ireland but across Europe, which witnessed its warmest summer on record in 2022. The resulting intense heatwaves had significant impacts on agriculture and posed threats to human health in western and northern Europe.
This comprehensive resource offers information on past Irish summers, including the definition of key meteorological terms such as summer day, hot day, tropical night, and heatwave.
A heatwave consists of five or more consecutive Summer Days, with a Summer Day being any day where the maximum shaded air temperature at a Met Éireann station is greater than 25.0°C.
The longest heatwave on record for Ireland lasted for 14 days from 14th August 1976 to 27th August 1976 (inclusive) at Birr Castle, Co Offaly and Ballybrittas, Co Laois. Heatwaves in Ireland typically occur most frequently in July but have occurred occasionally in May and September in the past.
The Summer Centre also sheds light on the phenomenon of tropical nights, a rarity in Ireland where temperatures do not dip below 20°C even during night-time. However, in 2021, Valentia in Co. Kerry experienced two consecutive tropical nights, a trend that is likely to become more prevalent as temperatures continue to rise.
While warm summer weather is enjoyable for the most part, extreme heat, including both minimum and maximum temperatures, poses significant risks to human and animal health. As we brace for the impacts of hot weather, particularly with the added challenge of climate change, it becomes crucial for individuals to be prepared during the summer months.
Finally Remember Always: Plan And Prepare
Met Éireann is proud to be part of the Government's Be Summer Ready campaign, which offers resources and guidelines for staying safe on farms, in water, on roads, and at schools.
Met Éireann's forecasters provide warnings to let people know when severe weather may impact their lives, and also provide a UV index to indicate when there is dangerous levels of UV radiation and what measures you can take to protect yourself.
Make the most of fine weather by staying informed, staying safe, and being prepared for the challenges that lie ahead.