Met Éireann is delighted to launch this year's Postgraduate Scholarship Programme.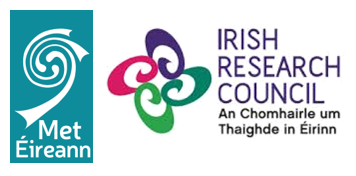 In partnership with the Irish Research Council, Met Éireann now invites applications for Met Éireann Scholarships, which will develop innovative research to provide evidence in support of specific thematic areas of strategic interest to Met Éireann, "Making Ireland Weather and Climate Prepared – Helping Irish society to be ready for and responsive to weather and climate risks".
Possible thematic areas of strategic interest include:
• Climate services;
• Climate modelling;
• Specialised weather & climate research, e.g. impact, satellite, marine-, agri-meteorology;
• Applications of AI, Machine Learning, Data Analytics to weather & climate services;
• Weather & climate monitoring and observing systems and instrumentation;
• Numerical Weather Predication (NWP) modelling;
• General forecasting & flood forecasting;
• Dissemination & communication of weather & climate information;
• Perception & interpretation of weather & climate information;
• Decision making & emergency management in extreme weather events;
• Socio-economic impact of weather & climate information;
• Multi-hazard early warning system.
This programme offers scholarships for suitably qualified individuals to pursue a research master's or Ph.D. (either traditional or structured), in any discipline, at eligible higher education institutions in Ireland. The total value of the Government of Ireland Postgraduate Scholarship, and all strategic funding partner scholarships, will be up to a maximum of €24,000 in any approved year.
 To view the Met Éireann Postgraduate Scholarships Theme information click here;
 To learn more about the application process and to apply, visit the IRC website;
 All queries regarding this opportunity should be directed to the IRC by clicking on this link.
Key dates:
• Call open: 3 September 2020
• FAQ deadline: 22 October 2020
• Applicant deadline: 16:00 (Irish time) 29 October 2020
• Supervisor and referee deadline: 16:00 (Irish time) 5 November 2020
• Research office endorsement deadline: 16:00 (Irish time) 12 November 2020
• Call outcome: End of March 2021
• Scholarship start date: 1 September 2021