Weather knows no boundaries! As a result, national meteorological services like Met Éireann work together via international meteorological organisations to address big global and regional weather issues.  Such organisations allow countries to pool their resources, whether they be human, financial, computing or other, to undertake large projects such as developing global weather models or building and launching satellites to view our weather from space.
Met Éireann is a member of many international meteorological organisations including the European Centre for Medium-Range Weather Forecasts (ECMWF), the World Meteorological Organization (WMO), EUMETSAT and EUMETNET. Membership of these organisations helps us to provide the best weather forecasts and warnings of high-impact weather for our citizens.
Below you will find explanations of some of the organisations that Met Éireann is involved with and helps to fund on behalf of Ireland. We have also provided some links and details on online resources provided by these organisations.
EUMETNET is a grouping of 31 European National Meteorological Services (NMSs), and Met Éireann is one of these. When NMSs join together it makes it easier to organise co-operative programmes on various meteorological activities, like weather observing systems, forecasting products, training, and research and development. One example is the "meteoalarm" weather alert programme. The meteoalarm website displays weather alerts and their severity. Warnings issued by Met Éireann are also uploaded to this central website. EUMETNET helps weather services around Europe to develop and share their individual and joint capabilities, and enables them to have collective representation with European bodies so that these capabilities can be used effectively. Met Éireann recently hosted an EUMETNET meeting in Dublin.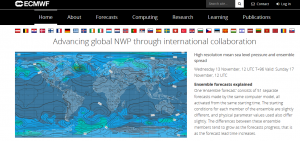 ECMWF, the European Centre for Medium-Range Weather Forecasts, was established in 1975 to pool Europe's meteorological resources to produce accurate medium-range weather forecasts and climate data. It is both a research institute and a 24/7 operational service, that produces global numerical weather predictions (weather forecasts from computer models) and other data for Member States like Ireland via Met Éireann, Co-operating States and the broader community. Ireland was one of the 18 founding states in 1975.
Because it takes a huge amount of computing power to run a global weather model, ECMWF  has one of the largest supercomputer facilities in the world. They have been producing operational medium-range weather forecasts since the 1st August 1979 and therefore have one of the largest meteorological data archives in the world.
There are a lot of training courses, workshops and seminars run by ECMWF on a wide range of advanced meteorological topics. Many are live streamed and free to watch online in real time. They are also recorded and available to watch later. Full details of the ECMWF learning resources are available here.
EUMETSAT is the European operational satellite agency. It is an intergovernmental organisation which was founded in 1986 and Ireland, via Met Éireann, was one of the 14 founding Member States. Today, EUMETSAT has 30 Member States.
The purpose of EUMETSAT is to gather accurate and reliable satellite data on weather, climate and the environment around the clock and to deliver the data to Member States in Europe, international partners and users world-wide. The satellite data are used to improve weather forecasts and severe weather warnings by forecasters and researchers in Met Éireann and elsewhere.
EUMETSAT publishes monthly weather videos, videos showing their satellite launches and how their satellites work, as well as much more, on their YouTube channel. They have a specific Learning Zone website which is currently running a Parkour Space Run competition using Fortnite – the competition is open until the 30th of November 2019.
Research scientist, Dr Noel Fitzpatrick, has been working at EUMETSAT this week. Watch the video below to find out more about EUMETSAT and what he and other colleagues are doing there this week. All Met Éireann videos are available on our Youtube channel.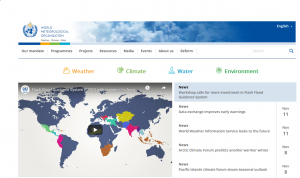 As weather, climate and the water cycle know no national boundaries, international cooperation at a global scale is essential for the development of meteorology and operational hydrology and to reap the benefits from their applications. The World Meteorological Organization (WMO) provides the framework for such international cooperation and like many international organisations, its headquarters is in Geneva in Switzerland.
The WMO has 193 Member States and Territories around the world, one of which is Ireland. It was established by the ratification of the WMO Convention on the 23rd of March 1950, an anniversary now marked as "World Meteorology Day". The WMO became the specialised agency of the United Nations for meteorology (weather and climate), operational hydrology and related geophysical sciences in 1951, a year after its founding.
The WMO has programmes and projects on various aspects of meteorology and hydrology, and has developed guides, policy documents and technical regulations for national meteorological services and national hydrological services. This helps to globally standardise weather observing networks, provide excellent meteorological data for aviation, develop education and training programmes, and enables the sharing of weather model products and services.
The satellite imagery available on our website is available due to our membership of EUMETSAT, the location specific forecasts available through our website are generated using weather model data, including data from the ECMWF global model, and the way we record the weather at our stations around Ireland follows international standards set by the World Meteorological Organization. Ireland and Met Éireann benefit greatly through membership of these international organisations.