The World Meteorological Organization is seeking to verify a reported new record temperature north of the Arctic Circle of 38° Celsius. This was on 20 June in the Russian town of Verkhoyansk amid a prolonged Siberian heatwave and increase in wildfire activity.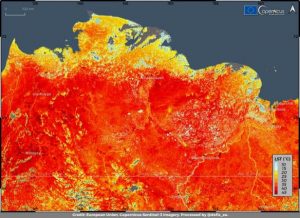 Verkhoyansk, located in the northern part of Republic of Sakha (Yakutia), is in a regionof Eastern Siberia which has an extreme very harsh dry continental climate (very cold winter and hot summer).
The Verkhoyansk meteorological station had a previous air temperature record of 37.3° C observed on July 25, 1988, according to scientists German Alekseenkov and Vasily Smolyanitsky at the Arctic and Antarctic Research Institute. The station has provided daily measurements since 1885.
It has been an unusually hot spring in Siberia, and the coinciding lack of underlying snow in the region combined with overall global temperature increases, undoubtedly helped play a critical role in causing this extreme temperature observation
The Arctic is among the fastest warming regions in the world and is heating at twice the global average. Annual surface air temperatures over the last 4 years (2016–2019) in the Arctic (60°–85°N) have been the highest on record. The volume of Arctic sea-ice in the month of September 2019 (after the melting season) has declined by more than 50% compared to the mean value for 1979–2019.
Siberia has witnessed exceptional heat, with temperatures up to 10°C (18.5 °F) above average in May and driving the warmest May on record for the entire Northern hemisphere and indeed the globe.
But it wasn't just May that was unusually mild in this region; the whole of winter and spring had repeated periods of higher-than-average surface air temperatures, particularly from January onwards.
The unusual warmth in winter and spring was associated with an exceptionally early break-up of ice in Siberia's rivers.
Full report <<here>>