Stay up to date with the latest forecasts and warnings on www.met.ie/warnings.
Ireland's geographical location exposes it to the influence of storms from the North Atlantic, particularly in winter months. These storms are typically extra-tropical cyclones, also called a mid-latitude cyclone, a large low-pressure area that undergoes cyclogenesis (strengthening of cyclonic circulation in the atmosphere), such  storms are often notable for their heavy rainfall and strong winds.
Storm force 10 sustained (10-minute mean) wind speeds have been observed at a land wind station in Ireland during every month except August. They have predominantly occurred during January, February and December each year. Storms of hurricane force 12+ have been observed twice in February since 1941. Violent Storms have been observed 8 times, while storm force 10 winds (at more than one station) have been observed  at least 18 times in February.
| | | |
| --- | --- | --- |
| Erik Fri 8 Feb 2019 | Darwin Wed 12 Feb 2014 | 9 Feb 1988 Violent Storm |
| 64% of 16 stations experienced gusts ≥ 48 knots on Fri and into Sat. However only one station observed Storm Force 10 wind speeds. | 84% of 21 stations experienced gusts ≥ 48 knots on Tue, Wed and Thu. Ten stations recorded storm force 10. Hurricane Force winds observed. | 100% of the 15 wind stations in Ireland experienced gusts ≥ 48 knots. |
Table 1. Warning Stripes illustrate the number of stations which observed the highest wind speed within the current weather warning criteria for (top bar) sustained (10-min mean) wind speeds and (bottom bar) gust (3-sec mean) wind speeds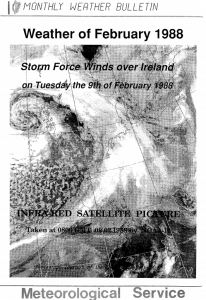 On Tuesday 9 February 1988, a violent storm impacted Ireland:
Six of the total 15 wind stations open in Ireland measured storm force sustained winds (≥ 48 knots).
A sustained (10-minute mean) winds speed of 111 km/h was observed at Belmullet, Co Mayo in the hour ending 7am.
The highest wind gust (3-second mean) wind speeds of 172 km/h was observed at 06:40 also at Belmullet.
The main impact day was Tuesday 9th, but winds speeds remained stormy into Monday and Tuesday.
Destructive winds affected the whole country. Four people were killed and over a dozen injured. Trees down everywhere, roofs blown off and over 80,000 homes were without power.
The lengthy duration of gale force winds was the singular feature of this storm.
Another February storm was Storm Darwin in 2014. Darwin occurred during a particularly unsettled period over the 2013/14 winter, characterised by a strong upper level jet steam over the Atlantic that steered a succession of gale or storm force depressions over Ireland.
The highest sustained (10-minute mean) wind speed recorded was 120 km/h (Hurricane Force) around 1 pm on Wednesday 12 February 2014 at Mace Head, Co Galway.
The highest gust speed observed was 159 km/h at Shannon Airport, Co Clare just before 2 pm.
Looking inland at Oak Park, County Carlow, the only February observation of Storm Force 10 sustained winds at this station, after it opened in 2014, occurred during this event.
The last February storm was a deep depression, named Storm Erik (by Met Éireann). Erik approached from the Atlantic and tracked to the northwest of Ireland early Friday morning 8th February 2019. It moved to the northwest of Ireland and gave two periods of very strong winds. One early on Friday the 8th and another swath later Friday evening and early morning of the 9th. It left 1,700 homes in Ireland without power along with very high seas and coastal flooding.
A sustained (10-minute mean) wind speed at Mace Head, Co Galway with 91 km/h
A gust at Mace Head, Co Galway 120 km/h
February's Highest Individual Wave Heights
25.0 m measured at Kinsale Energy Gas platform during Storm Darwin
21.1 m measured at Buoy M3 on 23 February 2015
21.8 m measured at Buoy M4 also on 23 February 2015
Stay up to date with the latest forecasts and warnings on www.met.ie/warnings.
The current national weather forecast warning criteria, https://www.met.ie/weather-warnings.
For past weather and climate statement, see www.met.ie/climate/past-weather-statements.
For more information on Storm Darwin, see www.met.ie/cms/assets/uploads/2017/08/2014StormDarwin-1.pdf.
Published online: Thursday 5 February 2020
By Sandra Spillane PhD, Climatologist and Aidan Murphy of Climate Services in Met Éireann