by Paul Downes, Meteorologist.
Wet and windy weather tonight, gradually getting colder Saturday with the risk of sleet and snow increasing.
Over the coming days Ireland will lie between colder air to the north and an active zonal Atlantic pattern to the south that will feed in several lows bringing rain sleet and snow at times as well as blustery east winds.
River and Surface Water Flood Risk
Soils are mostly waterlogged countrywide, or at least in saturated conditions.  Rivers are already elevated in the Northern half of the country, in response to appreciable rainfall over the last week.  Over the coming days, multiple separate spells of precipitation will further exacerbate the flood risk across the country.  Localised flooding is expected over the weekend and into next week, particularly in the Northern half of the country.
Coastal Flood Risk
We are in a period of Spring (High) Tides. The combination of Spring (High) Tides, strong onshore winds and storm surge associated with the low pressure systems to the south-west of Ireland tonight and into Saturday, is likely to increase the risk of localised coastal flooding, particularly in flood-prone areas along the East Coast (when coincident with High Tides and strong onshore winds).
Becoming wet and windy tonight. Status yellow rainfall warning issued.
The first deep area of low pressure will begin to track to the south of Ireland tonight bringing a band of rain northwards across the country. A status yellow rainfall warning will come into effect from 3am for Wicklow and Wexford with heavy rain bringing accumulations of 30 to 40mm and a risk of localized flooding overnight.
Further to this easterly winds will increase fresh to strong and gusty overnight, while there is a status yellow gale warning in effect from Valentia to Loop Head to Slyne Head. While the winds will generally remain below Status Yellow level overland they will be very strong for the less common and often less sheltered easterly direction.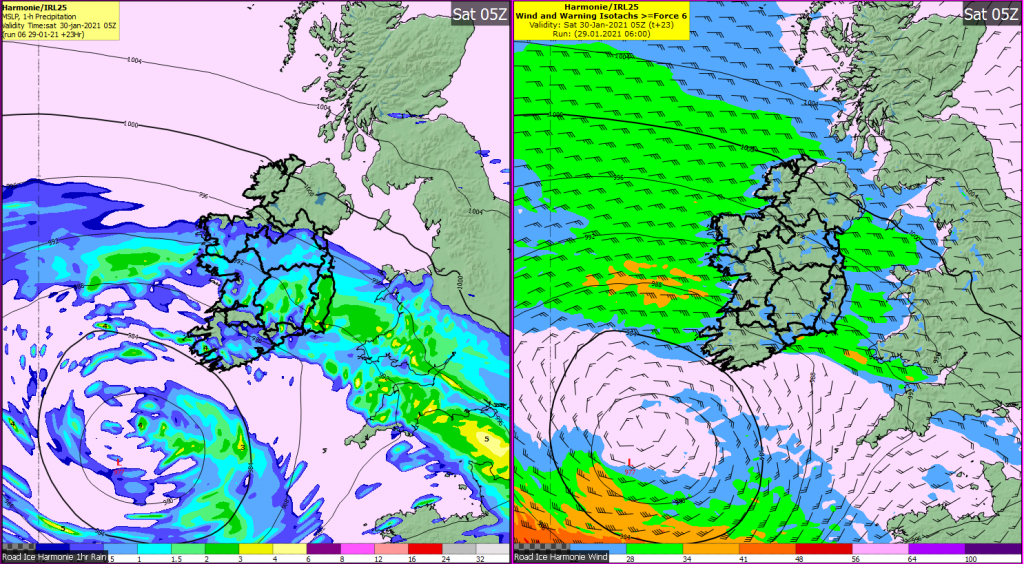 Becoming cooler on Saturday with sleet and snow on higher ground.
With cold air to the north in close proximity and moving southwards gradually on Saturday morning, precipitation will turn to sleet or snow over higher ground with accumulations possibly building quite quickly. This will lead to hazardous condition, especially through the Wicklow Mountains.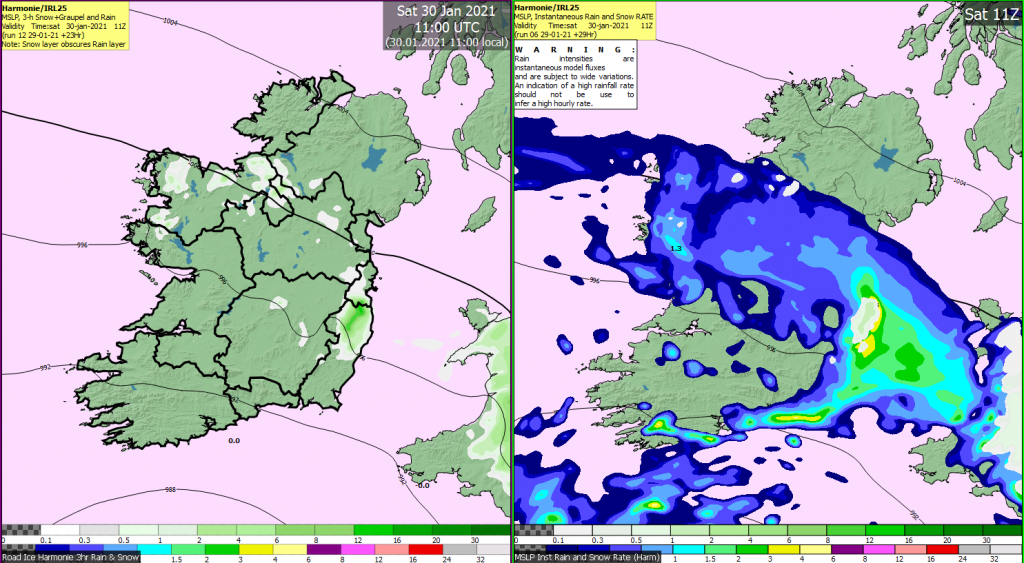 The precipitation will clear southeastwards during the afternoon and the winds will ease.
Saturday night starts off cold and frosty with rain sleet and snow moving in from the west by morning.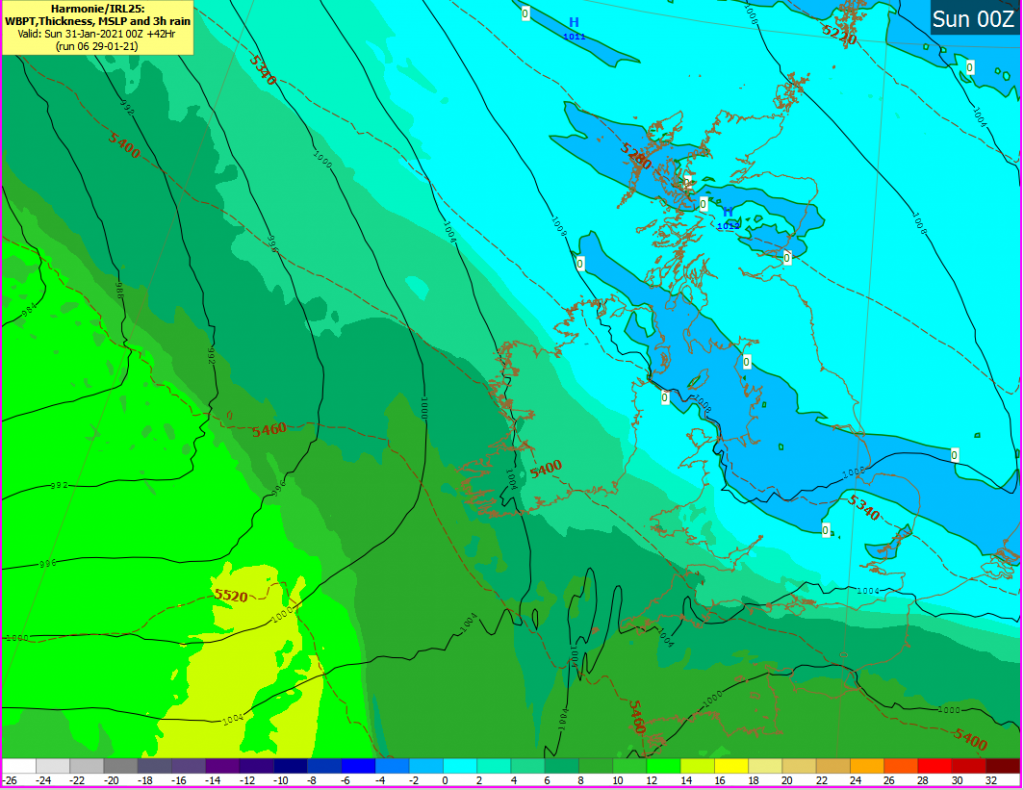 While Saturday night will start off cold with some clear spells and an early frost, leading to icy patches, in many northern parts, a further spell of rain, sleet and snow will cross the country early on Sunday.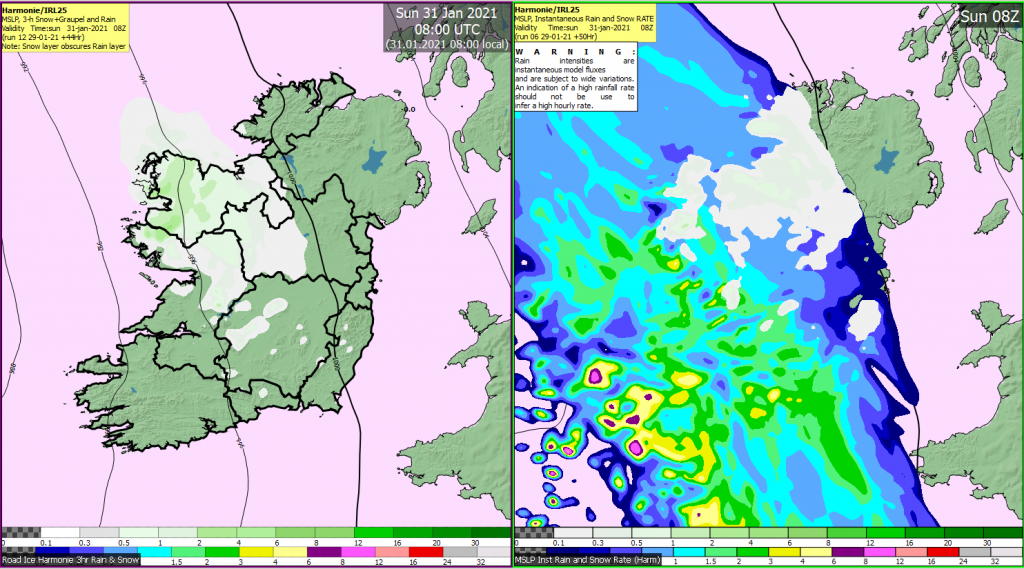 Greatest risk of snow in northern parts
The northern half of the country looks likely to see the greatest risk of sleet and snow with some accumulations, however warmer temperatures in the south will slowly move northwards with sleet and snow gradually transitioning back to rain in most areas. It will be a cold day however with afternoon highs of just 1 to 4 degrees in most areas, while Munster will remain warmer.
While an advisory has been issued for the weekend, further weather warning are likely and our warnings page should be monitored for updates.
---
For the most accurate and up to date 7-day, hourly forecast for your local area on the Island of Ireland go to met.ie. The latest weather advisories and warnings for Ireland are on the Met Éireann Warnings page. These services and more are available on our free app – available from the App store for iPhone, and Play store for Android. Follow us on Twitter and Facebook for extra weather and climate content.
But whatever the weather please follow the public health advice and help keep everybody safe from COVID-19.