Update on Wednesday 10 March 15:00
A vigorous depression will track to the northwest of Ireland tonight with very strong south-westerly winds developing over Ireland, veering westerly overnight. Gales will develop around all Irish coasts with Storm Force winds expected for a time in south-western sea areas. Status Orange wind warnings are in operation for County Kerry and County Cork from 8pm today (Wednesday 11th March) until midnight with a Status Yellow Weather Warning in operation for much of the rest of the country through until 7am Thursday 11 March. See full details on our weather warnings here: https://www.met.ie/warnings/today
(Fig 1: Position of depression at 00UTC 10 March, centred to the southwest of Ireland with a central pressure of 967hPa. The low pressure system will track to the northwest of Ireland tonight bringing a swathe of very strong winds across Ireland with some severe gusts in the south and southwest expected)
In the wake of the vigorous depression a cold and unstable westerly air-flow will follow over Ireland with showery conditions and brisk winds. There will be widespread showers on Thursday, Friday and Saturday with a risk of hail and some thunderstorms. A cold polar maritime air-mass will lie over Ireland and this will allow for some wintry showers over high ground, especially on Saturday.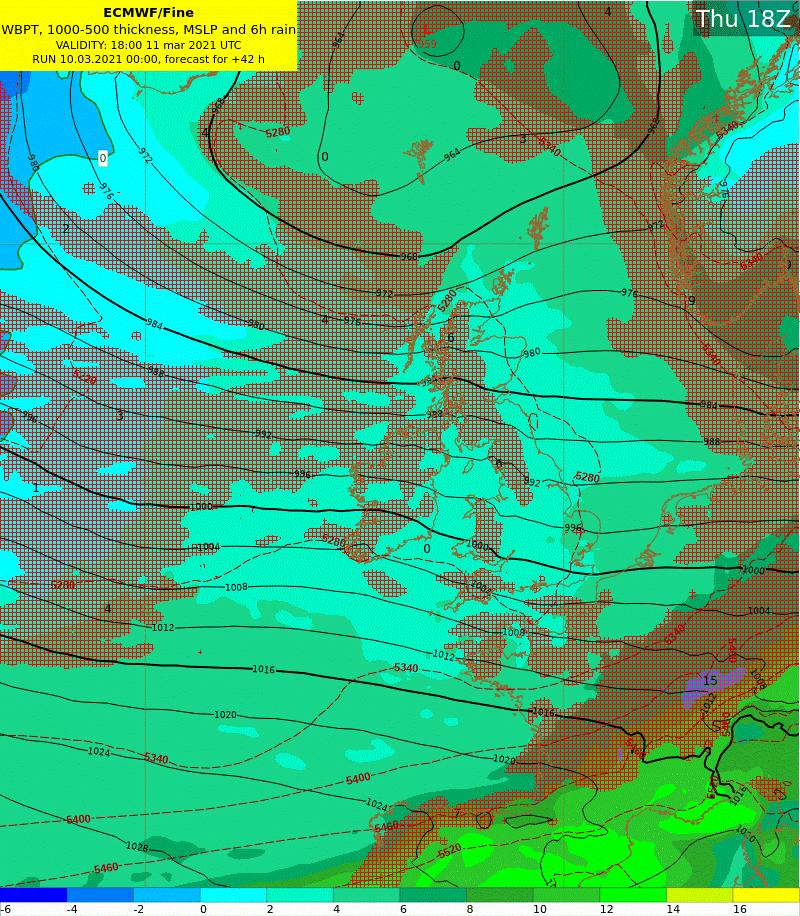 (Fig 2: A cold and unstable westerly air-flow will become established over Ireland on Thursday 11 March with heavy showers embedded in the flow)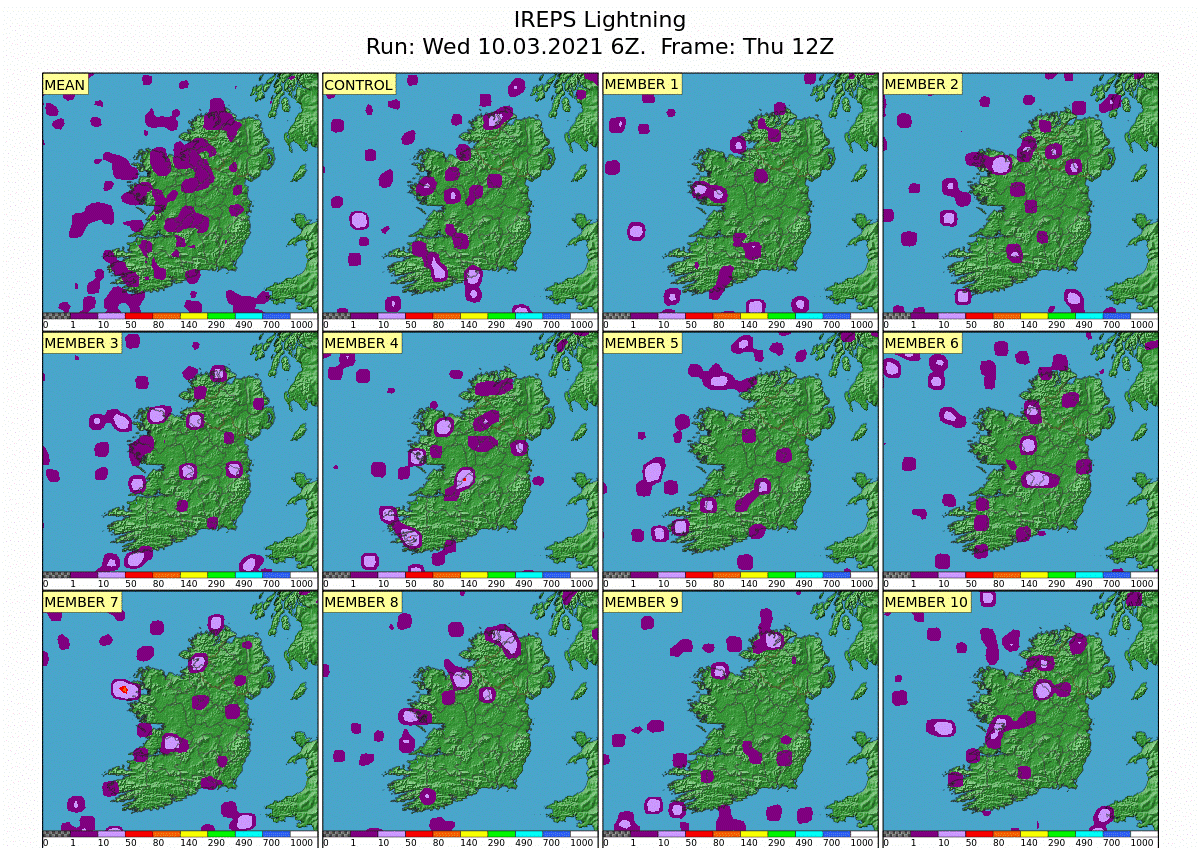 (Fig 3: Many of the showers that follow will be heavy with a risk of hail and lightning. The above chart shows the risk of lightning across Ireland on Thursday 1200UTC forecast by IREPS)
Early indications are that milder weather will begin to move in for Sunday and next week with some rain or showers with a trend for high pressure to become established near Ireland by the middle of next week allowing for drier and more pleasant weather conditions to develop.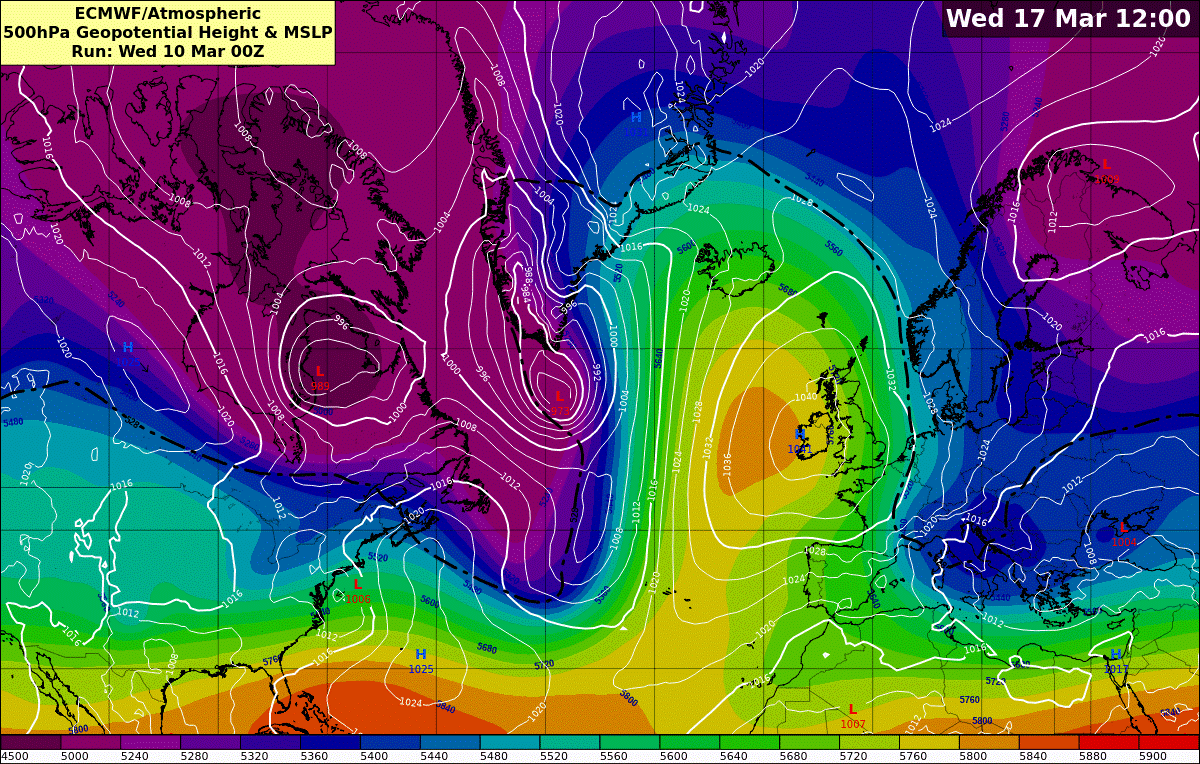 (Fig 4: Early indications are that high pressure will build in over Ireland for St. Patrick's Day but there is still some uncertainty in the forecast)
Monday 08 March 15:00
After a rather quiet start to meteorological spring, conditions will turn much more unsettled this week with spells of wet and very windy weather on the way. 
High pressure has brought largely dry and settled weather since the start of March, but as the jet stream moves over Ireland in the next few days this will steer a succession of Atlantic low-pressure systems towards us.
Met Éireann meteorologist, Paul Downes, said: "Today (Monday 8th) will be the last day of the current spell of settled weather, before conditions turn widely unsettled from tomorrow with spells of wet and windy weather expected through the rest of the week.
"Although tomorrow (Tuesday 9th) will start dry, rain and strong winds will push east across the country from tomorrow afternoon, becoming widespread by early evening.  Further wet and very windy weather is expected on Wednesday as a deep low-pressure system tracks to the northwest of Ireland – bringing very strong south-westerly winds and spells of heavy rain through Wednesday afternoon and Wednesday night."
Met Éireann has issued a nationwide yellow wind warning from 12:00 on Wednesday, to 07:00 on Thursday, where mean wind speeds could reach 50 to 65 km/h and gusts could reach around 100km/h in exposed locations, with damaging impacts possible.
Meteorologist Paul Downes continued: "During the early hours of Thursday this low-pressure system will clear away from Ireland, introducing a colder and more unstable airmass.  However, it will remain very windy into the weekend along with blustery showers, these possibly turning wintry over high ground."
---
For the most accurate and up to date 7-day, hourly forecast for your local area on the Island of Ireland go to met.ie. The latest weather advisories and warnings for Ireland are on the Met Éireann Warnings page. These services and more are available on our free app – available from the App store for iPhone, and Play store for Android. Follow us on Twitter and Facebook for extra weather and climate content.
But whatever the weather please follow the public health advice and help keep everybody safe from COVID-19.