– Updated by Meteorologist Liz Walsh at 6 pm on Sunday 5th December 2021
Storm Barra was named by Met Éireann on Sunday morning (5th December 2021) and is expected to affect Ireland during Tuesday and for a time on Wednesday. Multiple hazards will be associated with this system.
Impacts will vary depending on location but will include
Storm force winds in places
High seas and some coastal flooding
Heavy squally falls of rain
Some transient falls of sleet/snow possible, mainly in the northwest.
Some trees down
Structural damage (Secure outdoor furniture and Christmas decorations!)
Disruption to travel/hazardous driving conditions
An orange level wind warning has been issued for Counties Cork, Kerry, Limerick, Clare and Galway valid from 6am Tuesday to 6am Wednesday, while a yellow level wind warning is in places for all other counties for the same time period. These warnings are likely to be updated and fine-tuned as we come closer to the event as the track of the storm becomes more certain.
Winds will be south to southeast in direction during the early part of the Tuesday and will gradually veer westerly as the day goes on. So the strength of the wind will be dependent on your location and exposure to that particular direction. Some heavy falls of rain are likely too during Tuesday morning, these mainly across southern and southeastern counties with spot flooding possible.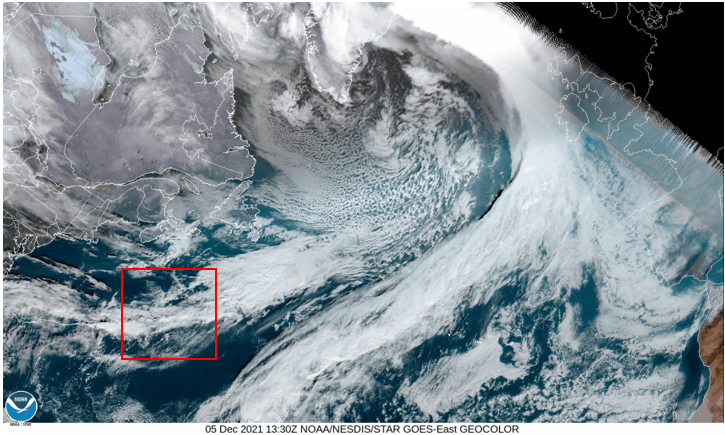 This innocuous –looking area of cloud to the south of New Brunswick and Nova Scotia in Eastern Canada from earlier today is the nascent site of a low pressure system that will become Storm Barra.
Image courtesy of the NOAA Geos-East Satellite.
The low pressure system will picked up by the Jet Stream and driven across the North Atlantic during Monday arriving along Ireland's west coast on Tuesday morning. Image courtesy of ECMWF 12Z Run 5/12/2021
Whatever the weather please follow the public health advice and help keep everybody safe from COVID-19.
For the most accurate and up to date forecast for your area on the Island of Ireland go to met.ie. The latest weather advisories and warnings for Ireland are on the Met Éireann Warnings page. These services and more are available on our free app – available from the App store for iPhone, and Play store for Android.
Updated by Meteorologist Gerry Murphy at 4 pm on Saturday 4th December 2021
 For latest advisories and warnings:  https://www.met.ie/warnings/today
Summary
A deep Atlantic depression will bring very wet and windy weather across Ireland through Tuesday and Wednesday. Winds will be strong in all areas at times and will reach gale force in coastal areas. Severe and damaging gusts are likely. At the moment the strongest winds are expected to be in western coastal counties of Munster with storm force winds possible at times later on Tuesday.
The strengthening winds will be accompanied by a spell of heavy rain on Tuesday, followed by heavy showers through Tuesday night and Wednesday. Some of the showers may be of sleet or snow on high ground.
Due to spring tides, very high waves and large surge levels, coastal flooding may occur along Munster and south Connacht coasts.
Possible Impacts
Very strong winds and damaging gusts are likely to bring disruption due to power outages, fallen trees or branches or other debris.
As well as coastal flooding, heavy rain or showers will bring localised flooding. Travel disruption is likely at times due to strong winds, poor visibility, localised flooding and poor surface conditions due to hail, sleet or possible snow on high ground.
Detailed forecast
A storm depression will develop in the mid-Atlantic on Monday as a result of dynamic forcing from the Jetstream in the upper atmosphere. The low pressure system will rapidly deepen as it tracks northeastwards over the Atlantic and approaches Ireland on a strong westerly Jetstream.
As the depression approaches Ireland, it will slow down and become relatively slow moving through Tuesday and Wednesday. The exact track and timing of the depression is not definite. At the moment it is expected to reach a minimum pressure of 952 hPa on Tuesday afternoon at round 100 nautical miles or 185 Km to the west of Ireland. The depression will slowly fill and its central pressure gradually increase as it moves slowly eastwards over Ireland through Tuesday night and Wednesday, eventually clearing southeastwards through Wednesday night.
The development and track of the depression through Monday, Tuesday and Wednesday is shown in the charts below.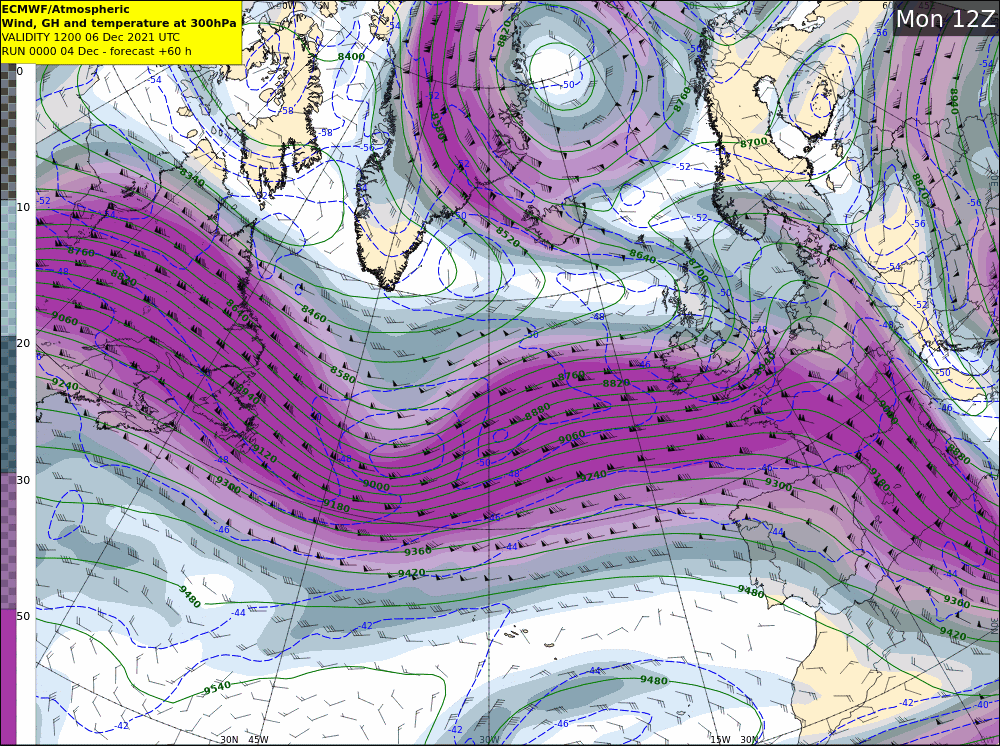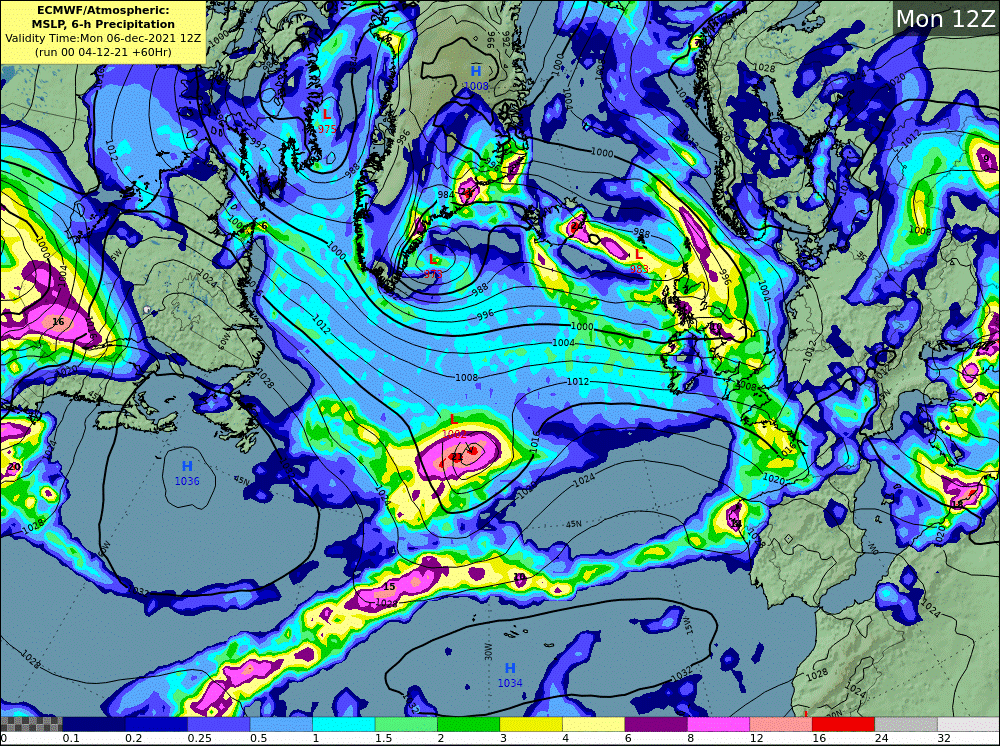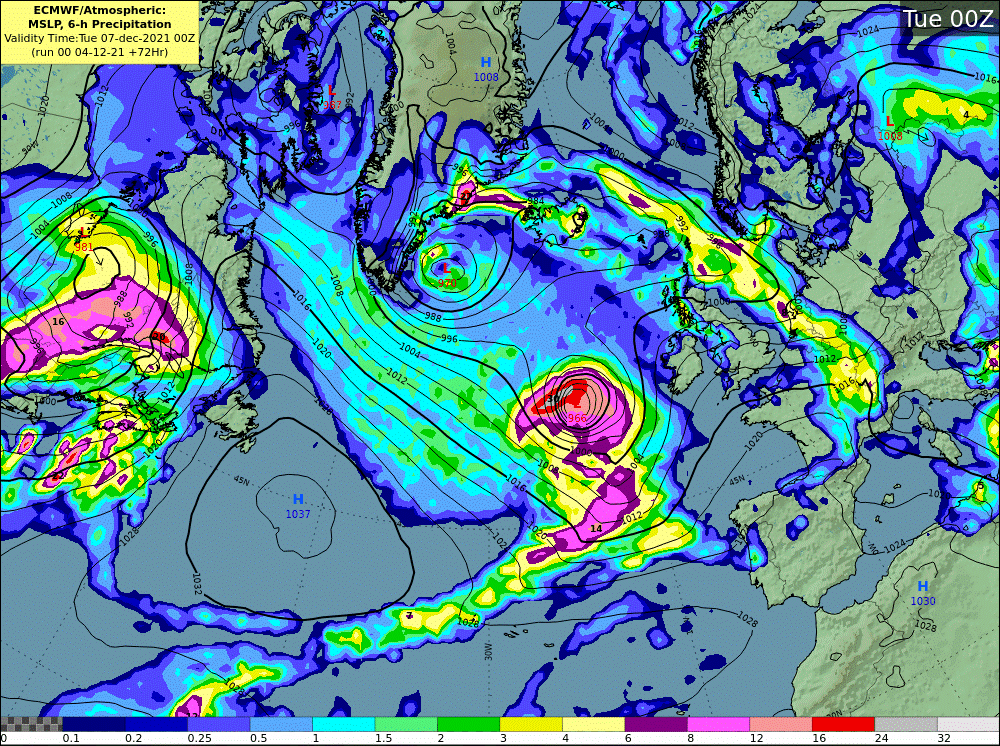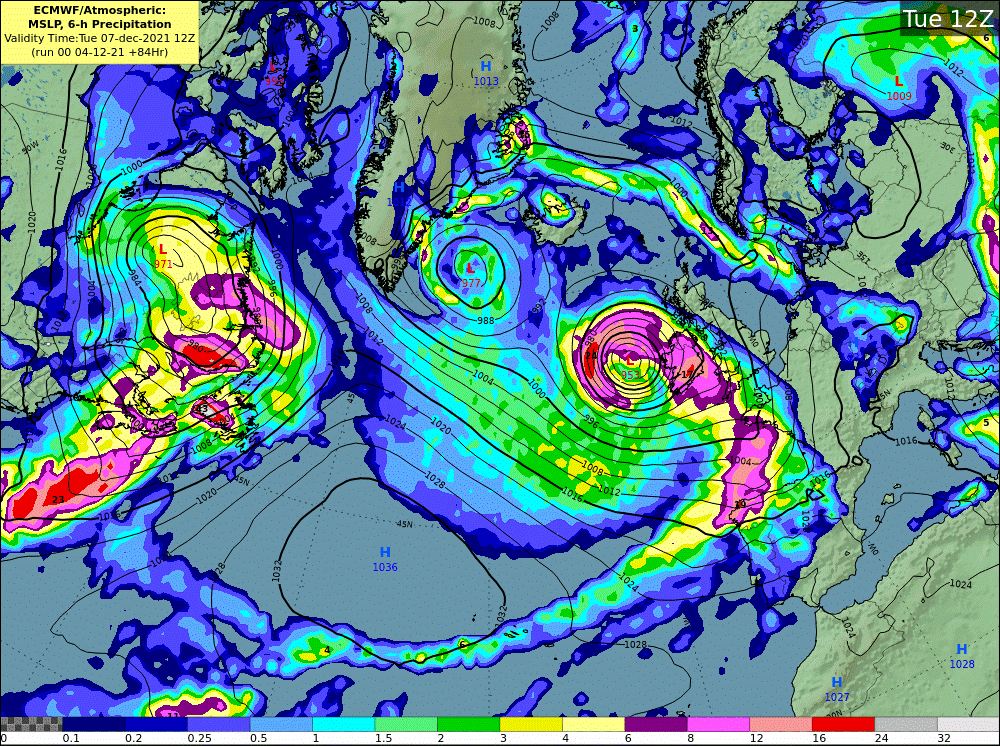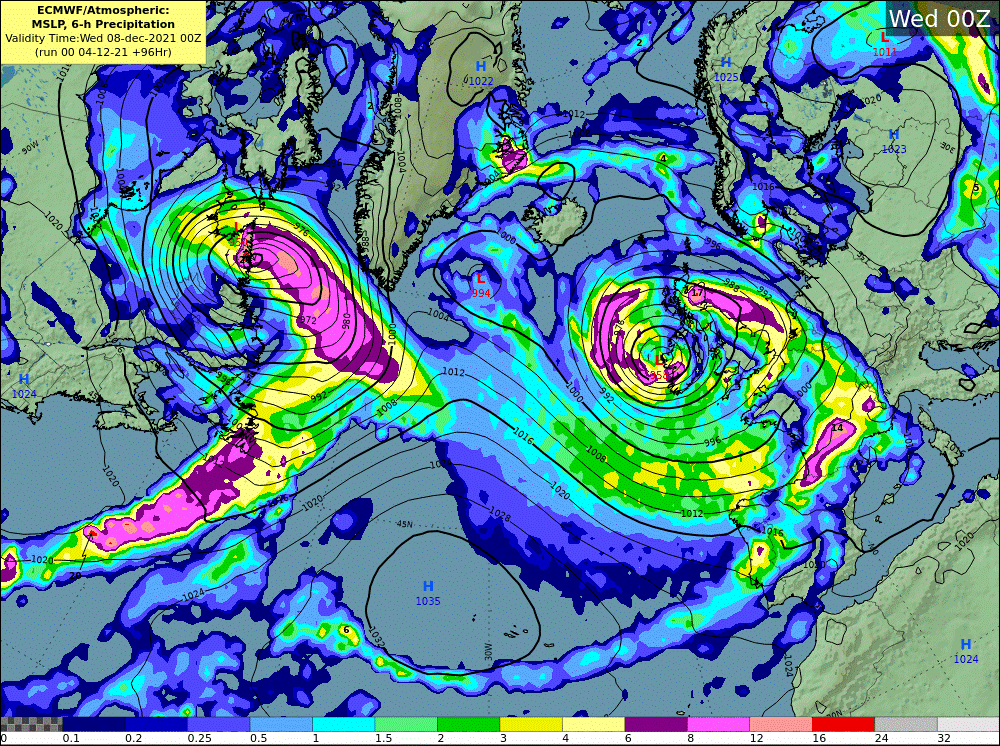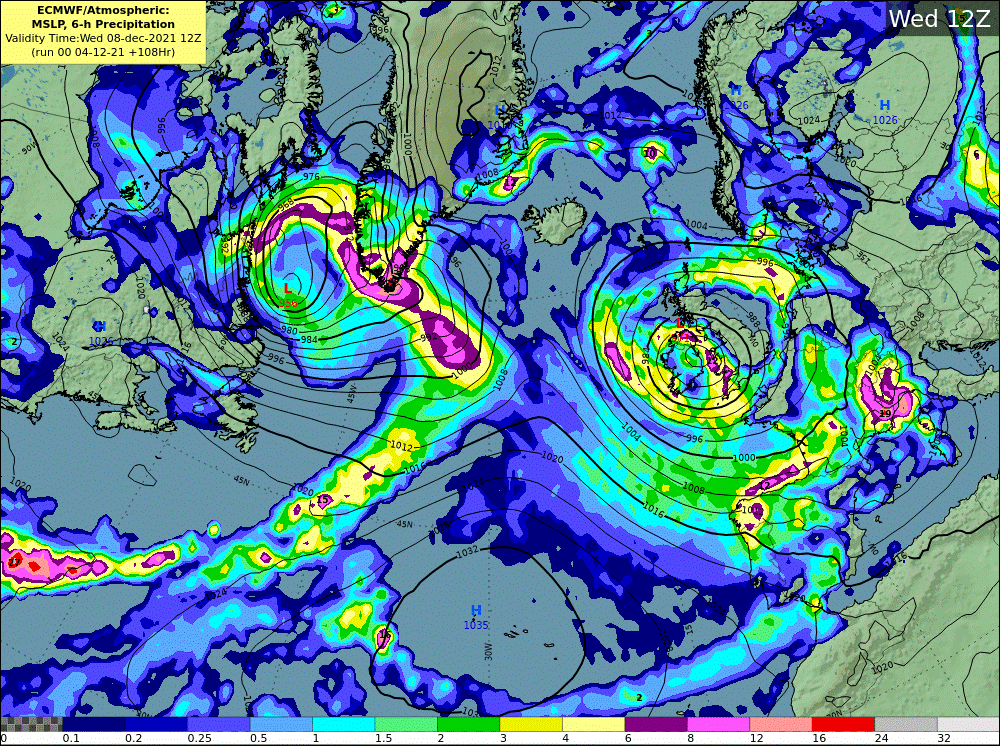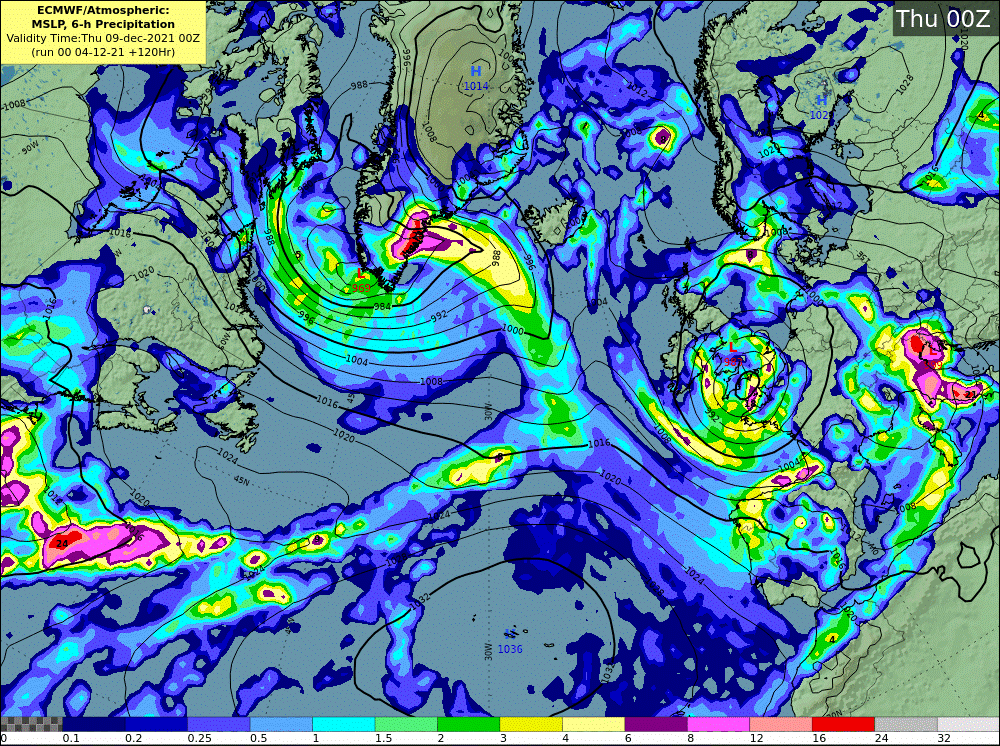 Wind Forecast
As the depression approaches Ireland, southerly winds will strengthen through Monday night and early Tuesday with gales or strong gales developing along all Irish coasts and the Irish Sea. Cyclonic variable winds will develop as the depression moves over Ireland. Later Tuesday and through Tuesday night, very strong westerly winds will develop in western coastal counties. Currently it looks like the strongest winds will occur in western coastal counties of Munster and Co. Galway.
This is indicated on the ECMWF Extreme Forecast Index for wind gusts and also on the deterministic forecasts below.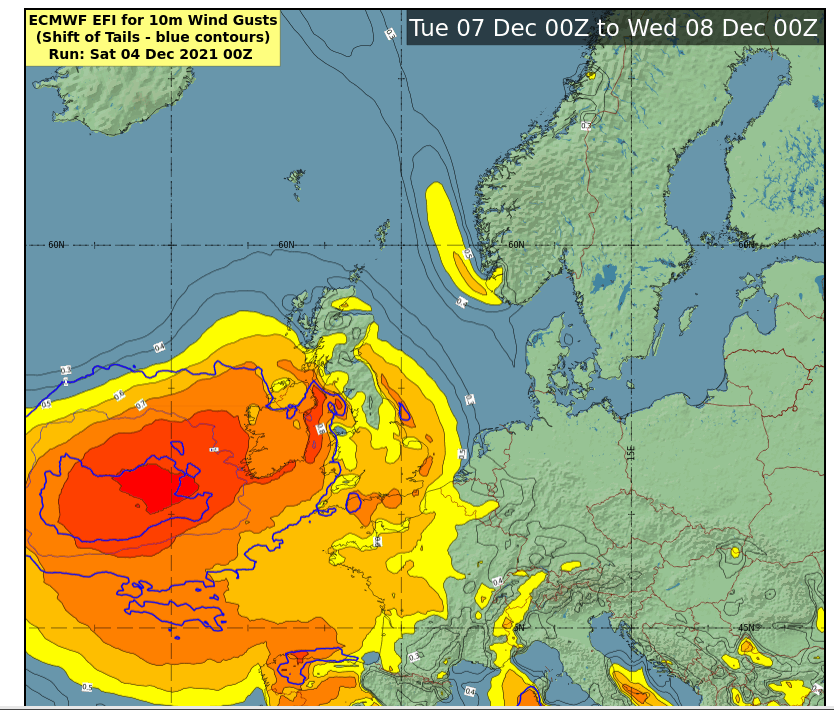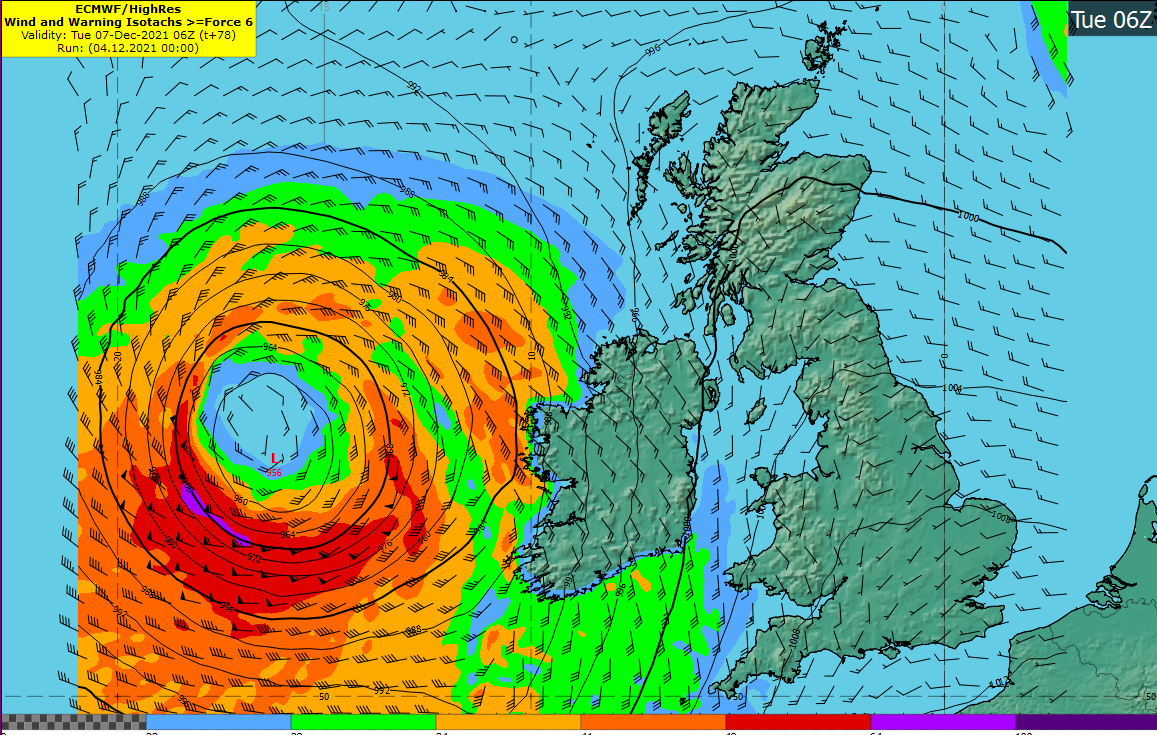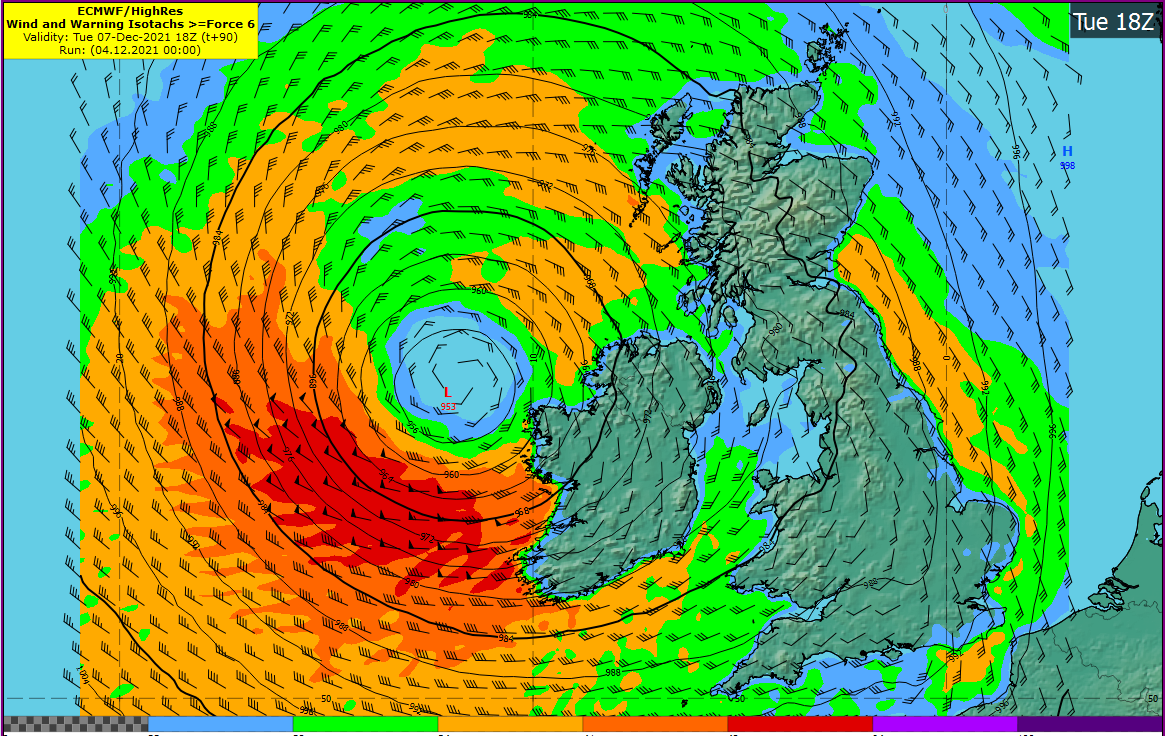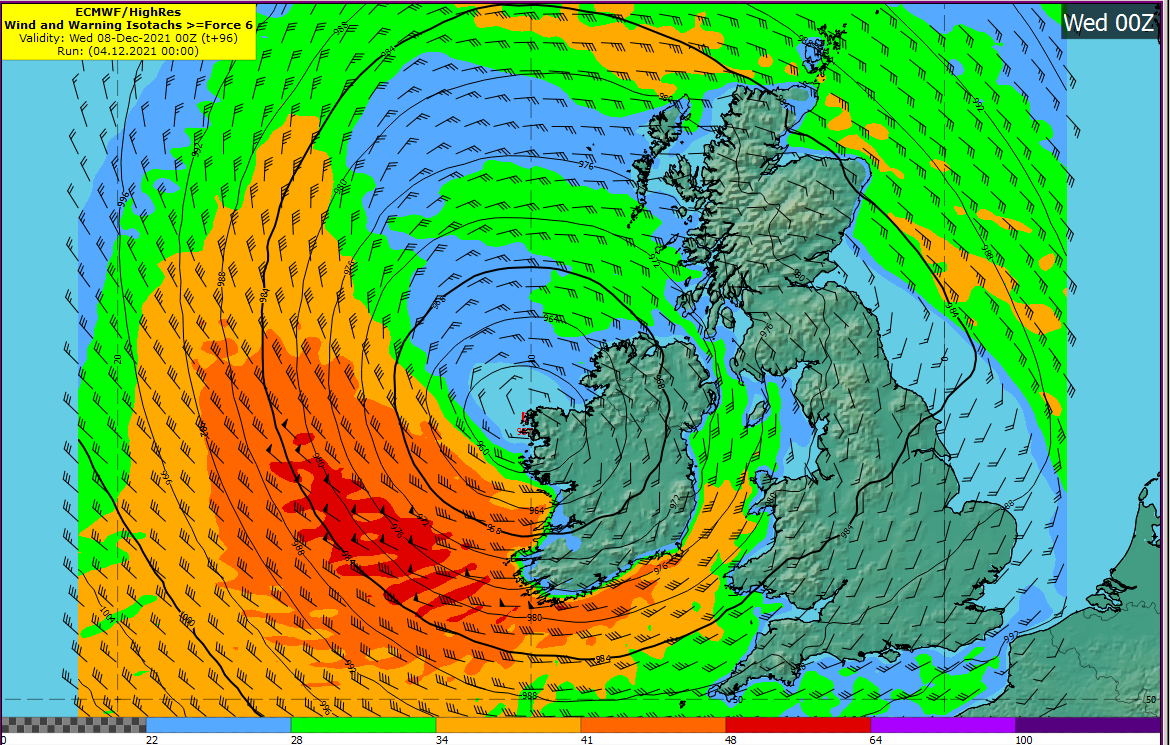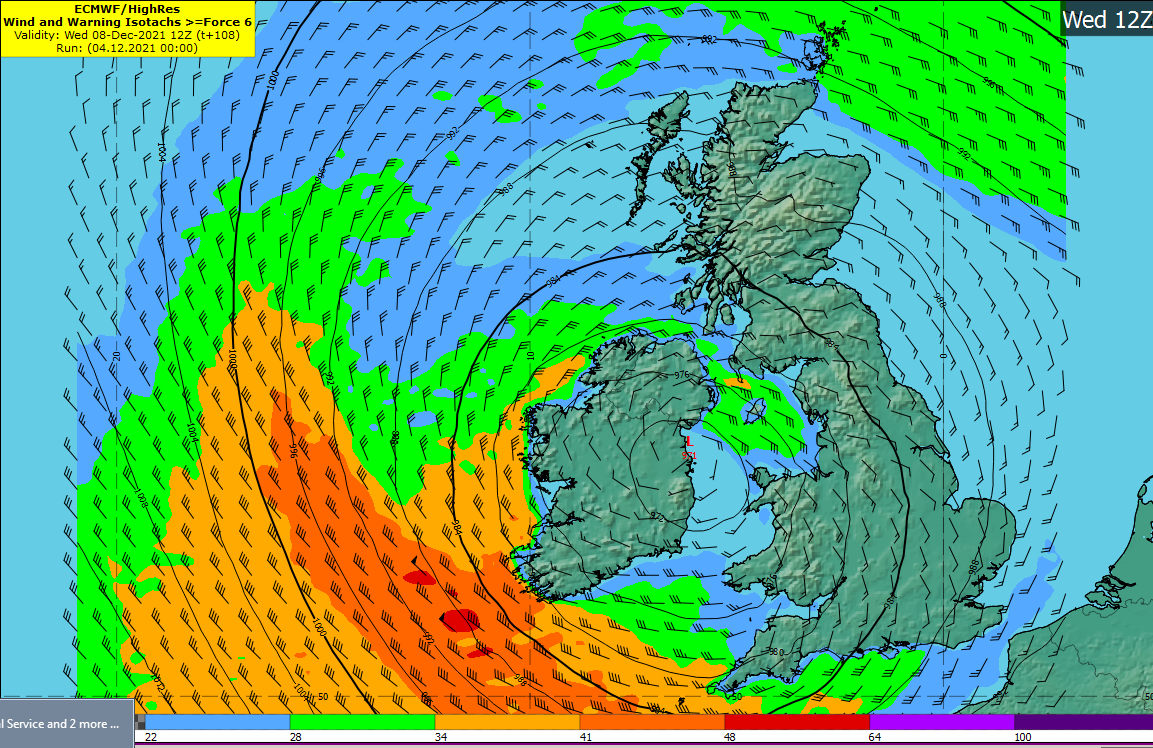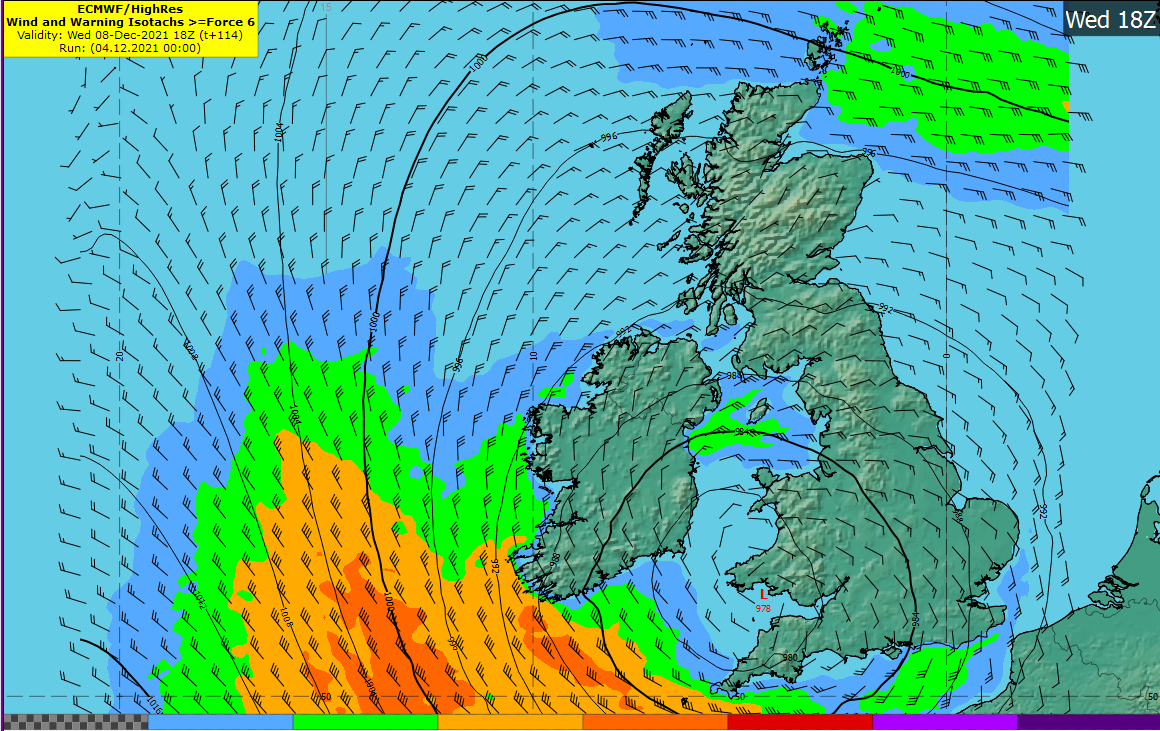 Rainfall Forecast
The timing of rainfall over Ireland associated with the Atlantic depression is uncertain. Current model forecast runs indicate that heavy rain will develop in the west of Ireland later on Monday night and move eastwards across the country on Tuesday morning. Showers will follow from the west on Tuesday afternoon and will continue through Tuesday night and Wednesday. Some will be wintry, falling as hail or sleet with snow possible on high ground. There will also be a possibility of isolated thunderstorms.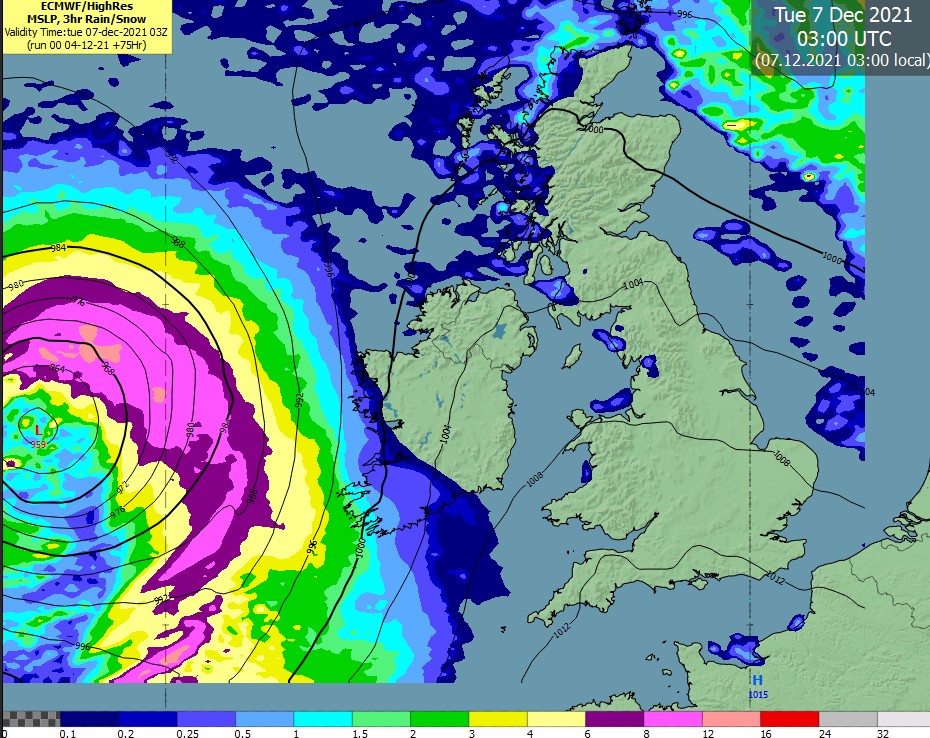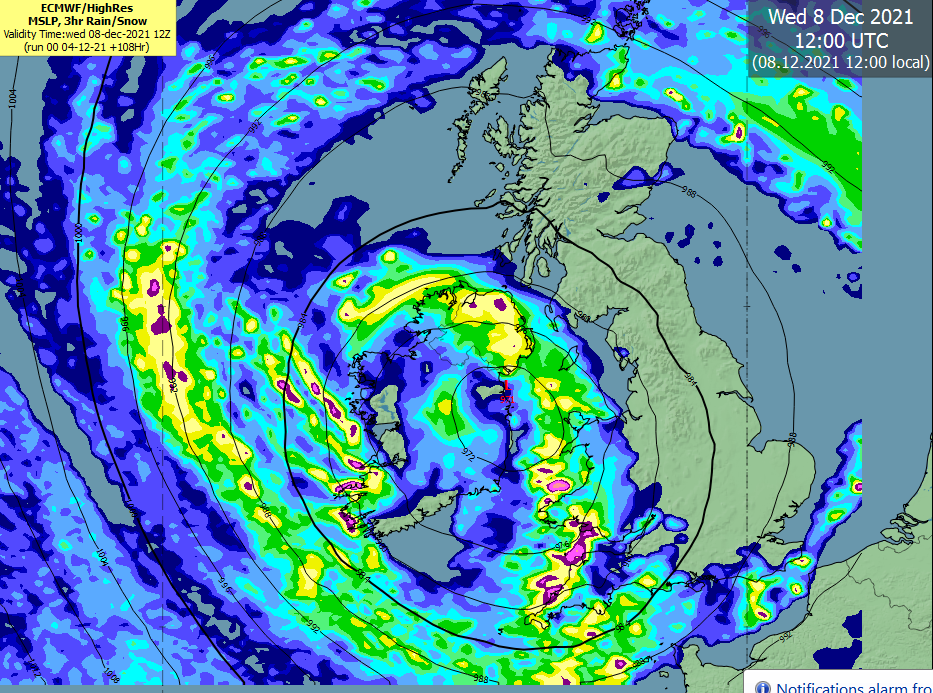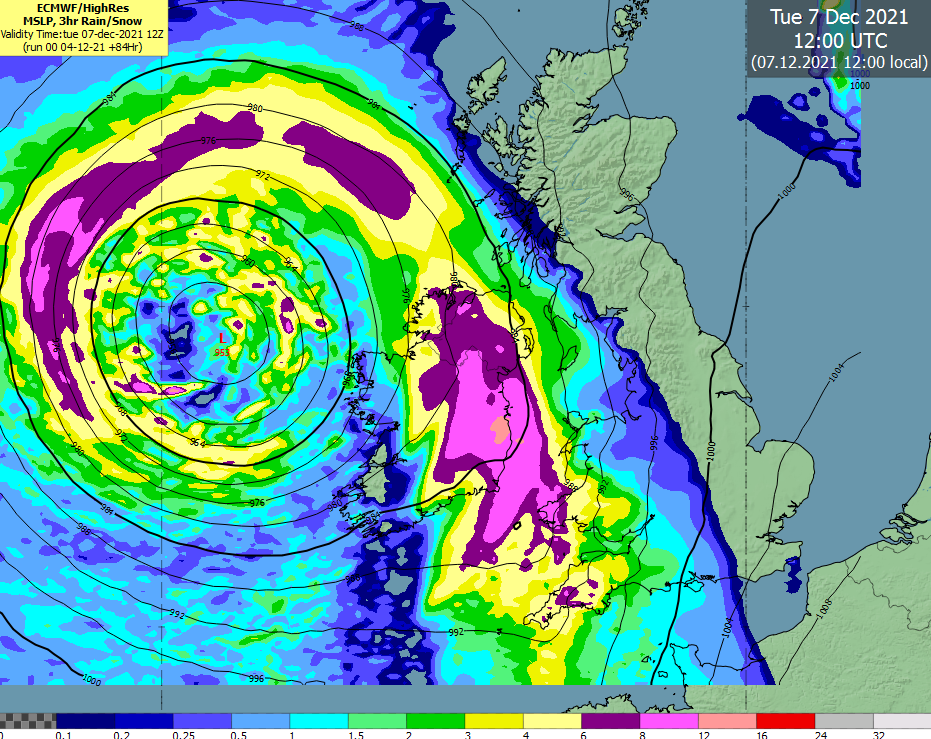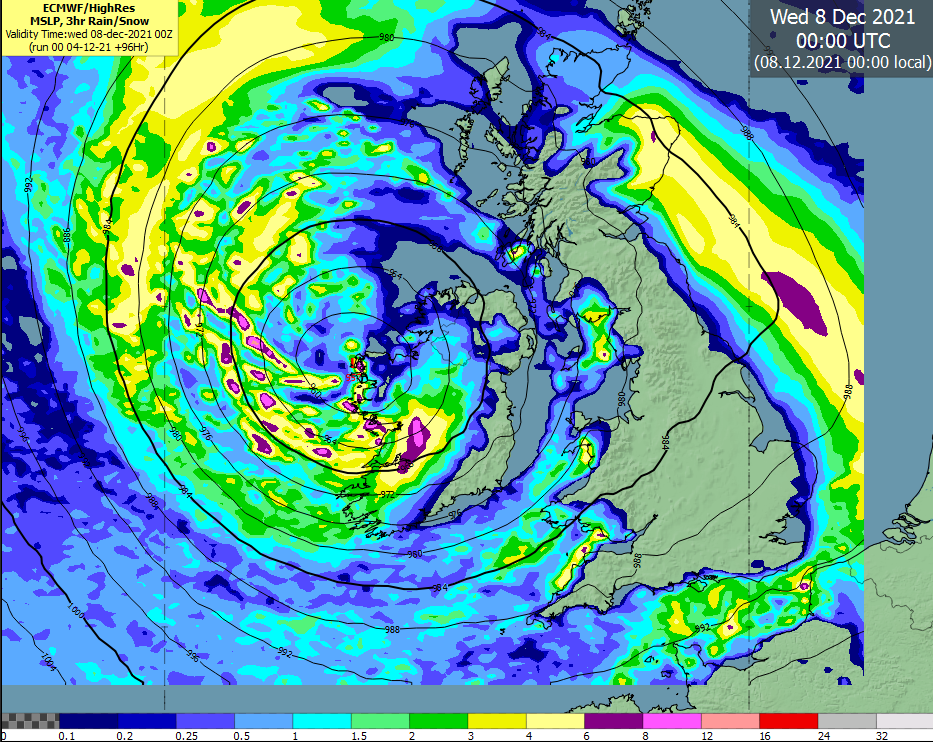 Coastal Conditions
We are in a period of Spring Tides, and coastal levels are expected to be ELEVATED on Tuesday as a deep low pressure system approaches from the Atlantic resulting in the coincidence of strong winds, high wave and large surge levels. The largest surge levels are expected on Atlantic coasts. There is still uncertainty between model runs on the timing and path of the low pressure system, which will influence the surge level expected locally along the coast, and the uncertainty should reduce as future model runs become available.