by Paul Downes, Meteorologist, Forecast Division, Met Éireann. Issued 9th August 2022
(Updated by Brandon Creagh, Meteorologist, Forecast Division, Met Éireann on Thursday 11th August 2022)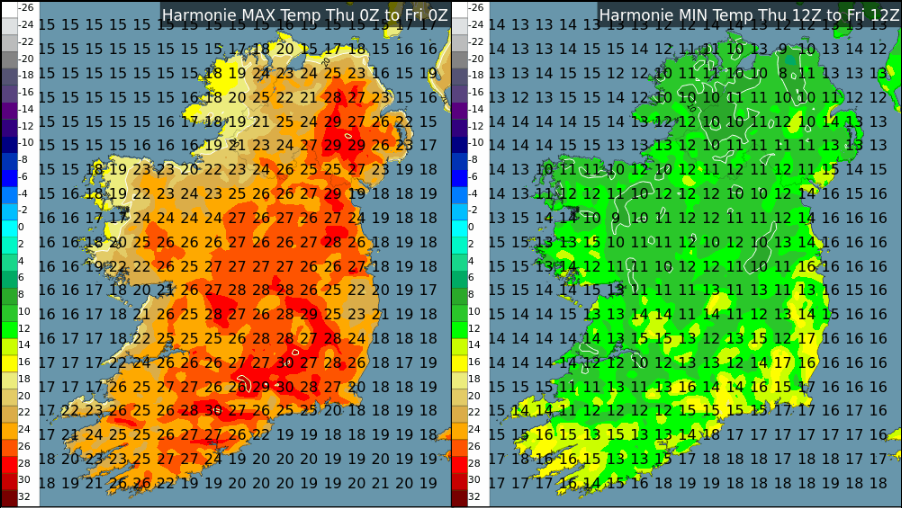 High pressure will generally dominate our weather over the coming days, so as it's warming up once again, what are we to expect with this spike in temperatures?
First off, will this be a heat wave?
Well for the first time this summer we can say with a high degree of confidence that heatwave criteria will be met in some parts of the country.
So what exactly defines a heat wave?
The definition of a heat wave in Ireland is shaded air temperatures reaching highs of above 25˚ C on five or more consecutive days at the same location.
So where in Ireland is likely to see widespread temperatures with maxima in excess of 25˚ C over the coming 5 day period?
From at least Wednesday the 10th through Sunday the 14th, maximum temperatures above 25˚ C look very likely for much of Munster and Leinster, and in large parts of these provinces, temperatures are likely to reach the upper 20's for Friday, Saturday and possibly Sunday.
There is an exception to be made here; even though winds over land will be quite low, sea breezes will set up especially along east and south-east coasts and this will limit the maximum temperatures to the lower 20's close to the shoreline.
Over Connacht and Ulster maximum temperatures will be mostly in the low to mid 20's on Wednesday and Thursday, however maximum temperatures will rise to the mid 20's or a little higher from Friday onwards, so while temperatures may rise above 25˚ C in some parts over the coming 5 days  it is unlikely that at any one station this will happen on all 5 days and thus will fall short of the heatwave criteria.
Sea fog may linger locally on all coasts at times also and that will limit maximum temperatures in these locations.
Uncertainty increases as we progress through Sunday and into the early days of next week with a slight chance of thunderstorms later on Sunday and into Monday, likely heralding a return to cooler near average temperatures.
Where will be warmest and are there any high temperature warnings? 
Much of Munster and Leinster will see temperatures rise into the upper 20's later in the week, although coastal fringes will remain slightly less warm. A status yellow high temperature warning has been issued with highs likely to exceed 27 degrees over a large area for more than 2 successive days, beginning on Thursday, while night time lows will remain above 15°C for much of the night time hours over the same region. As the week progresses and the forecast becomes more certain, some counties further to the north and west like Galway and Roscommon may be added also.
Will the record for highest temperature in August be broken?
The highest August temperature was set 27 years ago on Sunday 2nd August 1995 at Oak Park, Co. Carlow (11.3°C above its 1981-2010 long-term-average), with 31.5°C.
Oak Park will likely be one station to watch again later this week, especially on Friday and Saturday, the likelihood of exceeding the August record temperature is quite low. However, temperatures exceeding 30°C locally cannot be ruled out.
Weather extreme records for Ireland
What's the highest temperature of 2022 so far? 
Phoenix Park, Co Dublin observed at 14:40 Irish time (13:40 UTC) on Monday 18 July 2022 a shade maximum air temperature of 33.0 °C which is 12.8 °C above its 1981-1981 long-term average (LTA) of 20.2 °C.
Update by Brandon Creagh, Meteorologist, Forecast Division, Met Éireann on Thursday 11th August 2022
How is the heatwave evolving?
All areas in Ireland are now expected to become very warm or hot from tomorrow onwards, and so the Status Yellow temperature warning has been extended to all counties from 12:00 Friday until 06:00 Sunday.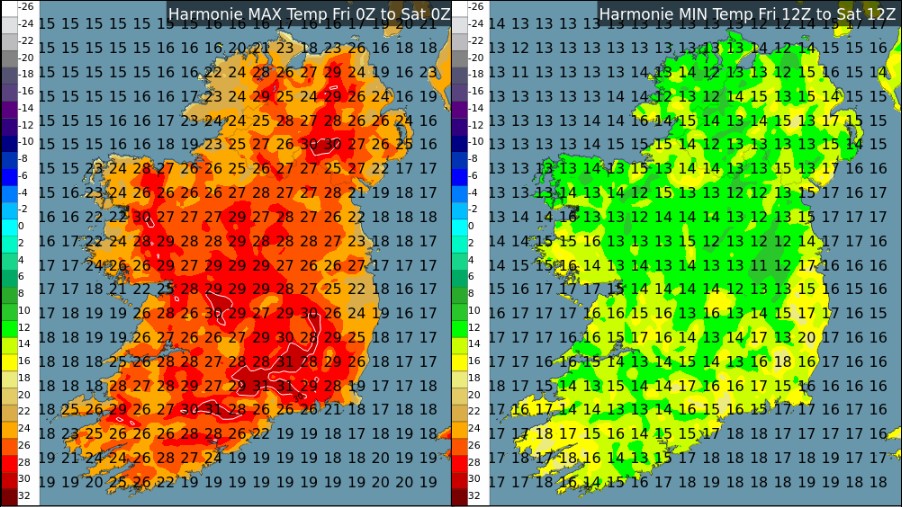 Wednesday temperatures: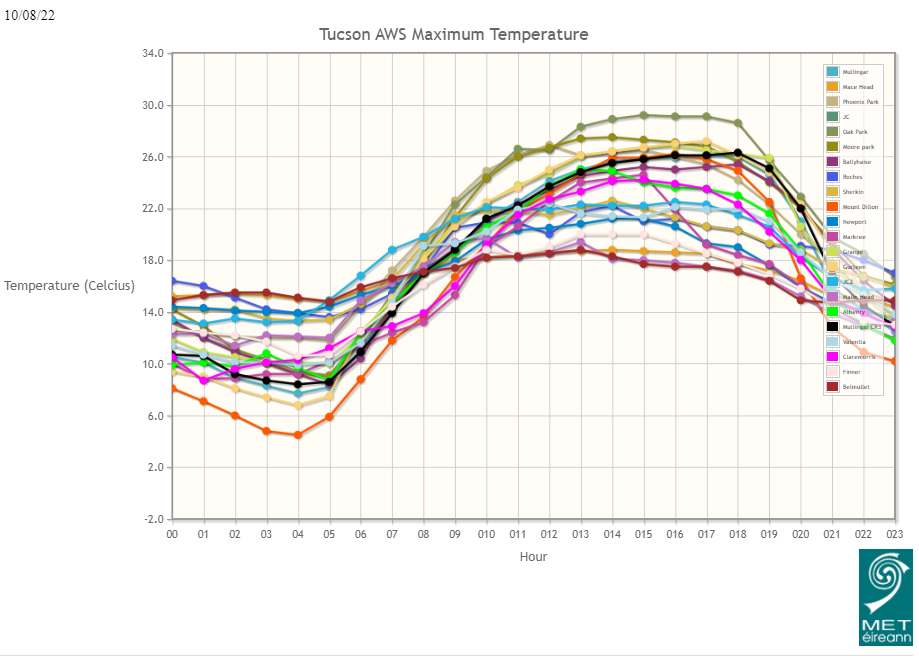 As Paul predicted, Oak Park in Carlow was the station to watch as it recorded the highest temperature yesterday of 29.2 degrees Celsius.
50% of stations in Met Eireann's TUSCON station network reached 25 degrees, signalling the likely start of a heatwave, with mainly coastal stations remaining below the threshold.
Thursday temperatures: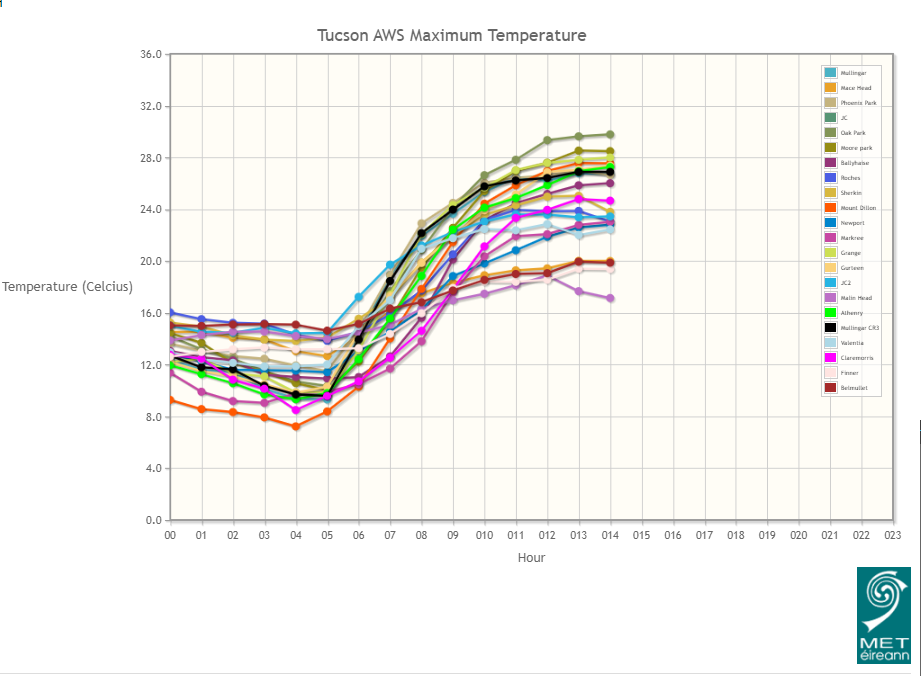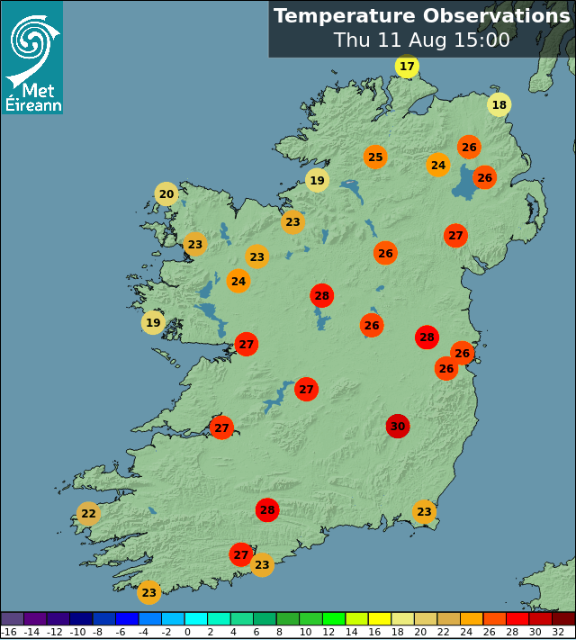 Oak Park in Carlow is again today's hottest station, recording 30.0°C at 1500, just below the record for August, which remains at 31.5°C for the time being.
So far today 57% of TUSCON stations have reached at least 25°C, signalling more widespread hot temperatures today.
Has the weekend forecast changed?
Very little has changed for the weekend forecast and we remain on track for this spell of hot weather to reach heatwave criteria, as daily temperature maxima will very likely remain above 25°C.
Saturday: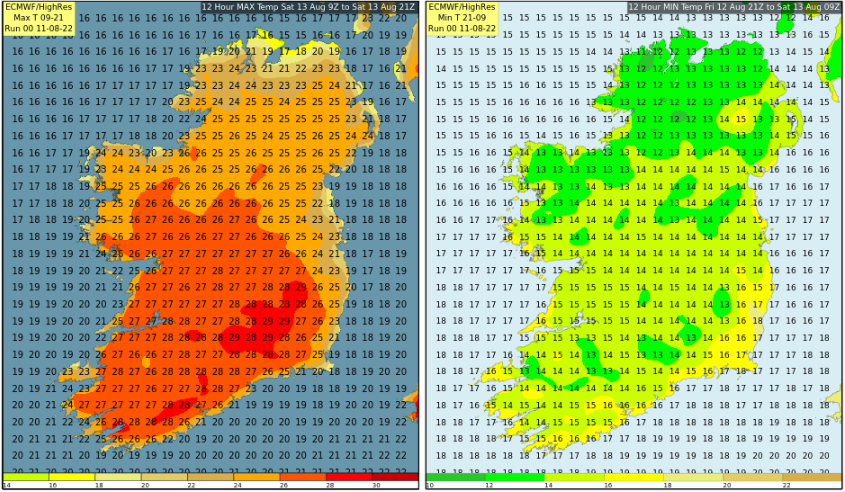 Sunday: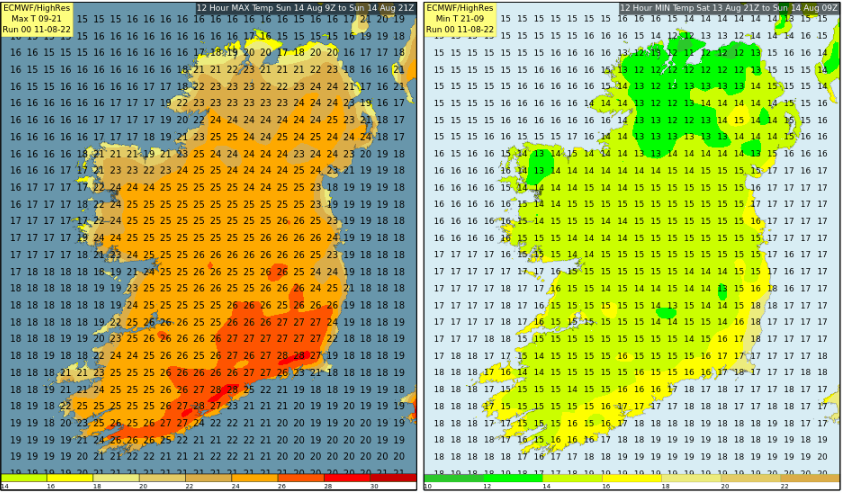 The Breakdown:
The high pressure system largely responsible for the spell of hot weather will likely break down on Sunday, with medium-range models predicting low pressure to push up from the southeast and bring possibly heavy and thundery showers on Sunday evening.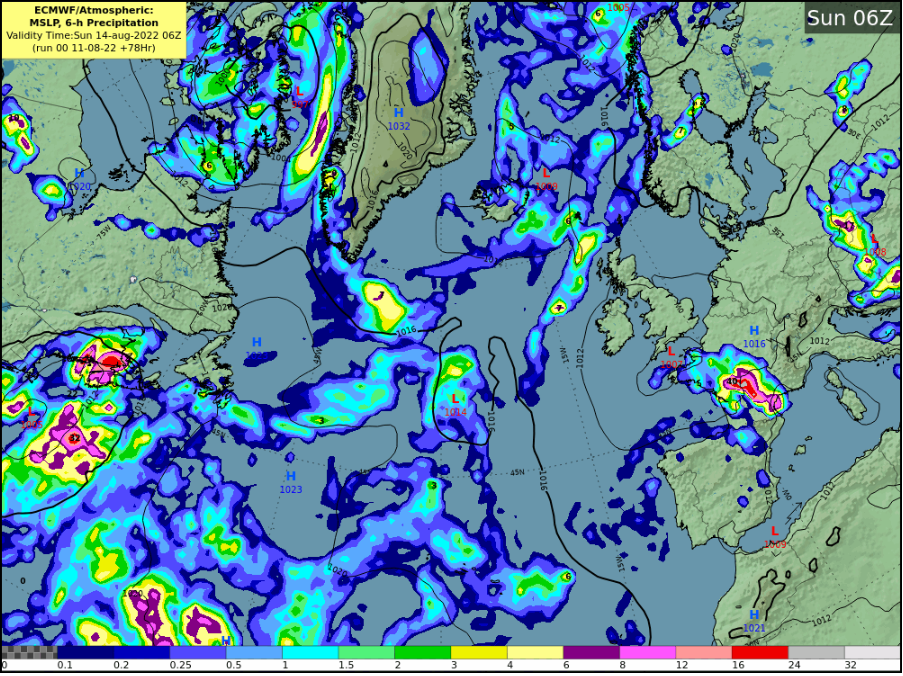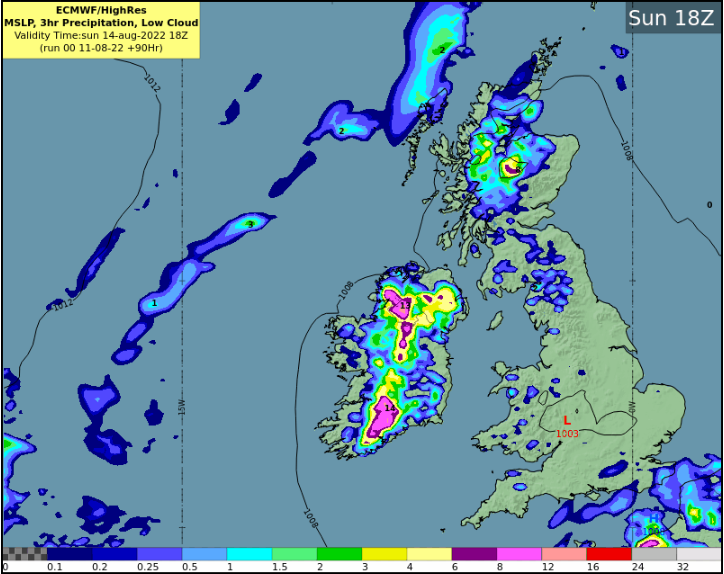 What are the major impacts and concerns for this potential heatwave?
Water safety
Unfortunately there have been a number of water related fatalities this year, and it is therefore paramount that water safety is at the forefront of our minds when it comes to enjoying the warm conditions, or seeking relief when it gets too hot.
Please follow water safety guidelines and be vigilant of those around you. Check the latest sea area and inland lakes forecasts here.
Exposure to the sun and heat stress 
The UV index will be high through the coming days and limiting exposure is advised, especially for children and vulnerable adults.
Hydration is once again very important through this period as it will also remain very warm and muggy at night time. This applies to farm animals and pets also.
Conservation of water and fire risk
With ground conditions becoming very dry over the course of the summer, water tables are low and water should be conserved where possible. So try and only use water where necessary and avoid wastage.
With the very dry conditions and the gradual increase in temperatures exacerbating that, fire risk will be high so always make sure to properly extinguish barbeques, and avoid lighting open fires in wooded or grassland areas.
Below is a guide to fire weather conditions
Please remember that warm or hot spells like this actually contribute the greatest weather related risk to life, so while it can be a welcome event for some, please be cautious to the many risks to your health and safety.
For full information on government guidance to staying safe in summer, please consult the Be Summer-Ready booklet.